Cats with kidney disease are usually prescribed a low-phosphorus diet. This is because the kidney is no longer able to effectively remove excess phosphorus. While phosphorus is needed to grow bones and maintain body pH, excess phosphorus can weaken bones, cause muscle pain, and cause many other issues.
The Association of American Feed Control Officials (AAFCO) creates the nutritional guidelines for what is considered a "complete" diet for cats. Foods that do not have a minimum level of phosphorus must be labeled as "supplemental feeding only" or be "prescription only."
There is no maximum level of phosphorus in cat foods, so levels between brands and flavors vary significantly. Some brands are conscious of the fact that 60% of cats over the age of 10 have kidney disease, so they strive to keep phosphorus levels low. Other brands do not pay as close attention.
The most important nutrient in chronic kidney disease (CKD) is not phosphorus; it is in fact water. Cats don't have a strong instinct to drink water. Even cats that drink "a lot" of water don't drink nearly as much as they should.
Wet food is the best way to increase natural water consumption. Dry food should not be fed to cats with kidney disease, except when they absolutely refuse to eat anything else. Appetite is often an issue in kidney disease, so it may be difficult to convince all cats to switch to wet food. The most important thing for cats with kidney disease is to keep them eating and keep them hydrated. Phosphorus is only a concern after these goals have been achieved.
Finally, the sources of protein should be considered. Protein is made up of amino acids, and cats' bodies, like ours, need certain amounts of each amino acid to repair the body and build muscle.
Any amino acids not fed in the correct ratio are "burned" for energy. This process can be hard on the kidneys and should be avoided in cats with kidney disease. To prevent this, high quality meat proteins should be fed. Plant proteins, such as gluten or protein isolates, are unlikely to provide very many of the correct amino acids for cats, causing the kidneys to work harder.
The 6 Top-Rated Low Phosphorus Cat Foods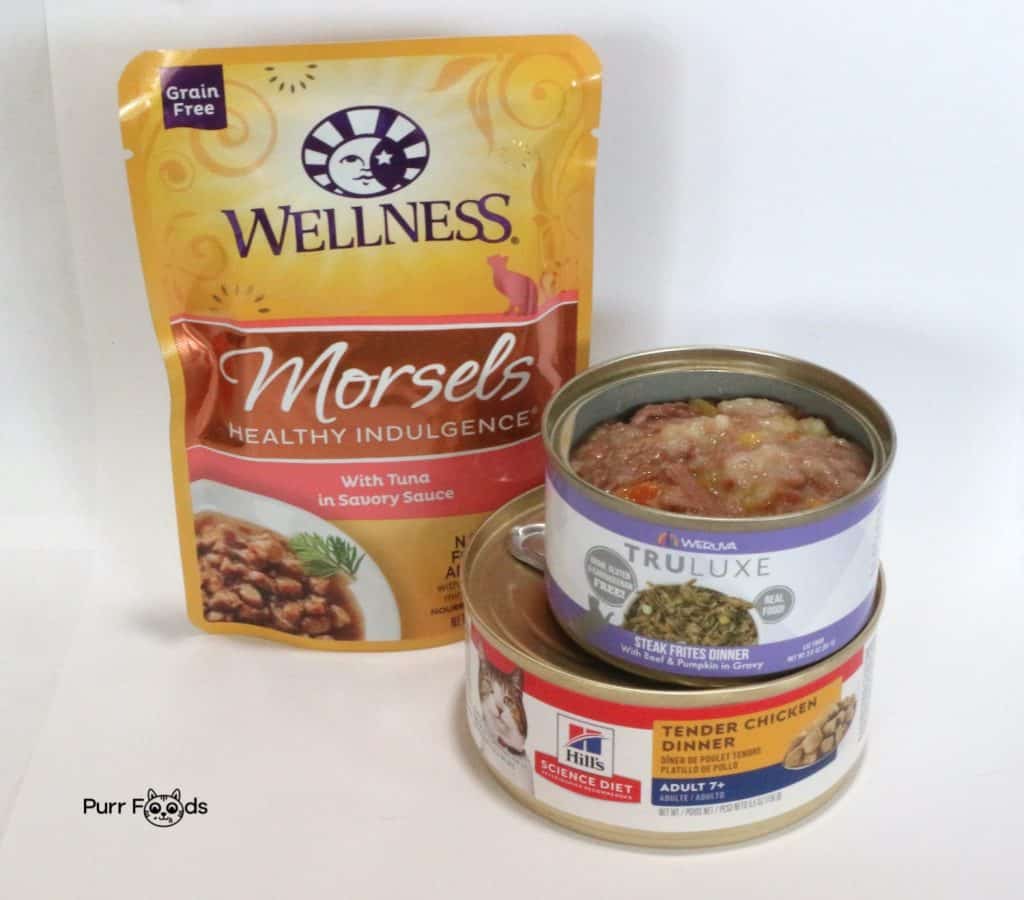 Best Overall Low Phosphorus Cat Food : Dave's Restricted Diet Phosphorus Chicken Liver & Chicken in Juice
Best Overall
Dave's Restricted Diet Phosphorus Chicken Liver & Chicken in Juice

Dave's Restricted Diet closely mimics a prescription kidney diet. It contains an extremely low phosphorus content of 117 mg/100 kcal, or 0.50% on a dry matter basis. Even better is that the price is around ⅔ of prescription cans. You can't go wrong with Dave's.
The ingredients in this food are simple. Chicken broth, chicken liver, and chicken are the main ingredients, giving the food highly usable healthy protein and a reasonable carbohydrate content (10.3% on a dry matter basis) to keep cats healthy.
We also chose this food due to the inclusion of fish oil in the ingredients, as omega-3s are important for kidney health.
Cats with kidney issues are notoriously picky eaters. If they are not used to this food's texture and flavor, they might be hesitant at first. This food has been reformulated in the last few years to increase nutrition and palatability, but some cat owners still report difficulty with picky eaters. Mashing the paté with a fork, mixing in water, and warming the food will make your cat more likely to give this excellent food a try.
The company is literally owned by a pet store owner named "Dave," who wanted to bring healthy and affordable pet food into his stores.
Part of the way they keep their prices low, is by skipping the fancy sales and marketing teams. It may be difficult to find this food in pet stores outside of the New England area. Luckily, it is widely available at online retailers like Chewy and Amazon.
Despite being a small company, quality control appears to be good. Manufacturing is contracted out to US and Canadian facilities who also make other large name brands.
Best Low Phosphorus Food With Shredded Texture: Weruva Truluxe Steak Frites
Best All-Natural
Weruva Truluxe Steak Frites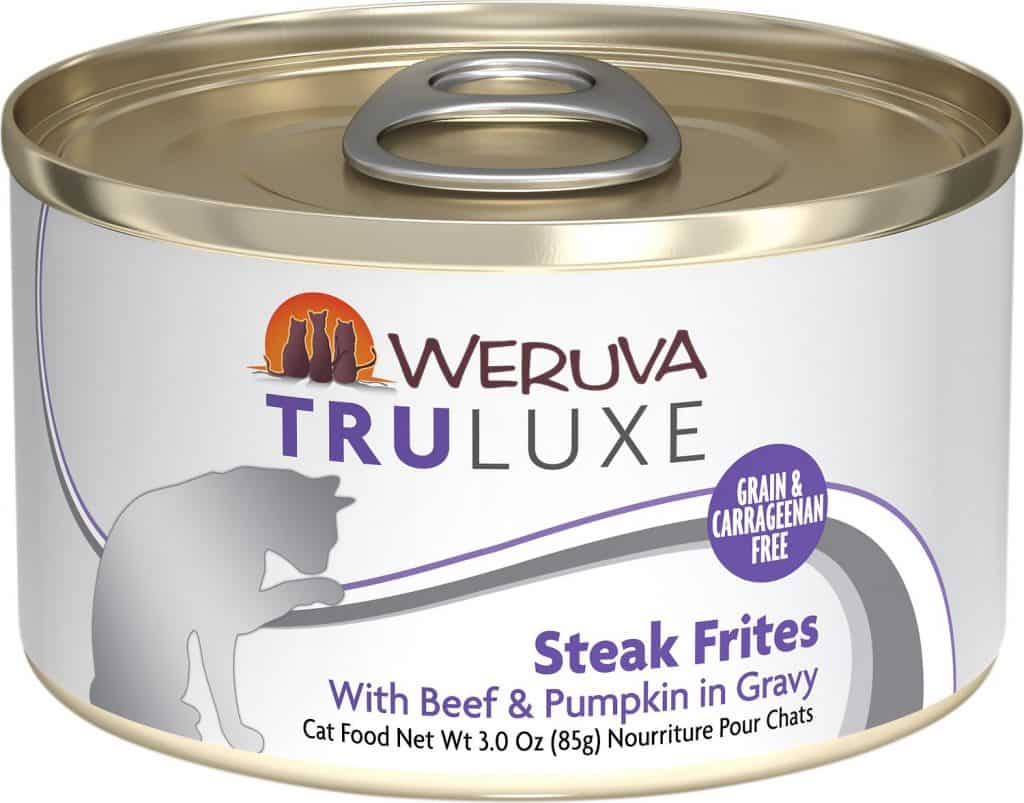 This flavor of Weruva canned cat food is highly palatable to cats. Most cats, but not all, prefer the shredded food texture. At phosphorus levels of 118 mg per 100 calories, this food excels at keeping phosphorus low and kidney cats happy.
It also has just enough phosphorus to feed healthy adult cats as well, so multi-cat households can rest easy. Kittens, however, will need a different kind of food.
Unfortunately, quality ingredients come at a cost. The plus side is that a can of Weruva is 6 oz, rather than the standard 5.5 oz can.
Weruva Truluxe Steak Frites has a high meat content and an impressively low carbohydrate level, at 7.5% on a dry matter basis. Cats are carnivores and don't naturally consume many carbohydrates, so a food with a low carbohydrate level can help keep them healthy.
Unfortunately, other flavors of Weruva cat food don't share this low phosphorus level. If your cat doesn't like this food or grows tired of it, you will have to change brands. What a shame though because we think Weruva is a great brand!
Weruva has an excellent quality record, with no recalls. Although their canned food is manufactured in Thailand, it is made in a facility approved for human food. The company is a family business, which usually means quality is not sacrificed for profits.
Best Trusted Name Low Phosphorus Food: Hill's Science Diet Adult 7+ Tender Chicken or Savory Turkey
Best Branded Low Phosphorus Food on A Budget

Hill's Science Diet Adult 7+ Tender Chicken or Savory Turkey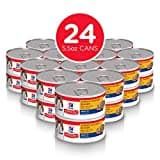 Overall, Hill's does a good job of keeping phosphorus levels low in their canned cat foods. Two flavors of Hill's Science Diet Adult 7+ in particular stand out as great foods for cats who need low phosphorus. These flavors are "Tender Chicken Dinner" and "Savory Turkey Entree."
The phosphorus levels of these foods are 95 mg/100 kcal for the chicken flavor and 115 mg/100 kcal for the turkey flavor. These low numbers are in part due to the relatively high calorie content of these foods. Cats with kidney disease often struggle to keep weight on, so we think this flavor of food stands out from the other Hill's foods for this reason.
This food is the most affordable canned food on our list, sitting just below the price of Dave's Restricted Diet.
Keep in mind that there is a reason this food is able to have high calories while keeping the price down. This food is high in carbohydrates for canned cat food. Carbohydrate levels in this food on a dry matter basis are 29.8%. Both flavors of this food contain grains, which is not necessarily a bad thing.
However, the high carbohydrate levels are not ideal for cats that are overweight or diabetic. If this is the case, you may prefer a lower-calorie and lower-carbohydrate Hill's senior food, such as Adult 11+ Seared Tuna and Carrot.
The really great thing about Tender Chicken or Savory Turkey is how much cats love them. Each has a slightly different "chunks in sauce" texture and flavor, but reviews show that most cats are very happy with one or the other.
Hill's is in an interesting position in the pet food world. Hill's is owned by Colgate-Palmolive, so they have great access to R&D and production knowledge. They have the resources to hire the best nutritionists, engineers, and technologies. The company strives to really know what they are doing. They don't outsource manufacturing in order to maintain better quality control. They extensively test and research their foods.
However, they have the drawbacks of any large corporation. The bottom line and slow corporate pace of change can get in their way of truly offering superior cat food. Making food that is highly marketable, cost-effective, and healthy is an impossible balancing act.
Looking at their senior cat food is the perfect example of the dichotomy of Hill's Science Diet. Their concern for phosphorus levels shows a deep understanding of feline health concerns and nutrition. Their high carbohydrate level shows that tradition and price point still reign supreme.
Best Low Phosphorus Food With A Variety of Flavors: Wellness Healthy Indulgence Morsels (Pouches Only)
With Variety Of Flavours

Wellness Healthy Indulgence Morsels (Pouches Only)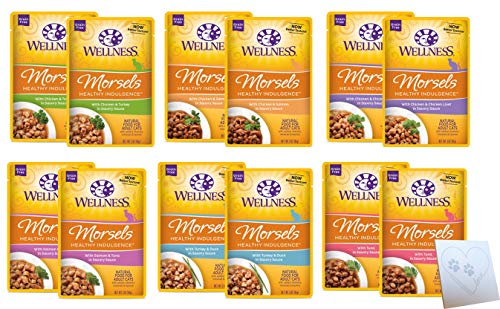 Wellness Healthy Indulgence has nearly the bare minimum phosphorus levels for the complete diet of adult cats. Depending on the flavor, phosphorus levels are 125 to 150 mg/100 kcal.
This food is quality stuff, so the price is just around what a prescription diet costs.
Your cat is likely to find a flavor she likes, with six choices. There are a variety of proteins to choose from, including chicken, salmon, tuna, and turkey.
The flavors are:
These foods all have a similar texture of "chunks in sauce." Unfortunately, the other textures of cat food that Wellness offers have a much higher phosphorus content.
That also goes for the canned version of Wellness Healthy Indulgence Morsels. The canned food has a different formula than the pouches and is much higher in phosphorus.
To achieve the correct texture, this food has a carbohydrate level of 22% on a dry matter basis. This certainly isn't a "dangerous" level of carbohydrates, but ideally the level would be lower. On the plus side, the majority of this food is meat.
Like many wet cat foods, this one is produced in Thailand. This may raise concern for some pet owners, but Thai manufacturers have a good track record of safe pet food. Canned and pouched pet food in Thailand grew as a natural extension of the human-grade tuna industry.
Wellness has a good reputation for quality control. The parent company, Wellpet, is owned by outside financial interests, but it appears that this has given them the capital to invest in developing many flavors and styles of food.
Wellness is a well-known brand and is widely available. If buying in-person, make sure to get this exact food. Similar Wellness products are much higher in phosphorus.
Dry Foods – A Last Resort
Cats with kidney disease should only be fed a wet diet. The increased moisture is the most important thing to keep the kidneys healthy. The only time dry food should be used is if your cat absolutely refuses to eat wet food.
There are many ways to help convince a cat to eat wet food instead of dry food. Simply offering only wet food is NOT the way. Cats are so picky that they will starve themselves and get fatty liver disease. This can require hospitalization, especially for a cat who already requires a phosphorus-restricted diet.
If your cat refuses wet food, try many brands, flavors, and textures. Offer dry food only in meals, so that they are somewhat hungry and motivated to try a wet food. Getting your cat to eat any brand of wet food will help their kidneys more than low-phosphorus dry food.
All this being said, we have two dry food recommendations for kidney disease, if necessary.
Best All-Natural Low Phosphorus Dry Food : Now Fresh Grain-Free
Best Dry Food Version
Now Fresh Senior Weight Management Recipe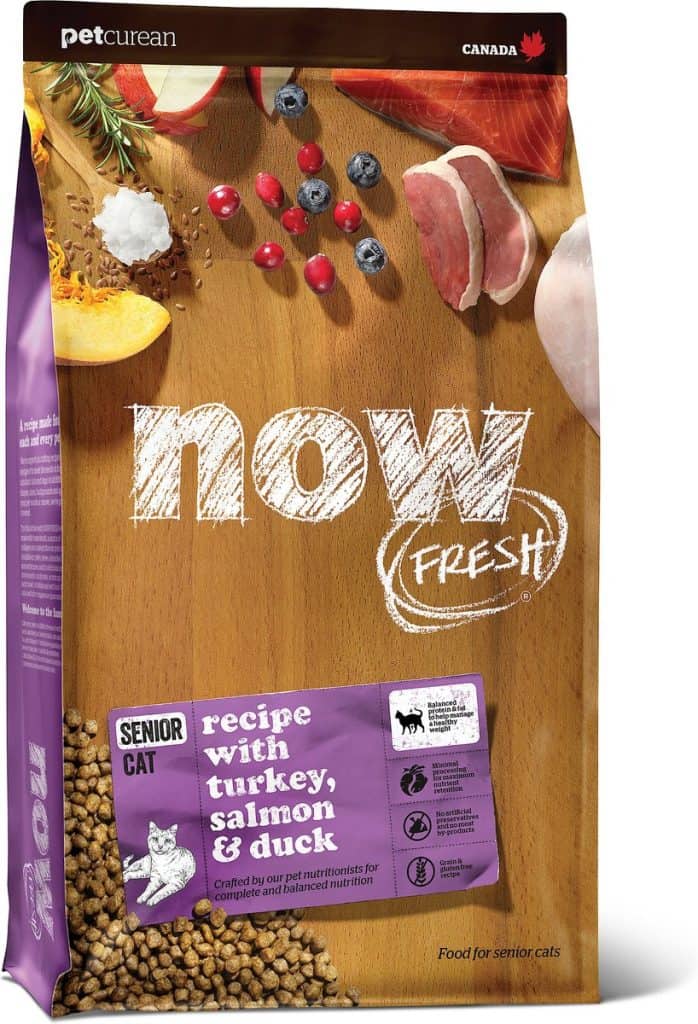 If you absolutely must feed dry food, we recommend Now Fresh Grain-Free Senior Weight Management. This food has a dry matter phosphorus content of 0.6%, which can also be converted to 170 mg of phosphorus per 100 kcal.
Reviews indicate that cats overall enjoy the flavor of this food. Although it is sold as a weight-loss food, the calorie count is still relatively high at 388 kcal/cup. This is important for cats with kidney disease, who are prone to unintended weight loss.
Additionally, this food has an excellent omega-3 to omega-6 ratio of 3:1, which helps decrease inflammation in chronic kidney disease. The added L-carnitine supplement in this food will also help cats utilize fat as energy. This is critically important in cats with kidney disease, as they are prone to using muscle as energy and losing lean body mass as the disease progresses.
This food is on the higher end of the price range. Several sizes are available, so you can buy bulk or small "trial" sizes to help reduce cost.
Although there is no proven benefit to grain-free cat food, especially in dry recipes, this food does offer it as a feature for owners who are interested. Protein is primarily sourced from meat, and carbohydrates are 36% as-fed, which is reasonable for a dry food.
Now Fresh is a brand of Petcurean, a small, privately held Canadian pet food company. They contract out their manufacturing to a relatively small Canadian facility. Although this is a common practice in the pet food industry, it can be a cause for concern as the brand can quickly lose oversight on quality.
However, Petcurean has an excellent quality history. The only recall we could find was from 2003, and Petcurean cut ties with the Texas manufacturing company that was to blame.
Petcurean should be commended for their strong investment in animal nutritionists. Most pet food companies of their size hire a single nutritionist on a freelance consulting basis or rely on the advice of the contract manufacturer to develop their formulas. Not Petcurean. This company actually has a nutrition staff. You can actually call them with nutrition questions. This is unheard of in the all-natural pet food world.
Many small, independently owned stores and online retailers like Chewy carry this product, but you won't find it at big chain pet stores.
Best Trusted Name Low Phosphorus Dry Food: Hill's Science Diet Adult 11+ Chicken Recipe
Best Budget Branded non-P Dry Food
Hill's Science Diet Adult 11+ Chicken Recipe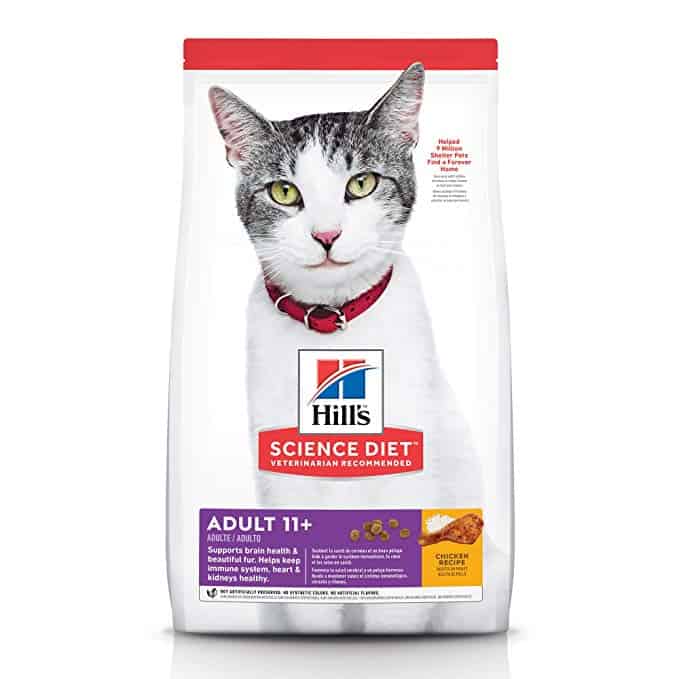 As with their canned food, Hill's is very careful about controlling phosphorus levels in their adult cat dry food. The Adult 11+ Chicken Recipe has some of the lowest phosphorus levels of all their foods. Phosphorus levels are 155 mg/100 kcal. For comparison, Hill's prescription k/d dry cat food has 111 mg/100 kcal.
Carbohydrate levels in this food are 34% on an as-fed basis, which isn't terrible for a dry cat food. Chicken is the first ingredient, and protein primarily comes from animal sources.
When buying in the large bag sizes, this food costs less than half of Hill's prescription kidney dry food. Adult 11+ Chicken is one of the most cost-effective low phosphorus dry foods available.
Most cats love the taste of this food, and it can be fed to most adult cats, even if they are not seniors. If you have concerns about your non-phosphorus restricted cats eating this food, Hill's has a great nutrition support department that can help you decide what is best to do.
Sources