Who Makes Weruva?
Weruva was founded by a couple in 2006 who named the brand after their cats. The company continues to be family owned to this day. They are headquartered in Natick, MA.
Best Weruva Cat Food
Given that Weruva has a wide variety of foods, several factors went into picking their best canned cat food. First, this flavor is chicken based, which is an ideal protein source for most cats. Chicken has fewer heavy metal concerns than seafood. It is more gentle on the stomach than red meat. Most cats also enjoy the flavor. Additionally, the bits in the broth's texture should be palatable to many cats.
Weruva does not add fish oil to the majority of their formulas, but this recipe is one of the exceptions. Fish oil is a great ingredient, ensuring that there are the essential DHA and EPA omega-3s in the food.
This food has a high moisture content while maintaining a good calorie content that isn't too high or too low, at 142 kcal per 6 oz. can.
The dry matter phosphorus content of this food is 0.81%, and the dry matter carbohydrate content of this food is 2.7%, both low and well controlled numbers that will help keep your cat healthy at all ages.
Weruva offers a quality variety pack of kitten food. It is considered important to expose kittens to a wide variety of textures and flavors, and this variety pack is an easy solution. The three textures offered are: shreds in au jus, puree, and pieces in gravy.
This variety pack is excellent not just for texture but also for the fact that there is minimal fish content in the food. Due to heavy metal concerns, cats, and especially kittens, should not have a large portion of their diet consisting of fish.
Like the majority of Weruva's foods, these three flavors are primarily meat with little in the way of carbohydrates. The Chicken Formula Au Jus has no major carbohydrate source, while the other two flavors have some added potato starch, likely to help the food maintain a specific texture.
Of the three flavors, we like the Chicken Formula Au Jus the best, not only for the low carbohydrate content but also for the added fish oil. This ingredient ensures that your kitten will have ample EPA and DHA omega-3s for healthy brain development as well as healthy skin and coat.
Weruva's Steak Frites Dinner has the distinction of being chosen as the best all-natural low phosphorus cat food on the market. At a very low 0.57% phosphorus on a dry matter basis, this food is a great fit for cats with kidney disease.
If you're looking for Weruva cat food to help your cat lose or maintain weight, we highly recommend the On The Cat Wok flavor. This is due to the low calorie count and low carbohydrate content of the food. We chose this food in our cat weight loss article as the best weight loss food with a low carbohydrate content.
The six ounce can of this food contains only 125 calories and has a carbohydrate content of 4.9% on a dry matter basis. This food combines the best of both protein sources when it comes to feline weight loss. Chicken is easy on the stomach, while beef is a natural source of l-carnitine that will help your cat's metabolism burn fat.
About Weruva
Company Know How
As far as we can tell, Weruva outsources its nutritional formulation and does not keep veterinarians or animal nutritionists on staff. This is common amongst many smaller pet food companies, and although not ideal, is not necessarily a major concern. The formulas appear to be relatively well designed, with phosphorus levels controlled. However, the company does not test for the levels of more minor nutrients, such as copper. This fact highlights their poor nutritional knowledge and shows that the formulas are not as well crafted as they could be.
Company Values
Weruva remains relatively small and family owned in their company dynamic. The brand continues to grow with the help of a marketing team. Despite increasing marketing, it appears Weruva has not forgotten that quality is the most important selling point for their food.
It is clear that Weruva treats pet food as if it were human food. This is great from a safety and quality standpoint, but is not very good from a nutritional standpoint. They do not do even basic nutrition feeding trials on their food. They use the dismissive logic so often seen in the fast-food industry: "we do not believe feeding cats or dogs the same meal for every meal, every day, over the course of 6 month is healthy."
Weruva Food Production
Weruva's foods are made in a human food facility in Thailand. According to the company, this facility produces canned seafood for humans that is sold globally, including the United States and the European Union. Thailand has good health and safety standards, especially for pet food. The fact that Weruva is made in Thailand should not be a concern to pet owners.
Weruva does not own their own facility, which can often lead to issues in oversight of supply chains or production quality. However, David Forman, the owner and founder of Weruva, has a personal connection with the facility. His father has been in the tuna business with the production plant since the 1970s. The factory owners were even at the Formans' wedding.
Weruva Cat Food Recalls
Weruva has never been recalled in the United States. There was a single recall in Australia in 2017 for an Australian-exclusive line of BFF canned cat food. This was for too low thiamine levels in the food, and there were reports of many cats who became ill.
Quality
Weruva is good quality food when it comes to production standards. Most ingredients are human-grade and the production is in a human-grade facility. There has only ever been a single limited recall, which was handled swiftly.
Clean Label Project Report Of Weruva
The independent watchdog group Clean Label Project tested four of Weruva's BFF tuna cat foods. Overall they each were rated one star out of five. This is extremely common in seafood based cat foods due to the heavy metal contaminants that are all too common in the ocean.
Transparency
It may take a day or two to hear back, but Weruva is relatively open and communicative with their customer inquiries. They publish all of the nutrition information on their foods (that they have available) on their website. The company is also relatively transparent with their manufacturing and supply chain information. During the one single recall in Weruva's company history, they went above and beyond by setting up a website with informational updates. However, Weruva has since removed the updates and it is very difficult to find any information about this recall at all.
What Foods Does Weruva Make?
Weruva makes a wide variety of wet cat food and does not produce dry cat food. They have four main "sub-brands" for their foods, Weruva, BFF, Cats in the Kitchen and Truluxe. They offer both cans and pouches in a wide variety of textures. The majority of their foods include tuna, but they also have a wide variety of land-based proteins such as chicken, beef and lamb.
Weruva's Wet Food Offerings
Flavor and
Texture Variety
A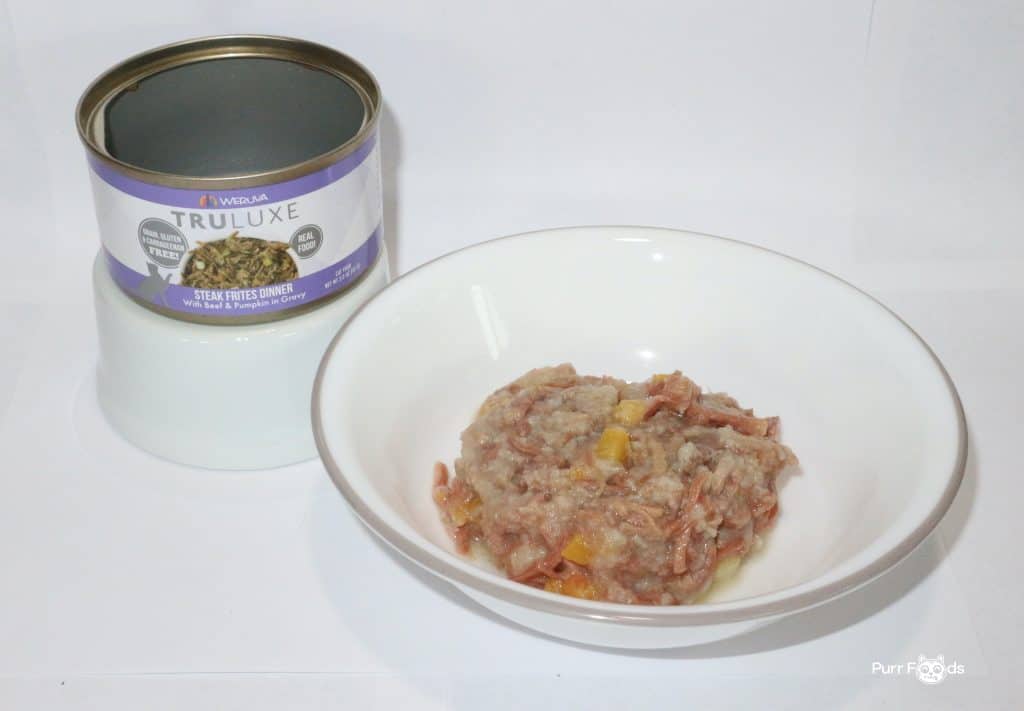 Some examples of the wide variety of Weruva foods are:
BFF OMG Tuna & Salmon Sweet Cheeks Dinner in Gravy
Cats in the Kitchen Mack, Jack & Sam Salmon, Mackerel & Tuna Recipe
Cats in the Kitchen Love Me Tender Chicken & Duck Recipe
BFF OMG Tuna & Chicken Charm Me Dinner in Gravy
Weruva Paw Lickin' Chicken in Gravy
Cats in the Kitchen Lamb Burgini Lamb Au Jus
Truluxe Mediterranean Harvest with Tuna & Veggies in Gravy
Weruva Slide N' Serve Name 'Dat Tuna Tuna Dinner Pate
Truluxe Steak Frites with Beef & Pumpkin in Gravy
Weruva Nutrition Review
Ingredients
Weruva's ingredients prominently feature one to three animal protein sources. It is clear from the ingredients, the guaranteed analysis and the look of the food that there is a high meat content. Their recipes also typically include starches such as potato starch or tapioca, likely for texture purposes. Overall the ingredients are simple and of very good quality.
Sunflower oil appears in most of Weruva's foods. This oil is healthy in small amounts, but it's high in omega-6 content and can quickly throw off the omega-3 to omega-6 fatty acid ratio. Don't get us wrong, cats need those omega-6 fatty acids too, but it is unclear if sunflower oil has been added in the correct amount.
Another ingredient type found in Weruva's foods is various types of natural gums. These are included for texture and as a source of soluble fiber. Examples of these are guar gum and xanthan gum. Although you can find many negative things about "gums" in pet foods online, there isn't really a scientific basis. Almost all cat foods contain gums and it is extremely rare for a cat to have sensitivities to them.
Unfortunately, Weruva does not use chelated minerals in most of their foods. Chelated minerals are bound to protein or amino acids and are more digestible to cats. Weruva instead uses a less expensive mineral mix.
Nutrients
Protein, Fat, Carbohydrates
The average dry matter protein content in Weruva's cat foods sits at about 65%. The average dry matter fat content sits at about 10% for most foods, but is considerably higher in some land-based animal protein foods. Carbohydrate content varies considerably with values ranging from 5% to 30% on a dry matter basis. Most foods fall near or below 10% dry matter carbohydrate content, unless they include pumpkin. All of this indicates that Weruva overall has a very high meat content in their foods.
With the notable exception of three foods (Outback Grill, The Newly Feds and Date Nite! Pouches), Weruva's phosphorus levels range from 0.5% to 2% on a dry matter basis. The average among all of their foods is about 1%, with the vast majority of foods falling below 1.5%. This is a great overall phosphorus content for a cat food brand, as long as you feed a variety of flavors, as Weruva recommends.
Weruva does not add fish oils to their foods, even in flavors which do not contain any fish. This means that there is likely not enough of the necessary EPA and DHA omega-3 fatty acids in certain foods. In foods where tuna or another seafood is a main ingredient, there is likely plenty of omega-3s present in the food. However, it is typically advised to limit your cat's seafood consumption due to mercury and other heavy metal content.