Who Makes Wellness?
Wellness began as a dog biscuit company in 1926, but Wellness as we know them today really began in 1997 with the introduction of their dog food recipes. By 2000 the company produced cat food as well. Today the company is known as WellPet, which includes a handful of brands in addition to Wellness. In 2008 they were acquired by the Berwind investment group, but still operate as a separate entity within their parent company.
Best Wellness Cat Foods
Wellness has a wide variety of dry cat food formulas, and one of the best is the Natural Hairball Control Chicken Meal & Rice Recipe. This food is on the lower end of the calorie range for Wellness' dry foods, at 434 kcal/cup, which is a primary reason we think this food is a good choice. However, calories are certainly not the only thing to be considered when determining the best Wellness dry cat food.
This food is rich in omega-3s, with an omega-3 to omega-6 ratio of 4:1. Unfortunately, these omega-3s are primarily from flaxseed, which only provides the omega-3 ALA, and not the also necessary EPA or DHA, but this is a minor criticism overall that can be corrected with a high quality salmon oil. 
The phosphorus content of this food is well controlled at 1.27% on a dry matter basis, showing that Wellness took kidney health into consideration when they formulated this food.
The carbohydrate content is reasonable for a dry food at 27.7% on a dry matter basis, which places this food in the middle of the pack carbohydrate wise for Wellness dry cat foods.
Overall, the ingredients in Natural Hairball Control Chicken Meal & Rice Recipe are of great quality. The first ingredient is chicken meal, indicating a high meat content in this food. This food has ingredients rich in healthy fiber, including inulin and ground flaxseed. These ingredients were added to help control hairballs, but they have the added benefit of keeping cats feeling full and thus maintaining a healthy weight. 
When it comes to dry kitten food, the CORE Kitten formula offers a very meat rich diet consisting primarily of turkey and chicken. The dry matter carbohydrate content is a very low 14.17%, setting kittens up for good metabolic health.
Unfortunately, as is very common in high meat dry cat/kitten foods, this food has a very high calorie content of 497 kcal/cup. This is fine for fast growing kittens, but as your kitten ages, they should be watched closely for extra weight gain and transitioned onto adult food as soon as possible.
The omega-6 to omega-3 ratio for CORE Grain-Free Kitten Formula is 3.8:1, which is a very healthy level. The omega-3s come from both salmon oil and ground flaxseed, ensuring a source of EPA, DHA, and ALA omega-3s. 
This pate pouch of cat food is primarily chicken, with vitamins, minerals, and texture enhancers added. The flavor and texture are a hit with most cats.
Wellness has a wide variety of wet cat foods regarding nutritional aspects, textures, and flavors. This food stands out above the rest in that it has a very low carbohydrate content, a well controlled phosphorus content, and avoids seafood ingredients, which can raise heavy metal concerns.
The dry matter phosphorus content is excellent at 0.95%, and the dry matter carbohydrate content is equally excellent at 2.05%.
The only criticism of CORE Tiny Tasters Chicken Pate Grain-Free Pouches is the lack of a good source of omega-3 EPA and DHA. If feeding this food exclusively, or in conjunction with other foods that do not have fish oil or salmon listed as an ingredient, it would be recommended to add a small amount of high quality salmon oil to your cat's food, such as Natural Dog Company's Wild Alaskan Salmon Oil. 
Wellness offers two canned poultry-based kitten foods, one from their CORE line and one from their Complete Health line. Poultry based kitten foods are preferable to other protein sources because they are easier on the stomach and avoid the heavy metal concerns associated with seafood. Although on the surface, the turkey-based CORE kitten food and the chicken-based Complete Health kitten food look similar, there is a significant difference in phosphorus between them.
Feeding high phosphorus is not typically an issue for young kittens, but the CORE kitten food has an extremely high dry matter phosphorus content of 4.72%, while the Complete Health kitten food that we recommend has only 2.10% phosphorus on a dry matter basis. This is enough reason alone to choose the Complete Health kitten food instead of the CORE kitten food.
The complete health kitten food is almost entirely chicken, with some added carrots, cranberries, texture enhancers, and omega-3 sources. The high meat content is further indicated by the fact that this food only has 3.3% carbohydrate content on a dry matter basis. This is great value for your money and also great for your kitten's health.
Unfortunately, Wellness does not readily disclose the omega-3 and omega-6 content of their wet kitten foods. When looking at the ingredient list, it is clear that healthy sources of omega-3s were considered when Wellness designed their kitten food. Complete Health Kitten Chicken Entree includes ground flaxseed and menhaden fish oil, ensuring sources of all three omega-3s, EPA, DHA, and ALA.
About WellPet
Company Know How
Wellness is certainly one of the oldest independent natural pet food brands and brings their experience to the table. The foods are formulated by a PhD Animal Nutritionist, but this person is not directly employed by WellPet, but is instead contracted. The company does not appear to have any in-house research and development and heavily focuses on outsourcing their animal nutrition knowledge base. However, WellPet does do a significant portion of their own manufacturing and this brings certain expertise in safety and quality to the company.
Although the company mainly outsources, Wellness should be applauded for their extensive research they put into their foods. Wellness explicitly states that their foods go through AAFCO feeding trials, are tested for digestibility, urine pH and palatability. Many natural pet food brands skip these extremely important steps. Wellness has done what it takes to ensure that their product is as healthy as possible.
Company Values
WellPet's promise is to "do whatever it takes to make the healthiest natural products for the pets that depend on us." Although consumers have been concerned about formula changes and changes in production over the years, it still appears that WellPet is able to maintain much of their values. However, considering that an outside investment group owns the company, WellPet is still very beholden to the bottom line.
Production
WellPet operates a dry food plant in Mishawaka IN but also outsources their dry food production to CJ Foods (named Alphia as of 2020) in Bern KS and Pawnee City NE. CJ Foods is known as one of the higher-end contract manufacturers of pet foods.
WellPet does not produce their own wet cat food, but have Simmons Pet Food in Pennsauken NJ, Emporia KS and Toronto Canada produce their canned food. Simmons is a mid-quality pet food canning facility. Few companies are large enough to meet the manufacturing needs of WellPet, which likely influenced their choice to use Simmons. However, Simmons has had recent issues with both serious labor violations and some quality recalls.
Wet food pouches are made in Thailand. Although overseas production in Thailand may cause concern for pet owners, it shouldn't. Thailand has very strict pet food manufacturing standards. In-fact, wet pet food manufacturing in Thailand has grown as an extension of the tuna canning industry for human consumption.
Wellness Recalls Since 2008
| Date | Foods Affected | Reason | Who Discovered | Injury or Illness? |
| --- | --- | --- | --- | --- |
| | Canned Cat Food | Low Vitamin B1 | Pet Owners | One consumer complaint to FDA |
| | Dry Dog Food | Potential Salmonella | Manufacturer (Diamond) | None reported |
| | Dry Dog Food | High Moisture/Potential Mild | WellPet | None reported |
| | Canned Cat Food | Metal Fragments | Manufacturer (Simmons) | None reported |
| | Canned Topper for Dogs | Beef Thyroid Hormone | Pet Owners | 3 dogs became ill |
Quality
Wellness is a large brand so it is not surprising that they have had a few recalls in their history. On a positive note, they seem to have had extremely little exposure, if any, during the 2007 melamine recalls that rocked the pet food industry.
It is also important to note that many of their recalls could have easily been swept under the rug, but WellPet chose to notify consumers anyway. The October 2012 and February 2017 recalls had no FDA involvement, and therefore could have been easily hidden by WellPet. On the other hand, WellPet chose to notify consumers through their website and facebook page, instead of going through the proper FDA channels once they became aware of the issue.
Additionally, WellPet cut manufacturing ties with Diamond in 2012 once the issues in Diamond's Gaston SC plant became clear to them.
Overall Wellness appears to be of good quality, although in an ideal world they would manufacture all of their own foods. It appears that the majority of their quality issues come from co-packing facilities.
Puremarket
An independent consumer watchdog group, Clean Label Project, has tested 12 Wellness dry cat foods and 31 Wellness wet cat foods for a variety of contaminates. These contaminants include heavy metals, pesticides, aflatoxins etc.
Scores for the wet cat food range all the way from A+ to F, with "Wellness CORE Devine Duos with Chicken Pate & Diced Turkey" receiving the best score and "Wellness Healthy Indulgence Morsels with Salmon & Tuna in Savory Sauce" receiving the worst score, due to heavy metal contamination. Unfortunately, heavy metal contamination in seafood/fish flavored cat foods is extremely common, due to the heavy metals in our oceans. Wellness foods score very well in all other categories and poor scores are always due to heavy metals in seafood/fish flavored foods.
Unfortunately Wellness dry foods also have a wide range of scores from B+ to F. In the case of the dry food, poor grades cannot simply be explained by heavy metals in seafood. In addition to heavy metal contamination in some flavors, the Clean Label Project also found process contaminants such as acrylamide (which comes from cooking starches at high temperatures) and pesticides.
Transparency
WellPet does a great job of transparency for their pet food. Not only do they publish extremely in-depth nutritional analysis of all of their foods online, they also are extremely responsive to customer inquiries. WellPet will also readily reveal who manufactures their foods, which is very rare in the pet food industry. Almost any information you would like to learn about Wellness foods is available online.
What Foods Does Wellness Make?
Wellness has both wet and dry cat food along with treats and food toppers. They also offer dry food with freeze dried pieces included in the bag.
Wellness' Wet Food Offerings
Flavor and
Texture Variety
A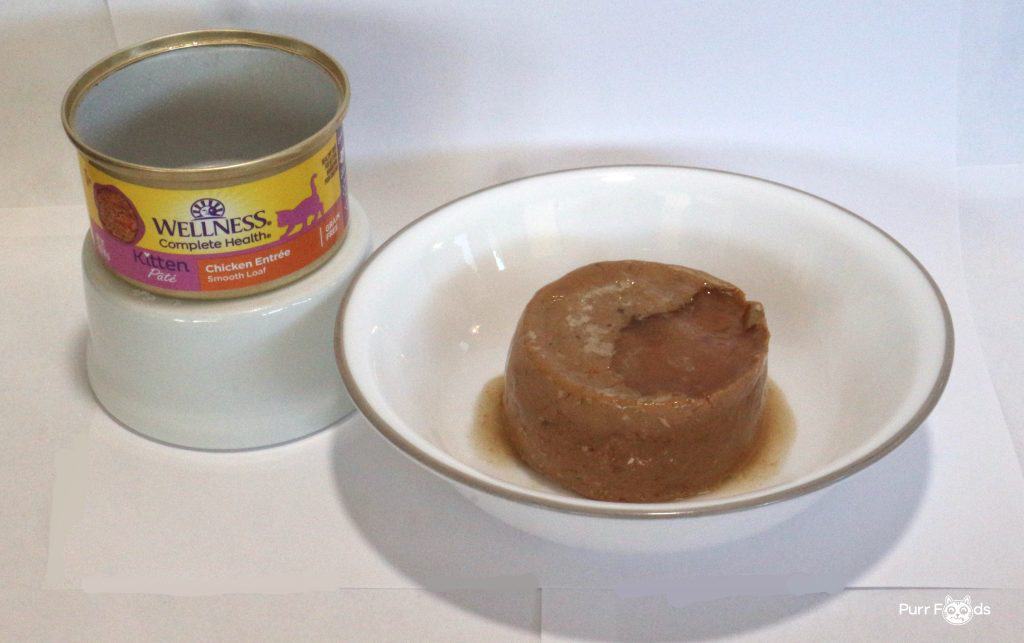 *Although the average overall phosphorus content in Wellness wet cat foods is on the high end, Wellness also offers some flavors of wet cat food that have extremely low phosphorus content.
There are over 60 varieties of Wellness wet cat food. Wet food is available as both cans and pouches. Pate, shredded and pieces in gravy textures are all available. There are also a wide variety of proteins to choose from, although the majority are chicken, turkey, or fish. There are also foods formulated for life stages, such as kitten, and various health concerns. Wet foods also come in three main lines, Signature Selects, CORE and the original Wellness line.
Wellness Wet Food Nutrition Review
Ingredients
The first few ingredients in the wet food formulas are various meats and meat broths. It appears that the majority of the content in Wellness' formulas is in-fact meat.
Although not required for nutritional or manufacturing reasons, the wet formulas contain a carbohydrate source. The type varies between flavors but ingredients include carrots, peas, tapioca starch, potato starch etc. The use of starches is likely to enhance the texture of the food, while the use of carrots and peas can increase the fiber content in the food.
Considering how many texture and packaging varieties there are to Wellness wet foods it is hard to draw many generalizations about the ingredients list. The only other ingredient that Wellness wet foods have in common is guar gum, which enhances the texture and increases the soluble fiber in the food. Some foods use additional gums, specifically cassia and xanthan as well.
Flaxseed is found in many of the Wellness wet formulas. This ingredient increases the omega-3 content of the food, although fish oil is the preferred source.
The mineral mix used for the Wellness wet foods is a chelated one. This means that minerals are more easily absorbed by the body because they are attached to amino acids. It is good to see that Wellness has chosen the premium mineral mix for their cat foods.
Nutrients
Protein, Fat, Carbohydrates
Various lines of Wellness wet cat food have very different nutritional analysis.
The Healthy Indulgence pouches have a dry matter protein content in the 27% to 39% range. The fat content of these pouches is 13% to 22% on a dry matter basis. Dry matter carbohydrate content sits at an average of about 22%. Relative to the other Wellness wet cat foods, this line is higher in carbohydrates and lower in meat.
The CORE and Signature Selects lines of Wellness wet cat foods have an average protein content of 50% on a dry matter basis, with foods ranging from 45% to 67% protein. The fat content for these foods varies greatly, from 13% dry matter to 43% dry matter. There is also a wide variety of carbohydrate content in these foods, anywhere from 2% to 40% on a dry matter basis. CORE can be considered the highest meat content Wellness wet foods, although individual flavors are exceptions.
Most other Wellness wet cat foods have a dry matter protein content of 44% to 50%, a dry matter fat content of 11% to 32% and a dry matter carbohydrate content of 2% to 15%. Overall the Wellness wet cat foods have a decent amount of meat included in them.
Wellness offers some of the lowest phosphorus content cat foods on the market, but also has many wet cat foods with a very high phosphorus content.
Healthy indulgence pouches have very low phosphorus overall, with an average of 0.8% on a dry matter basis. Most of the non-seafood flavors actually have a phosphorus content of 0.6% on a dry matter basis.
Wellness CORE and Signature Selects have the next lowest overall phosphorus content, with an average at about 1.2% on a dry matter basis. However, there is wide variation between flavors, with 0.5% to 2.2% phosphorus content on a dry matter basis.
All of the other Wellness wet cat foods have a phosphorus content in the 1.7% to 2.2% range on a dry matter basis.
Although Wellness does a great job of publishing the nutrient analysis of their foods online, interestingly omega-3 content is missing from the analysis of their wet foods. Most canned foods have ground flaxseed as an omega-3 source, this only provides ALA omega-3s, and does nothing for the required EPA and DHA omega-3s. When there is no fish as a protein source in a flavor of Wellness wet cat food, most varieties have no significant EPA or DHA source. However a handful of flavors do include fish oil, most notably the kitten food.
Wellness' Dry Food Offerings
Flavor and
Texture Variety
B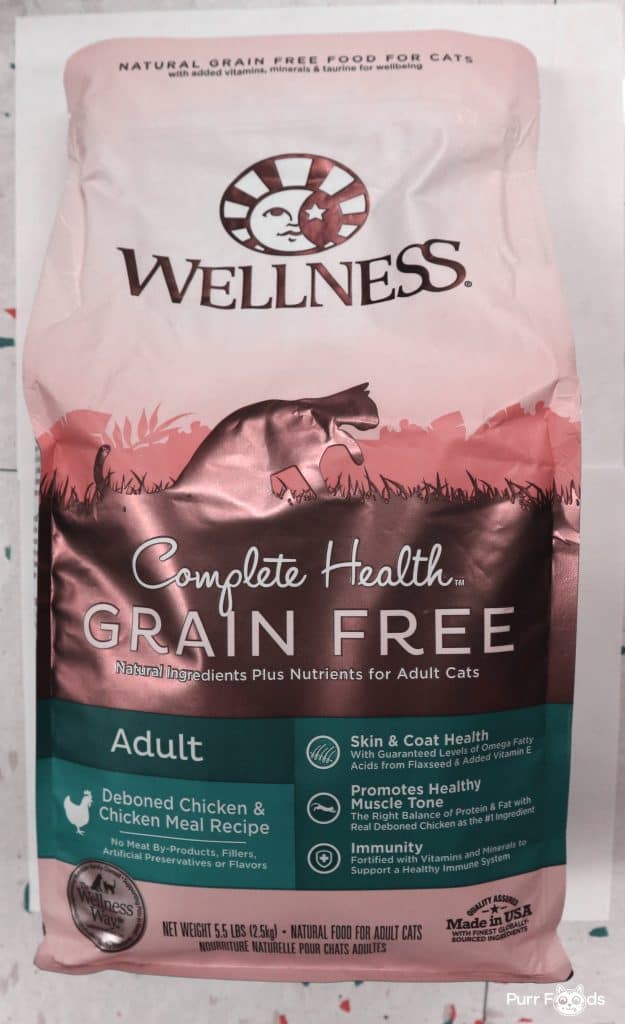 Wellness dry foods come in three lines, CORE, Complete Health and Raw Rev. The Raw Rev foods include raw freeze dried pieces in with the traditional kibbles. Protein sources are chicken, turkey or salmon, with other proteins occasionally added to the formulas. There are also hairball and indoor formulas available.
Wellness Dry Food Nutrition Review
Ingredients
The first ingredient in Wellness dry foods is typically a meat, such as deboned chicken. This is somewhat misleading because the water weight is included when determining the order of ingredients in the list. However, various meat meals follow the first ingredient, indicating that the formulas are primarily meat.
The carbohydrate source in Wellness dry foods is typically peas, but can also include other ingredients such as chickpeas and potatoes. It appears that although multiple carbohydrate sources are used in many formulas, Wellness is using multiple carbohydrates for nutritional reasons rather than to build an ingredient list where meat is listed artificially high up.
Unfortunately, a small number of formulas use plant proteins, specifically potato protein. These ingredients increase the overall protein content of the food but are of much less nutritional value that meat protein to cats. Only a small number of formulas do this, so be sure to check the ingredient list before deciding on a Wellness dry food.
Foods include flaxseed as an omega-3 source, and occasionally have salmon oil or fish meal as well.
Wellness also includes many ingredients aimed to aid digestive health. Chicory root extract is a natural source of the prebiotic inulin. Probiotics are listed in the ingredients and yucca schidigera extract will even help reduce the smells in the litterbox.
Indoor and weight control foods add l-carnitine to help increase fat metabolism and have added pea fiber to help cats feel full. It appears that thought beyond calorie count has gone into their weight loss foods.
Like the wet formulas, the mineral mix for the dry foods uses chelated minerals to help assure that they are easily utilized by your cat.
Nutrients
Calories, Protein, Carbohydrates and Fat
Wellness foods have a relatively high calorie count, even for an all-natural brand. Foods range from roughly 450 calories per a cup to 500 calories per a cup. Even the Indoor Healthy Weight food has 469 calories per a cup, which is very high for a weight loss food.
Dry matter protein content of the dry foods ranges from 38% to 51%. The average protein content of the CORE foods sits on the higher end of this range while the Complete Health foods are towards the lower end. Fat content has a wide variety in the Wellness dry foods, ranging from 11% to 20% on a dry matter basis.
Carbohydrate content of Wellness dry foods is mostly dependent on if the food is an "indoor formula" or not. While some foods have a very low carbohydrate level of 13% or 14% on a dry matter basis, "indoor formula" foods have roughly 30% carbohydrates on a dry matter basis. Even higher is the 39% dry matter carbohydrate content found in the Complete Health Senior cat food.
The decision to formulate carbohydrate content this way is somewhat puzzling. Since senior cats are prone to diabetes and muscle wasting, it is typically advisable to maintain a steady protein level and keep carbohydrates as low as possible. From a formulation perspective, it is easy to lower the calorie count of a cat food by increasing the carbohydrate content, but all of Wellness' foods still have a very high calorie count. If feeding Wellness dry food, it would be recommended to avoid the indoor formulas, even for indoor-only cats.
Phosphorus levels in Wellness dry foods are in the 1.1% to 1.8% range on a dry matter basis. The Complete Health Foods tend to have a lower phosphorus content than the CORE foods. Overall phosphorus seems to be relatively well controlled, but it would be better to see much lower levels in the foods.
It is clear that Wellness has taken great care when formulating the omega-3 content of their dry foods. The omega-6 to omega-3 ratio ranges from 1:1 to 6:1, which are all excellent values. This is extremely important for skin, coat and digestive health and it is good to see a company take omega-3 levels seriously.
Unfortunately, not all of the formulas have a good source of the EPA and DHA omega-3s. It appears that in order to keep the calorie count down for the indoor formulas, salmon oil has been skipped, and omega-3s are primarily provided by flaxseed. Although healthy, flaxseed only provides ALA omega-3s, and cats cannot convert these to the EPA and DHA omega-3s they also require.