Who Makes Hill's?
Hill's Pet Nutrition has been owned by Colgate-Palmolive since 1976. Hill's was started in 1939 by a veterinarian, Dr. Mark Morris. He was asked to develop a food for a seeing eye dog with kidney disease, and from this request, a company was born. The company now makes both Hill's Prescription Diets, Hill's Science Diet and Hill's Ideal Balance.
Best Hill's Science Cat Foods
Nutritionally, many of the Science Diet wet cat foods are very similar, but there are some differences that make certain recipes stand out. Suitable for all adult cats, we believe the Adult 7+ Tender Chicken Dinner is one of the best wet foods that Hill's makes.
What makes this food stand out from the others is the ingredient list. This food contains fish oil, L-carnitine, and L-lysine. Fish oil ensures that there is a source of EPA and DHA omega-3s. L-carnitine promotes a healthy weight and metabolism. Lysine may help prevent the reemergence of certain viruses in cats under stress. As a bonus, this recipe contains no by-products.
Like all Science Diet formulas, this food has a well controlled phosphorus content. The dry matter phosphorus level is a very low 0.57%. The phosphorus content of this food is so low that we selected it as one of the best overall cat foods for kidney disease.
Carbohydrates are on the high side for a wet food, at 30% on a dry matter basis, but in Hill's wet foods, this is quite common.
Of the handful of wet kitten foods that Hill's offers, this one has the lowest carbohydrate content. The main ingredients are pork liver, pork by-products and chicken. Many owners may be hesitant to see the term "by-products" in their cat's food, but it is important to note that these are specifically named "pork." This means that this is the organ meat left over from the pork butchering process, and the term "by-product" is of less concern.
The omega-3s in this food primarily come from fish oil, and the omega-6 to omega-3 ratio is a healthy 5.5:1.
The calorie count on this food is quite high, at 208 kcal per a 5.5 oz can. This is great for growing kittens, but as your cat approaches one year old, they should be closely watched for being overweight. In fact, this food was chosen as one of the top foods for weight gain in our article here.
Keep in mind that wet food is better at promoting a healthy weight than dry food, so if you choose to feed dry food, the calorie count of this should be more closely watched than any wet food you decide to feed.
There is a wide nutritional variety among Science Diet dry cat foods. When looking at key nutritional factors such as omega-3s, calories, and carbohydrate content, the Indoor Chicken Recipe is one of the top Science Diet dry cat foods.
This food is specially formulated for cats ages 1 through 6, but it will also be suitable for senior cats. This is due to the fact that, like most Science Diet foods, the phosphorus content is well controlled. This food's phosphorus level is 0.72% on a dry matter basis.
The calorie content of this food is 319 kcal/cup, which is a well controlled calorie level that should help prevent obesity in your feline. Additionally, ingredients such as powdered cellulose, dried beet pulp, and L-carnitine will help promote healthy digestion, keep your cat feeling full, and promote burning fat, respectively. Considering that obesity is the #1 health issue among cats in the US, these features of the Indoor Chicken Recipe are some of the primary reasons we chose it.
The omega-6 to omega-3 ratio of this food is 7:1, which is relatively close to the ideal 6:1 ratio we look for in cat food. The carbohydrate content is reasonable for a dry cat food at 31.7% on a dry matter basis.
Hill's Science Diet offers three dry kitten food formulas that are all very similar. A chicken kitten food, a wheat-free chicken kitten food, and finally, an indoor kitten food. Overall, these foods are very similar, with the wheat-free food costing significantly more with little to no nutritional advantage.
We chose the indoor kitten food as the top Hill's kitten food due to its price point, lower calorie count, and best omega-6 to omega-3 ratio.
This food has a high calorie content of 544 kcal/cup, which is great for growing kittens. However, the main difference between the kitten formula and the indoor kitten formula is that the indoor formula has 24 fewer calories per cup. This may not seem like a significant amount, but as kittens age into adulthood, the fewer calories per cup will help promote a healthy weight.
Like all of Hill's kitten foods, this one includes fish oil, which will provide the essential EPA and DHA omega-3s required for a kitten's development. The omega-6 to omega-3 ratio of this food is a very healthy 4.1:1.
About Hill's and Colgate-Palmolive Company
Company Know How
Hill's was founded to provide scientifically backed pet food formulas, and they continue that legacy to this day. The company has over 200 veterinarians, PhD animal nutritionists and food scientists working on their foods.
The company runs a Pet Nutrition Center in Topeka, Kansas, where they do non-invasive research feeding their foods to cats and dogs. All health claims made by Hill's are backed by significant research. Additionally, foods are tested for nutritional adequacy, digestibility, palatability and for target urine pH. These are all essential aspects to a cat food and Hill's does a good job at understanding them.
Hill's also makes an effort to publish information from their nutritional studies and to contribute to cat and dog nutrition as a whole. They keep up with research occurring at universities and are always looking to innovate, especially in their veterinary diets.
Hill's truly is an industry leader in cat and dog nutrition. However with a company as large and corporate as Hill's, it can be difficult for this research to be well integrated into product lines. For example many cat foods remain high in carbohydrate content despite scientific evidence indicating that this can lead to obesity and diabetes.
Company Values
Hill's Pet Nutrition's parent company, Colgate-Palmolive, is a large publicly traded corporation that is ultimately obligated to shareholders to increase profits. Hill's itself maintains leadership in the prescription veterinary food market.
Hill's and Colgate-Palmolive have found themselves in numerous lawsuits over the years. For example. the European Union busted Hill's, Royal Canin and Purina for price fixing the pet food market. They also are currently in many lawsuits regarding their 2019 excess vitamin D recalls in 2019.
The prescription food system has also come under legal scrutiny. There is nothing in prescription pet food that inherently requires a written script from a veterinarian, but retailers and Hill's are able to charge a premium price for these products. However, Hill's argues that the prescription foods are for medical therapy and thus should be sold only under the guidance of a veterinarian.
It is clear that the majority of animal scientists, food scientists and veterinarians working for Hill's wholeheartedly want to produce the best pet food possible. However, it seems that the huge size of the corporation and being beholden to the bottom line harms Hill's ability to produce a superior pet food.
Production
Hill's Pet Nutrition has produced all of their own foods since 2008. The company made this decision in order to better control their supply chains, quality testing and overall food safety. They have a huge knowledge base on pet food production and quality control. All of their food for sale in the US has been made in facilities in the US. Hill's states that their ingredients are sourced from North America, Europe and New Zealand.
Hill's Recalls Since 2008
| Date | Foods Affected | Reason | Who Discovered | Injury/Illness? |
| --- | --- | --- | --- | --- |
| June 2014 | Adult Small & Toy Breed Dry Dog Food | Potential Salmonella | Hill's | None |
| Nov. 2015* | Canned Dog Food | Labeling Issues | Unknown | None |
| Jan. 2019 | Prescription Canned Dog Food and Science Diet Canned Dog Food | High Vitamin D | Consumer | Many cases |
| Mar. and May 2019 | Prescription Canned Dog Food and Science Diet Canned Dog Food | High Vitamin D | Expanded from Jan. 2019 recall | Likely yes |
*November 2015 was a market withdrawal, not a recall.
Quality
For a company as large as Hill's, they have had relatively few recalls of their food. In the 2007 melamine recalls, Hill's did have some foods affected, but their exposure overall was limited to the few foods they outsourced manufacturing of at the time. Hill's now does all of their manufacturing in-house.
The handling of the 2019 vitamin D recalls has shaken many veterinarians' and pet owners' faith in the company. Although no cat foods were affected, and the issue was with DSM Nutritional Product's vitamin pre-mix, Hill's should have been conducting quality control on their ingredients and testing the vitamin D levels. This is especially inexcusable because other pet food manufacturers purchasing from the same supplier were issuing elevated vitamin D recalls in late 2018.
We hope that the issues with vitamin D are a one-time faux pas from Hill's and that this does not represent a new trend in the quality and safety of their pet foods. Unfortunately, only time will tell if Hill's is able to rebuild a reputation of good quality and safety.
Clean Label Project
The Clean Label Project, an independent consumer advocacy group, has tested three of Hill's wet cat foods and four of their dry foods. They test for contaminants such as acrylamide, heavy metals and mycotoxins. The tuna flavor wet cat food received just one star, due to heavy metals. This is extremely common for seafood based cat food, due to the high level of contaminants in our oceans. The two turkey flavored wet cat foods received three stars out of five.
Three of the four dry foods by Hill's received five stars from the clean label project. The fourth food, Indoor Kitten Chicken Recipe, only received three stars, due to minor heavy metal contamination and process contaminates. It is rare to see a pet food brand have the majority of their dry foods score five stars, so this is definitely a positive for Hill's.
Transparency
Hill's does a good job about being transparent about the science behind their formulations. They make an effort to publish their research and do outreach to veterinarians. They also list a limited amount of nutrients for each of their foods online. As for contacting the company, they are quick to respond to emails and also have a chat service available on their website.
Due to the large complex size of the company, they are not especially transparent with ingredient sourcing and supply chain questions. They also will not answer simple nutritional questions such as the copper content of their food unless you are a veterinarian. Although their veterinary hotline is a very valuable resource for vet clinics, it also poses an unnecessary obstacle to owners who want to learn more about their pet's food. This veterinary hotline also promotes prescription diets, even when there is a non-prescription alternative.
What Foods Does Hill's Make?
Hill's produces over 100 varieties of cat food, including their veterinary prescription line and their over-the-counter cat food. Hill's Healthy Advantage is a small line of foods that sit somewhere between prescription and regular cat food, as they are only available through a veterinary office. Rather than focus on flavors, Hill's Science Diet typically focuses on life stages, lifestyles and medical concerns for their foods. For example, offering "Adult Urinary & Hairball Control" or "Indoor Kitten."
Hill's Wet Food Offerings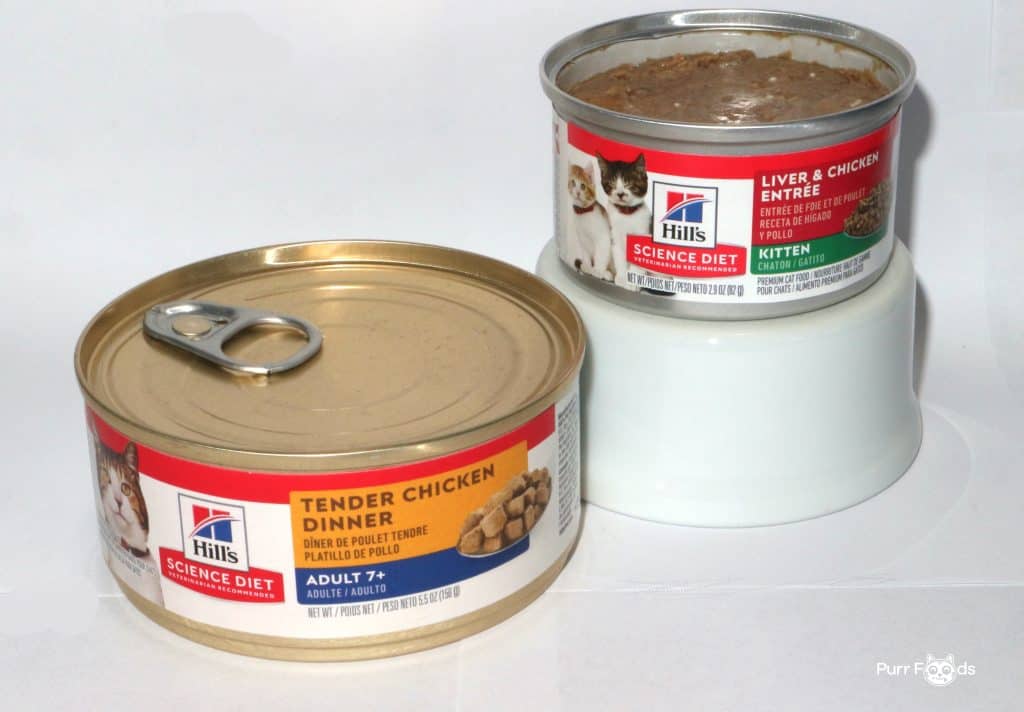 Hill's Science Diet line of wet cat foods includes a large number of formulas. They are specially made for kittens, adult cats ages 1-6, adult cats over 7 and adult cats over 11 years old. They have various textures including pate, pieces in gravy and a minced texture. Hill's also offers pouches and cans, although pouches are only available in the pieces in gravy texture.
Science Diet has many special formulas for health issues that do not require a prescription from the veterinarian. The specific health issues that Hill's Science diet has foods for are: Urinary & Hairball Control, Perfect Weight, Hairball Control, and Sensitive Stomach & Skin.
Flavor and
Texture Variety
A
Hill's Wet Food Nutrition Review
Ingredients
There is quite a bit of variation in between Hill's formulas, even among recipes all designed for healthy adult cats. However, some general trends can be outlined for the purposes of this review.
The first few ingredients in Hill's canned foods are meat. Some combination of chicken, tuna, turkey and pork liver are commonly used in their recipes. It is great to see that these foods are primarily meat, and typically are specific types of meat.
Only occasionally are by-products listed, and these are pork by-products. "By-products" means the organs left over from commercial meat production. These can be a great source of nutrition for cats, but typically it is better to see which specific organs listed. However, this greatly increases ingredient cost and large scale purchasing of organ meat in this way can be extremely difficult.
By-products such as poultry or pork are much better to see than "meat by-products." Hill's does not appear to use "meat by-products" in their wet cat food formulas. Meat by-products are a common source of the euthanasia drug pentobarbital in pet food, as unscrupulous ingredient suppliers illegally include euthanised pet horses in their meat by-products. Again, Hill's appears to only use the much safer "pork by-products" as an ingredient in certain formulas.
After the meat ingredients, most Hill's wet cat foods list a starchy ingredient. These are typically rice, corn and/or wheat. Unfortunately, these starchy ingredients are split into several types in the ingredient list, such as rice and rice starch. This lowers the carbohydrate source on the ingredient list and makes meat appear higher up. Considering that most of Hill's formulas use several meat sources, it is extremely difficult to actually determine the meat content in their foods.
A somewhat concerning type of ingredient in the majority of Hill's wet cat food formulas is a source of plant protein. Typically this is wheat gluten, but in other formulas it may be corn gluten meal or soybean meal. Glutens are simply proteins extracted from a grain. These cheap sources of protein are less easily utilized by cats' bodies, as the amino acid composition is not as optimal as meat. Again, the inclusion of these ingredients makes it difficult to determine how much of the protein in the food is coming from meat versus plants.
There are a handful of beneficial fiber rich ingredients found in Hill's foods as well. These include spinach, carrots and tomato pomace (a natural source of vitamins and fiber), cellulose (another great fiber source to help cats feel full and brewers yeast (a fiber source and excellent source of b vitamins).
Many of the wet cat foods include soybean oil as an ingredient. This is an odd choice, nutritionally speaking, due to the high omega-6 content and research on negative health effects. If plant based oil needs to be added for texture or flavor reasons, it would be much better to see Hill's use coconut oil or olive oil, as they do in some of their other formulations.
Finally the mineral mix used by Hill's does not include chelated minerals. Chelated minerals are bound to proteins and are more easily absorbed by the body. It is possible that no one supplies a chelated mineral mix in the quantities that Hill's needs, but it seems unlikely that they could not contract someone to produce a higher end mineral mix for them.
Nutrients
Protein, Fat, Carbohydrates
In adult cat food, the protein content of Hill's is typically around 34% on a dry matter basis. However, protein levels can range from the high 20%'s to low 40%'s on a dry matter basis.
The legal minimum protein level for adult cat food is 26% on a dry matter basis, but what is needed nutritionally greatly depends on the digestibility and amino acid composition of the proteins. Considering that Hill's does use plant proteins in many of the canned cat food formulas, the lower protein values are a little close for comfort. Hill's does test their cat foods using feeding trials, but lower-end protein content still raises concerns about long term muscle loss in certain cats.
Fat content in Hill's adult wet cat foods typically sits between 14% and 20% on a dry matter basis. This is a healthy level of fat for cat food.
The carbohydrate content is relatively high. Most formulas sit around 25% to 30% carbohydrate on a dry matter basis, but there are many exceptions. For example, "Adult 7+ Youthful Vitality Chicken and Vegetable Entree" is 39% carbohydrate on a dry matter basis.
Being obligate carnivores, cats do not require any carbohydrates in their diet. It is likely that Hill's has such a high carbohydrate content in order to keep the ingredient costs of their canned cat foods down.
The phosphorus levels in Hill's canned cat foods are extremely well controlled. Among the adult cat foods, the dry matter phosphorus content ranges from 0.6% to 0.8%. This is very low for cat foods and is great news for feline kidney health.
The majority of wet foods do include fish oil in the ingredients list. They also publish the omega-3 and omega-6 fatty acid content of their cat foods on their website. It is unclear why certain foods have had fish oil added while others have not.
For example, "Adult 7+ Healthy Cuisine Roasted Chicken & Rice Medley" does not have any good sources of omega-3s in the ingredients list. The omega-6 to omega-3 ratio is a very poor 11:1, when 6:1 is typically considered maximum. Compare this to "Adult Tender Ocean Fish Dinner" which has both ocean fish and fish oil in the ingredients list and boasts an omega-6 to omega-3 ratio of 3:1.
Hill's Dry Food Offerings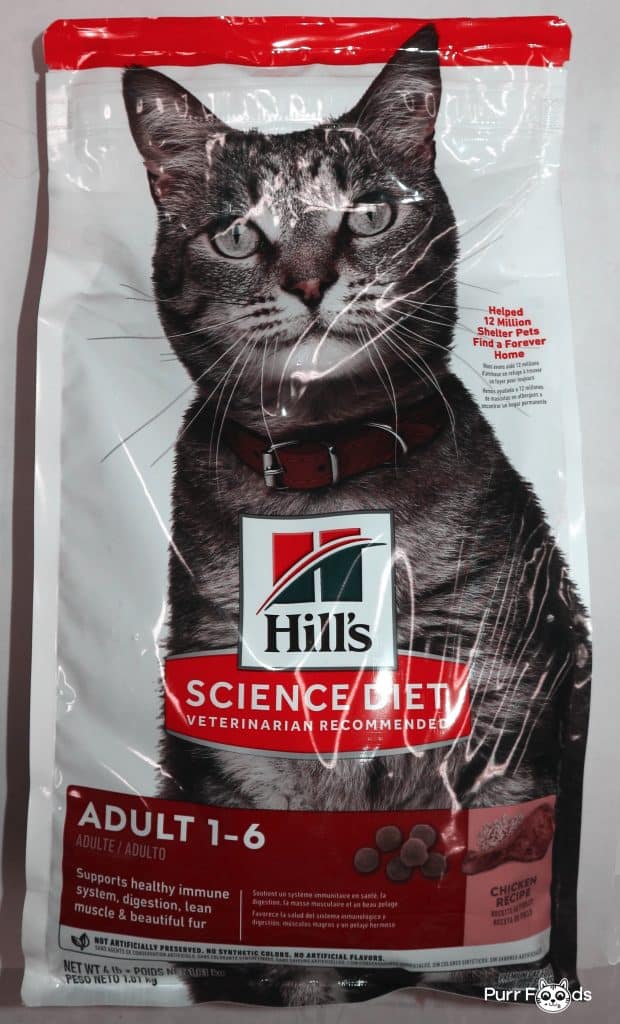 Hill's Science Diet has around 20 varieties of dry cat foods. Much like the canned diets, they are specialized for life stages and health conditions. Most dry foods have 1-2 matching varieties in wet food as well. Unlike wet food, there is a Hill's Science Diet Oral Care dry food for adult cats.
Overall, if you choose to feed Hill's, we recommend checking the ingredients of your flavor for fish oil.
Flavor and
Texture Variety
B+
Hill's Dry Food Nutrition Review
Ingredients
Hill's Science Diet Adult dry cat foods all follow a basic ingredient pattern. For the majority of the recipes, the first ingredient is chicken, followed by a starch such as whole grain wheat or brewers rice as the second ingredient.
However, chicken listed as the first ingredient is deceptive. This chicken is included with moisture content, while the whole grain wheat is already dry. One must look much further down the ingredient list to find chicken meal, which is chicken listed as a dry ingredient. So with moisture content being equal, whole grain wheat or brewers rice is the first ingredient in Hill's adult dry cat food recipes.
After the chicken and starches are listed, the third or fourth ingredient is typically corn gluten meal. Gluten meal is the protein portion of a grain and is a very cheap protein source for pet food. It also has a poor amino acid composition as compared to meat and is less easily utilized for building muscle and repairing the body. Many of the formulas use both corn gluten meal and wheat gluten.
Hill's formulas also include powdered cellulose, which is a type of fiber for helping cats feel full. This is a great addition to a dry cat food, as it should help reduce calorie intake overall. Dried beet pulp and tomato pomace are two other fiber-rich ingredients also used in many of Hill's formulas.
Most, but not all, of the dry cat formulas include soybean oil. This oil is very high in omega-6 fatty acids and can easily throw off the omega-3 to omega-6 ratio. Luckily, Hill's does publish the omega-3 and omega-6 content in their cat foods on their website, so pet owners can look up this information easily. However, it is unclear why soybean oil has been in the first place.
It is also important to note that as with the wet cat foods, Hill's uses a non-chelated mineral mix for their dry cat foods. Chelated minerals, such as zinc proteinate, are much more easily absorbed by the body compared to the zinc oxide used in Hill's foods.
Finally towards the very end of the ingredient list several dry cat foods have a handful of vegetables and fruit. These include green peas, apples, cranberries, carrots and broccoli. However, it is unlikely that these ingredients are adding much nutritional benefit with how low they are on the list. They are likely added so that images of these foods can be used in marketing materials.
Nutrients
Calories, Protein, Carbohydrates and Fat
Among the adult Science Diet cat foods, protein content sits at around 34% on a dry matter basis. Some foods do have a higher content, such as "Adult Perfect Weight Chicken Recipe," with a 39% dry matter protein content. Since there is corn gluten meal in the food and only a 34% protein content, this indicates that Hill's Science diet is primarily plant material and has very little meat. Although Hill's will tell you "cats require nutrient levels, not meat levels" it leaves one to wonder where they think meat-exclusive such as l-carnitine, taurine, arachidonic acid, vitamin B-12 and retinol should come from. This is especially important in amino acid composition, as amino acids fed in incorrect ratios are burned for energy and can stress the kidneys, rather than be incorporated into repairing the body and maintaining muscle mass.
The dry matter fat content for the adult cat foods is roughly 14% to 20% on a dry matter basis. However, in weight control foods the fat content on a dry matter basis is in the 5% to 10% range. This is likely to help reduce the total calories per a cup in the food. These are reasonable levels of fat
Carbohydrate content in Hill's Science Diet dry cat foods is roughly 30% to 40% on a dry matter basis. This is a relatively average carbohydrate content for a dry cat food, since dry cat foods require carbohydrates in order to hold together.
Calories per a cup varies greatly in Hill's foods. The kitten foods are over 500 calories per a cup while the weight loss foods are roughly 280 to 300 calories per a cup. All of the other adult cat foods sit somewhere in the wide range of 300 to 500 calories per cup. We recommend you carefully consider calories when choosing a Hill's dry cat food.
Again, Hill's does an extremely good job of controlling phosphorus levels in their foods. The average phosphorus content in their adult dry cat foods is 0.7% on a dry matter basis. Kitten foods sit closer to 1.1% on a dry matter basis for phosphorus content due to their growth requirements.
Hill's publishes the omega-3 and omega-6 contents of all of their foods online. This is great for consumers, but it is a little puzzling as to why there is such a wide range of omega-6 to omega-3 ratios in their foods. Ideally, the ratio should be 6:1 or less, but Hill's has foods with ratios as high as 19:1 (Adult Light) and most foods are above the 6:1 ratio. However, there are many foods with excellent ratios such as 3:1 in Adult Perfect Weight. Hill's uses fish oil in the majority of their dry food formulas to increase omega-3 content, so it is unclear why they don't add more in order to bring omega-6 to omega-3 ratios closer to a nutritional ideal.