With over half of the cats in the US overweight, choosing a weight-loss food is no joke. The primary cause of obesity in cats is free-feeding dry food. The unlimited supply of calorically dense, high carbohydrate, dry food is a sure recipe for obesity. The first step to weight loss is to stop this practice.
Begin your cat's weight loss journey by switching to at least 3 small meals of wet food per day. Each of these meals should be about ½ a large (5.5 oz) can of cat food or 1 small (3 oz) can of cat food. You can find out exactly how much you should be feeding your cat here.
Feed one wet food meal in the morning, one in the afternoon/evening, and one right before bed. The meal right before bed is the most important because it will keep your cat full overnight. The last thing you want is to be woken up by your hungry kitty.
If your cat absolutely refuses to eat wet food, you can use this same method with dry food too. However, wet food is better at making cats feel full. It also provides much-needed hydration. We strongly recommend avoiding dry food for overweight cats.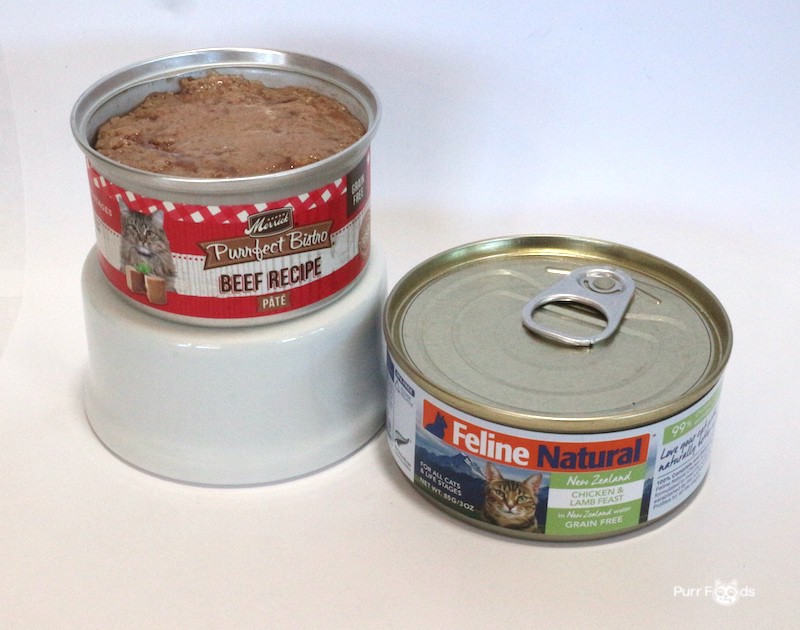 Choosing the Best Weight Loss Food For Your Cat
Merrick Purrfect Bistro Beef Pate
Purina Beyond Chicken, Beef & Carrot Recipe in Gravy
Sheba Perfect Portions Tender Beef Entree
Best Low Carbohydrate Content
Weruva Trueluxe On the Cat Wok
Fancy Feast Gravy Lovers Beef Feast in Roasted Beef Flavor
Feline Natural Chicken and Lamb
Iams ProActive Health Indoor Weight & Hairball Care
When choosing a weight loss food, calories are of course important. However, there is much more to look at beyond this simple number. Will a food keep your cat full? Will it promote healthy weight loss? These are just as important features of a food as the calories.
L-carnitine is naturally found in red meat and promotes the cells to use fat as energy rather than glucose. This is especially important in overweight cats, because weight loss risks hepatic lipidosis, a serious metabolic condition. L-carnitine can help reduce the risk of hepatic lipidosis and encourage your cat's body to burn fat. For this reason we favored foods with beef or lamb as ingredients when selecting a weight loss food.
The moisture content of wet food can help cats feel full as they are eating a meal. Soluble fiber can help cats stay feeling full longer. We looked for foods that had good sources of soluble fiber so that your cat will not be hungry between meals. Pumpkin, peas, flaxseed, agar-agar, psyllium husk, and guar gum are all common sources of soluble fiber in cat food.
Best All-Natural Brand For Weight Loss – Merrick Purrfect Bistro Beef Pate
All Natural wet
Merrick Purrfect Bistro Beef Pate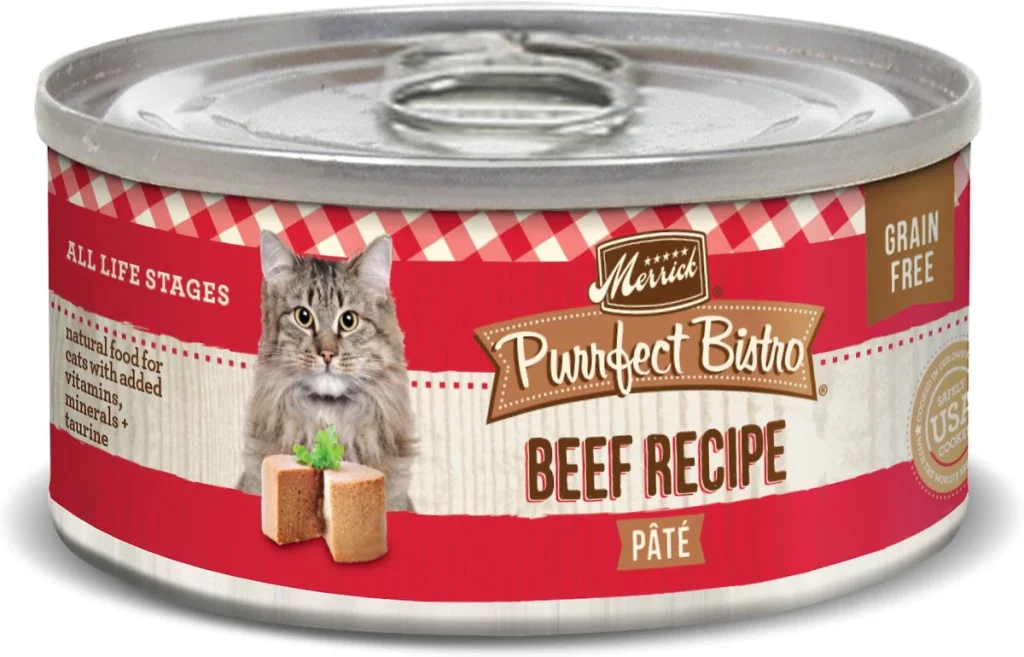 This low calorie beef and chicken cat food clocks in at 140 calories per a 5.5 oz can. Beef is the primary ingredient, so there is plenty of L-carnitine for healthy weight loss. The food also includes chicken, which should help cats who have a sensitive stomach or are picky eaters. This food has a pate texture.
This food strikes an amazing balance between high meat content and high fiber content. The food is 4.5% crude fiber on a dry matter basis and only 6% carbohydrates on a dry matter basis. However, soluble fiber isn't included in the crude fiber count. We expect soluble fiber to be high as well, considering that locust bean gum, flaxseed, and guar gum are listed as ingredients. All this soluble fiber is sure to keep your cat feeling full during their weightloss journey.
There are other great aspects to this food, too. The minerals are chelated, meaning that they are highly absorbable by your cat. The phosphorus level is reasonably controlled at 1.7% dry matter. Healthy omega-3s are sure to be included as there is salmon oil added to this food.
And all of this nutrition comes at a similar or lower price to the other foods listed here.
Merrick has operated as an independent company within Nestle Purina since their acquisition in 2015. Merrick is extremely open to answering questions and values transparency. They own their own production facilities and have a good safety record. Despite manufacturing's difficulty keeping up with their sales rapid growth, Merrick has remained determined to keep manufacturing in-house. This shows that the company has their values in the right place and refuses to compromise.
As far as product development and nutrition go, Merrick says they have their own formulation/R&D team but also call upon the resources of Purina. This seems to have allowed them to keep with their nutritional philosophy while being able to draw knowledge from a large legacy company.
Best Trusted Brand Weight Loss Diet – Purina Beyond Chicken, Beef & Carrot Recipe in Gravy
Trusted Brand
Purina Beyond Chicken, Beef & Carrot Recipe in Gravy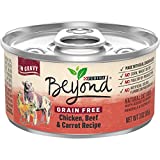 This food is a healthy and cost-effective option to help your cat lose weight. This food is primarily chicken, with beef as well to provide L-carnitine. The food comes in 3 oz cans which have 73 calories. The texture is chunks in gravy and the taste is a hit for most cats.
From looking at the ingredients and the fact that this food is only 9% carbohydrate on a dry matter basis, it is clear that this cat food is mostly meat. No vegetable proteins have been used. Protein really comes from meat, which is great for any cat. There are carrots and guar gum added, which provide soluble fiber to help keep your cat full.
Purina is a subsidiary of Nestle and makes a wide range of cat foods at all price-points. The Beyond line of foods are some of their higher end products. Purina invests heavily in the safety and palatability of all of their cat foods. Recalls on the high-end product lines are extremely rare, as they do all of their production in-house in order to keep a close eye on everything.
Purina doesn't invest nearly as much in nutrition as other legacy brands such as Hill's or Royal Cannin. However, in this case they have hit upon a recipe that is great for weight loss.
Best Easy Portion Size Cat Weight Loss Food – Sheba Perfect Portions Tender Beef Entree
Easy Portion Size
Sheba Perfect Portions Tender Beef Entree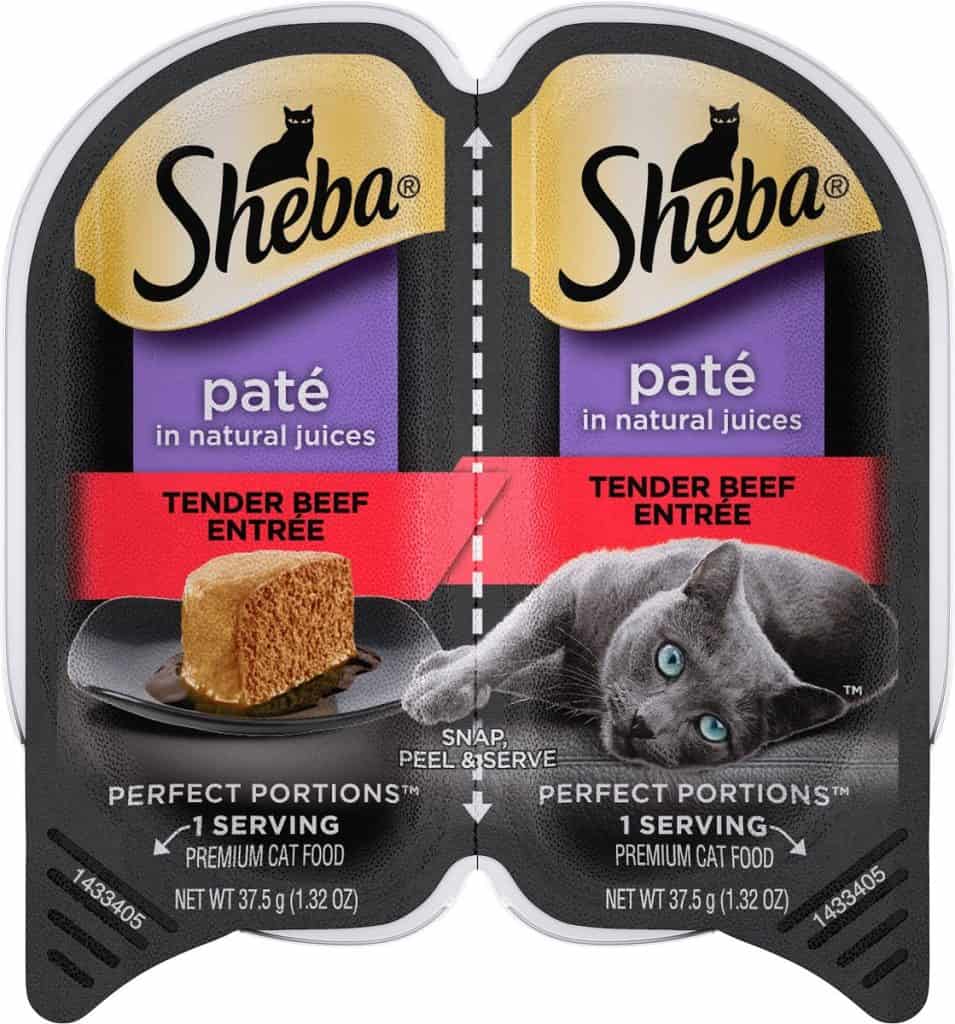 Like humans, so much of weight loss for cats is about portion control. The Crave line of cat foods does a great job of offering 1.32 oz portions. According to their feeding directions, this means seven meals for a 10 pound cat (or a cat who should be 10 pounds) who is eating this food exclusively.
Seven meals may seem excessive, but cats who live off of hunting eat ten to twenty meals a day just to stay fed. Mimicking a cat's natural feeding pattern can greatly help with weight loss. This food gives you the option of feeding very small meals without having to deal with leftovers in a can. Of course, you can also offer two portions in one meal.
Now about the food itself. This food is beef and chicken, so we know that there is a natural source of L-carnitine. The food has a high meat content but not much in the way of soluble fiber, except for guar gum. However, if you choose to feed your cat several meals a day, soluble fiber is less critical, as its main purpose is to help your cat feel full between meals.
Each portion of this food has only 40 calories. It comes in a pate texture.
Sheba is made by Mars Petcare, who also makes Iams, Crave, and Nutro. The brand has had no recalls.
Mars owns all of their own production facilities and makes many brands at many price points. It does appear that the quality and safety of each brand can vary widely, with groups of products almost acting as individual companies within Mars. As far as our research could tell, the facility that makes the "Perfect Portions" twin packs of cat food has never had a recall. This is extremely important, especially because beef can be a common ingredient recalled in the pet industry.
Best Cat Weight Loss Food With Low Carbohydrate Content – Weruva Trueluxe On the Cat Wok
Low Carbohydrate Content
Weruva Trueluxe On the Cat Wok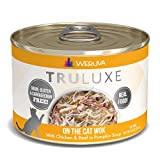 Reducing carbohydrates can help some cats immensely with weight loss. The sugar spikes and crashes from carbohydrates make some cats extremely hungry and have a hard time feeling full between meals. If this might describe your cat, we recommend choosing this very low carbohydrate option.
This chicken and beef cat food is sure to be easy on stomachs and a great source of L-carnitine. The shredded texture and simple ingredients are a hit with cats too. A six ounce can contains only 125 calories and the dry matter carbohydrate content is only 4.9%. The cans are also available in a three ounce size to give cat owners more options.
Pumpkin and potato starch are the sources of carbohydrate in this food. While the potato starch is likely added in low levels for texture, pumpkin is a wonderful source of soluble fiber. The food also includes xanthan gum, another kind of soluble fiber that should help your cat feel full.
Weruva is a high quality natural cat food brand, with the Trueluxe line of foods as their top-end products. The company is family owned and has an excellent safety record. The food is produced in Thailand, which should not be cause for concern for pet owners. Thai canned pet food has grown as a natural extension of the Thai canned tuna industry for human consumption. This company excellent food safety standards are Weruva has never issued a recall.
Best Budget Cat Weight Loss Diet – Fancy Feast Gravy Lovers Beef Feast in Roasted Beef Flavor
Best Budget
Fancy Feast Gravy Lovers Beef Feast in Roasted Beef Flavor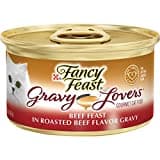 This food by Fancy Feast has only 66 calories per a three ounce can and cats love the taste. The protein in this food is primarily beef, so L-carnitine is provided in a good amount. The texture is chunks in gravy.
However, there are clear ways that this food has cut costs. Wheat gluten is used as a protein source. There are also meat by-products (which just means organ meat from mammals), but this is an ingredient that is commonly pointed to in safety recalls. However, Purina, the makers of Fancy Feast, have never had a food recalled for meat by-product issues as far as our research found. This large company extensively researches and tests their supply chains.
Additionally, this food doesn't have any sources of soluble fiber, so frequent small meals are recommended to help your cat feel full during their weight loss journey.
Best Beef Free Weight Loss Food – Feline Natural Chicken and Lamb
Beef Free
Feline Natural Chicken and Lamb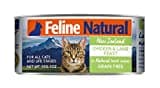 Most canned cat foods containing lamb are relatively high in calories, but this food only has 152 calories per a six-ounce can. The lamb in this food will provide an excellent source of L-carnitine and the chicken should help cats who are not used to a lamb flavor.
This food is made in New Zealand, and thus is the most pricey on our list. However, they have extremely high standards and a track record of quality that justify this price. And we're sure that being in New Zealand gives them a lot of access to fresh lamb that simply isn't available in North America.
The company was founded by a police dog trainer who saw huge improvements in his dogs when he switched for a more natural high-meat diet. It is independently owned, so they are not beholden to outside corporate interests.
The simple ingredients show that real nutrition is making up the bulk of this food. Carbohydrates are only 3.4% on a dry matter basis. Flaxseed is included, which will provide soluble fiber. Most cats seem to love the flavor, which is great, especially considering the food is a pate texture.
Best Trusted Brand Dry Cat Food For Losing Weight – Royal Canin Weight Care
Trusted Brand Dry
Royal Canin Weight Care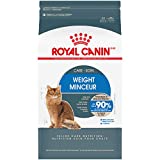 This food has an extremely low calorie count at 276 per cup. Royal Canin really has done a good job of keeping calories low in this food. They have even added in L-carnitine as a supplement! We believe this truly is the best non-prescription dry food for weight loss available.
The beet pulp in this food provides both soluble and insoluble fiber. Psyllium seed husk is also an ingredient in this food which provides a large amount of soluble fiber. This food also has added fish oil for omega-3s, a critically important ingredient in dry cat food.
Royal Canin operates as a separate entity within Mars, Inc. They make their foods in their own facilities to keep an eye on quality. They also heavily invest in research and testing their foods. When a Royal Canin food claims to have a health benefit, you can be assured that these claims have been verified.
Best Dry Budget Cat Food For Weight Loss – Iams ProActive Health Indoor Weight & Hairball Care
Budget Dry
Iams ProActive Health Indoor Weight & Hairball Care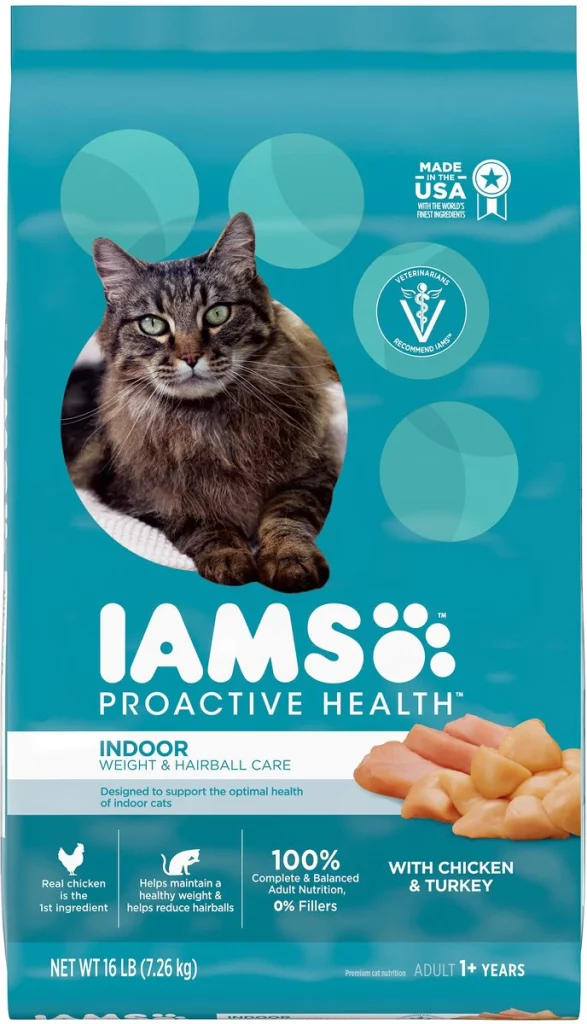 This food is about half the cost of the other dry foods listed here. It has only 302 calories per cup and is primarily chicken. This food contains beet pulp, which provides a good amount of soluble fiber to help keep your cat full. There is also a large amount of crude fiber in the food, 9.2% on a dry matter basis. This fiber comes from sorghum, cellulose, and brewers dried years. The food also includes fish oil, which acts as an omega-3 source.
It is clear that the food has been specifically formulated for weight loss, as it includes L-Carnitine in the ingredients, a supplement to help boost metabolism and burn fat. Fructooligosaccharides are a prebiotic included that is thought to help lower cholesterol.
This food cuts costs by having 39% carbohydrates on a dry matter basis and including a significant amount of corn. Another cost-cutting method was the inclusion of chicken by-product meal, which is a cost-effective source of chicken. Generally, by-products are a safe source of organ meat and scraps from butchering if the meat is specifically named. In this case, the meat is specifically named as "chicken" so this is a by-product of good quality.
Iams is a long-running brand of Mars Petcare. Unfortunately, the ingredient and formulation quality of each of their brands varies greatly. Admirably, Mars does a relatively good job of maintaining safety standards across all of their brands. In the past, Mars has had to shut down a plant in Missouri that was in the middle of an occupational health and safety investigation. This is not to say IAMS is a completely bad food; considering the price, it is a top choice. It may be a good option for cat owners on a tight budget, but it is probably worth spending the extra money if possible. Even better, feed your cat an all wet food diet when trying to lose weight.
All Natural Dry
Merrick Healthy Weight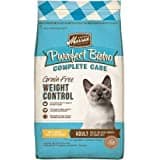 This food has a very low calorie count for an all-natural brand at 350 calories per cup. There is no good source of L-carnitine, but this food does have a high meat content of chicken and turkey. There should be sufficient soluble fiber in this food to help keep your kitty full. It includes sweet potatoes, peas, pea fiber, flaxseed and inulin all as soluble fiber sources.
Inulin also acts as a prebiotic and helps promote a healthy microbiome in the gut. There is evidence to suggest that gut microbiome plays an important role in obesity. This food also adds in probiotics such as Bacillus coagulans, likely in response to this research.
Other benefits of this food include the high omega-3 content, provided in part from salmon oil. The omega-6 to omega-3 ratio is 5, which is excellent for a dry cat food. The minerals are also chelated, meaning that they are more absorbable to your cat.
Again, we don't recommend feeding dry food to an overweight cat. If your cat refuses to eat wet food, portion this dry food into at least three meals per day.
Sources