Perhaps you have taken in a stray cat who needs to gain weight. Perhaps your senior cat is having a hard time keeping her weight on. Perhaps your kitten is growing so fast his appetite can't keep up.
Whatever the reason your cat needs to gain weight, we have selected 9 best high calorie cat foods to help. Typically, the best way to help a cat gain weight is to offer as much dry food as they like with the addition of twice-daily wet food meals. This way your cat can eat a high-calorie dry food throughout the day while still getting the high moisture and high-fat content of the wet food. Moisture is critically important to cats, so don't skip the wet!
In selecting the best foods to help your cat gain weight, we have looked beyond the total caloric content. We considered where these calories come from protein, fat, or carbohydrates. Cat's bodies are adapted to getting most of their energy from protein and fat. Carbohydrates can give a quick energy boost to cats who need it, but to build muscle, repair the body and keep organs healthy, we looked for foods with high levels of fat and protein.
One must also consider that cats who are underweight likely also have a sensitive stomach. We looked for foods with poultry as the primary protein source. Chicken, turkey, and duck are typically more gentle on cats' stomachs.
In many cases, it is favorable to have underweight cats of all-ages eat kitten food. The higher fat, vitamin, and mineral content of kitten food will help your cat gain weight. The main consideration with feeding an adult cat kitten food is to check the phosphorus content. Phosphorus is needed for growing bones, but the excess can be hard on an adult cat's kidneys. When recommending food, we have been careful to select foods that do not have excessive phosphorus levels, regardless of if they are marketed for kittens or adults.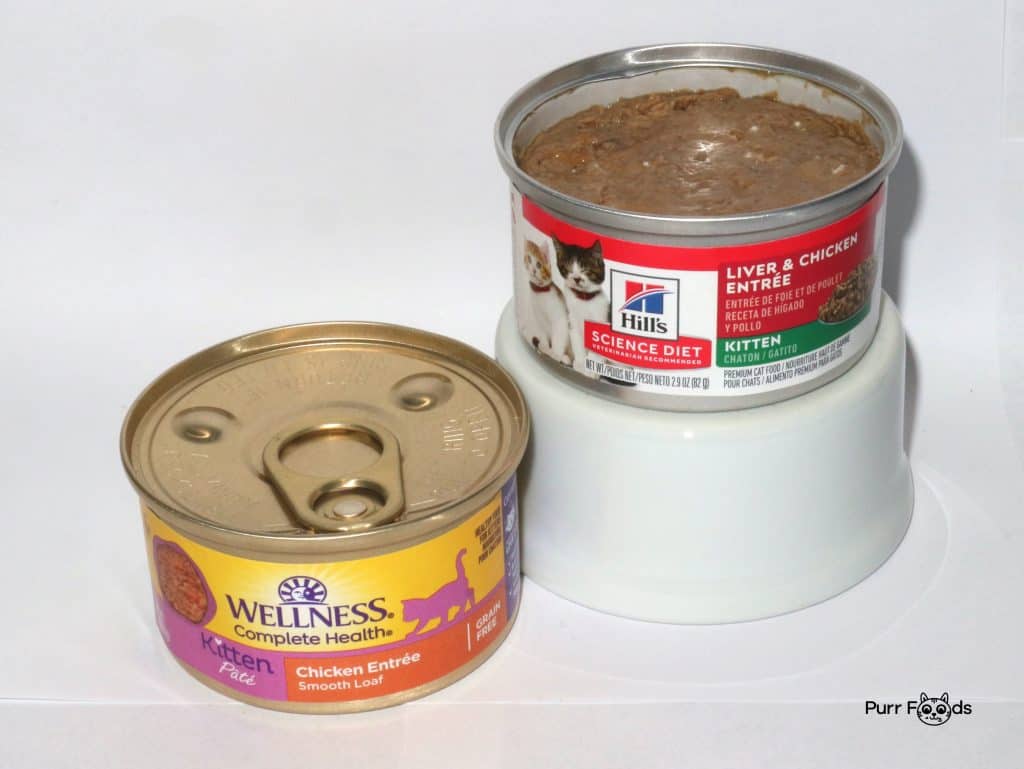 Here is the list of top high calorie wet/dry cat foods for weight gain –
Best All-Natural Wet Food
Wellness Complete Health Kitten Formula
Best All-Natural Dry Food
Orijen Original Grain-Free
Best Trusted Brand Dry Food
Hill's Science Diet Kitten Chicken Recipe
Nature's Logic Duck and Salmon Recipe
Best Senior Cat's Dry Food
Instinct Original Grain-Free Real Beef
Friskies Classic Pate Chicken & Tuna
Merrick Purrfect Bistro Grammy's Pot Pie
Instinct Original Pate Real Lamb Recipe
Best All-Natural Wet

Wellness Complete Health Kitten Formula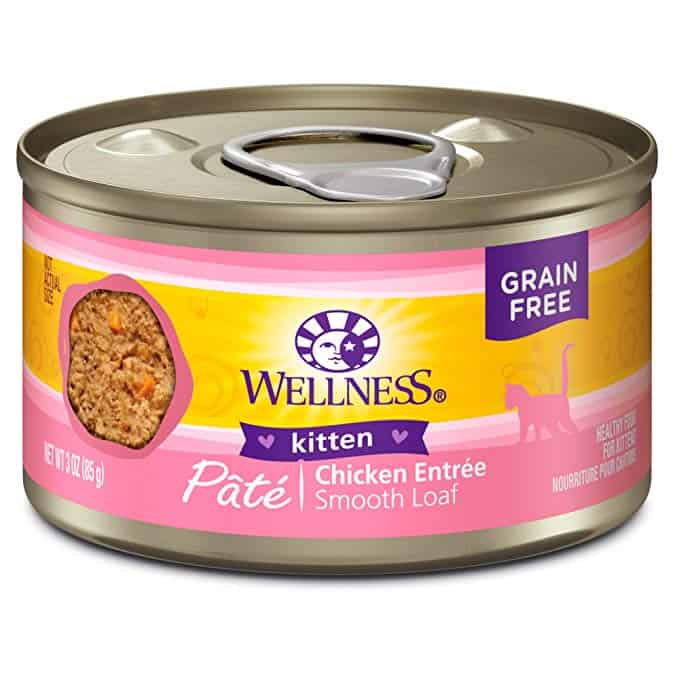 This kitten food is one of the highest calorie on the market. Not many brands can beat Wellness' 122 kcal/3 oz can food. It will be a great calorie boost to underweight cats of all ages.
The food is primarily chicken, so it should agree with most cat's stomachs. Most cats seem to really like this food too, even though it is the typically less cat-popular paté texture. It might have something to do with the low carb content of 3.2% on a dry matter basis. It might be all the added fish oil for omega 3s. (Unfortunately, when cats were asked they only responded with "meow.")
Wellness has also done a good job of controlling phosphorus levels on this food. At 1.94% on a dry matter basis, it's not a low-phosphorus food, but the levels are not unreasonably high either. Trace minerals should be well utilized by your cat, as they are supplemented in as "proteinates," instead of cheaper, less digestible, sources.
This food only comes is 3 oz cans, which adds convenience, but cost can add up quickly. The price is similar to other foods we have chosen, but you will not have the ability to buy in the more economic 5.5 oz size.
Wellpet, the company behind Wellness, is an institution in the natural pet food world. They are owned by an investment group, but operate independently and are able to focus on making great food. Wellness has a good reputation for quality control, despite outsourcing production to co-packers.
At 515 kcal per cup, this food from Champion should help your kitty gain weight fast. Not many foods can beat this high calorie level. The primary ingredients are chicken and turkey. The primary carbohydrate sources are lentils and beans, but these are minimal in the food considering the dry matter carbohydrate content is only 20%.
This food is well formulated in a number of arenas. It only has 1.22% phosphorus on a dry matter basis. It also has added pollock oil, so you know that your cat is getting the omega 3 oils they need. The omega-3 to omega-6 ratio is a healthy 1:4 because of this pollock oil. As an added bonus, this food also includes probiotics. This can help restore a healthy gut in an underweight cat.
This food has a relatively high price point due to its high content of ethically raised meat.
As of 2022, Champion Petfoods is being acquired by Mars Petcare. It remains to be seen how this will affect Orijen foods, but for the time being, the company has extremely high quality standards with their own manufacturing facilities and animal nutritionists. Ideally, Mars will use their extensive expertise in nutrition, safety, and quality to continue the mission of Champion Foods.
Best Trusted Brand Wet Food
Hill's Science Diet Kitten Liver and Chicken Entree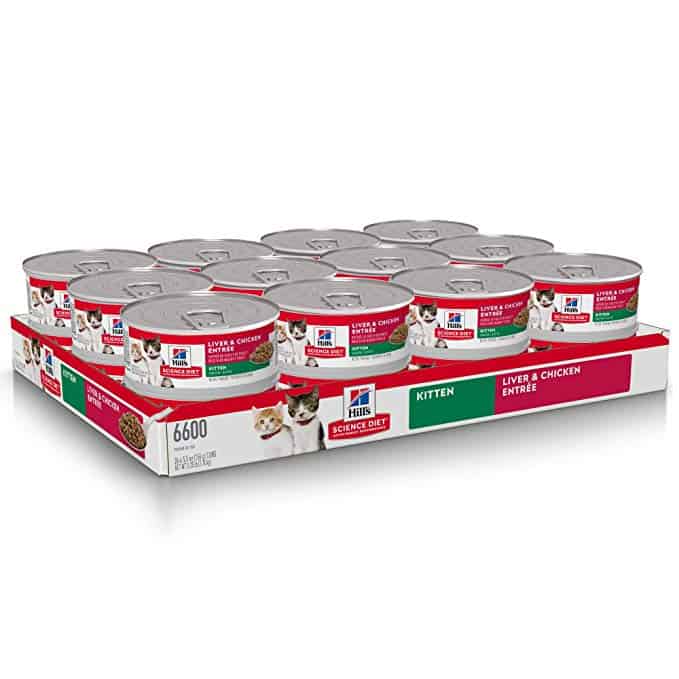 This kitten food offers a whopping 208 kcal in a 5.5 oz can. This is truly amazing considering that the texture of this food is minced, not paté. This is great news for picky adult kitties.
The protein in the food is high and primarily comes from meat and eggs. This is great news for growing kittens and recovering grown-ups alike. Hill's has added fish oil too, essential for providing omega 3s. They also have kept phosphorus at 1.22% on a dry matter basis, which is the perfect balance for growing kitten bones without stressing adult cat kidneys.
Carbohydrates are low in this food, with the addition of some corn starch likely added to improve texture. There is plenty of protein and fat to help a cat gain healthy weight in this food.
The price of this food is similar to the Wellness kitten food, but Hill's offers 5.5 oz sizes. Buying the larger size can allow for significant savings in the long run.
Hill's is owned by Colgate-Palmolive, and the extensive knowledge resources of this company go into designing their pet foods. Hill's makes a point of investing in a team of veterinary nutritionists and has the resources to do so.
Hill's does all of their food production in-house in order to maintain high quality control. Their extensive research and testing of their foods occurs in the product development phase and in quality and safety checks throughout production.
However, Hill's has the drawbacks of any big corporation in that they are slow to change and are beholden to the bottom line. They certainly have the ability and know-how to make the best cat food in the world, but are hindered by their complex supply chains and huge corporate structure.
Best Trusted Brand Dry Food
Hill's Science Diet Kitten Chicken Recipe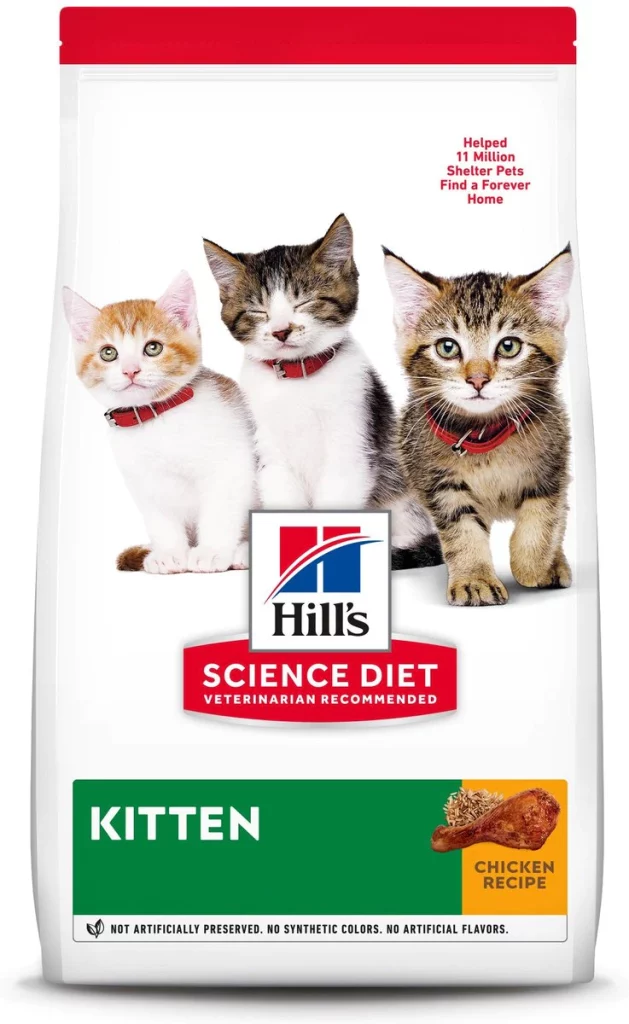 This food has some of the highest calorie counts on the market. At 568 kcal per cup, your cat or kitten should gain weight quickly with this kibble.
This food also has a very well controlled phosphorus level of 1.06% on a dry matter basis. This makes it an excellent choice for kittens and seniors alike who need to gain weight. There are also omega 3s, as this formula has added fish oil and the guaranteed analysis lists 0.1% DHA as a minimum value.
Flaxseed is also included in this food, which offers soluble fiber and omega-3s.
The main drawback of this food is its high wheat gluten content. Wheat gluten is simply wheat protein, and is a cheap way for companies to increase the protein content of cat food. This low-quality plant protein will almost certainly be "burned" for energy rather than building muscle. It would be better to see a larger portion of the protein in this food come from animal sources.
Hill's invests quite a bit in ensuring that cats actually want to eat their foods. Hill's uses their large resources to make sure their foods are safe, consistent, and tasty. They also put a lot of nutritional research into their food to help optimize your cat's health.

Best Senior Cat Wet Food
Nature's Logic Duck and Salmon Recipe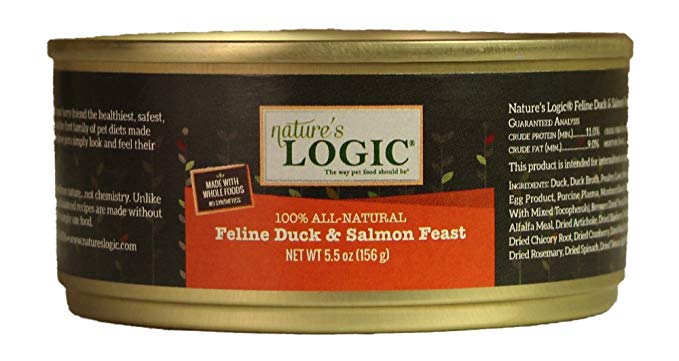 At first glance, Nature's Logic appears to be like any other all-natural cat food brand. Let us assure you, it's anything but.
This company formulates all of their foods without the use of synthetic vitamin and mineral supplements. This is a tremendous task. It ensures that all of the nutrition available to your cat comes from real food, and is highly usable by the body.
Recently, there has been a lot of attention on how synthetic vitamins are used differently from person to person. In humans, subtle genetic differences can determine if your synthetic B vitamins are able to be used by your body. This area of research is relatively new, and as you can imagine, is basically non-existent in regards to cats. So the idea behind Nature's Logic is to make sure you cat is getting all of their vitamins and minerals from wholesome ingredients, not laboratories.
Now what does this mean for your cat? Well because of the unique formulation of this food, it is incredibly low in iodine and low in phosphorus. If hyperthyroid is part of the reason your cat needs to gain weight, the low iodine content will help greatly. The 0.69% dry matter phosphorus level will also reduce any stress on the kidney; critical for the senior cat.
At 230 kcal in a 5.5 oz can, this food will help your cat gain weight quickly. The dry matter carbohydrate content is 4.8% in this food, leaving plenty of room for protein and fat to fuel your kitty. The salmon will provide omega 3s while the duck will provide the protein your cat needs.
This food's price is in the middle of the pack for all-natural pet foods. This is great for such a quality food. As long as paté texture is okay with your cat, this food should be a hit. We're hoping they come out with other textures soon!
Nature's Logic doesn't manufacture their own food, but they are very transparent about everything. They make an effort to have a representative present for the manufacturing runs and have never had a recall. They may not have the resources of a big pet food brand, but being small and independently owned has allowed them to keep to their core values.

Best Senior Cat's Dry Food
Hill's Science Diet Adult 11+ Chicken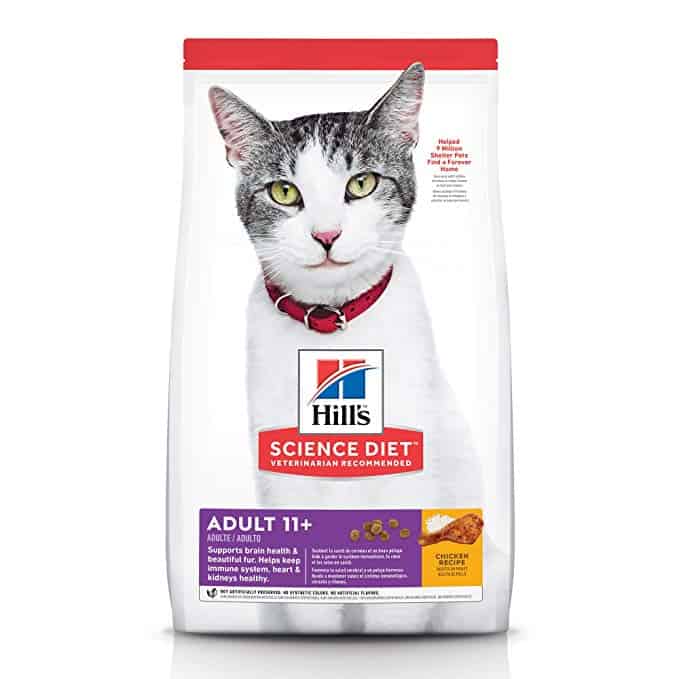 Typically, senior cats who need to gain weight have an underlying medical condition. It is more important to treat whatever the condition is than to feed a high calorie food.
If your senior cat has kidney disease, feeding dry food is not recommended, no matter what kind. The increased moisture content from an all-wet diet helps the kidneys significantly.
That being said, we have chosen Hill's Science Diet Adult 11+ Chicken as the best choice in dry food for senior cats who need to gain weight.
Most cats enjoy the taste of this 510 kcal per cup dry food. The chicken and wheat formula should agree with most cats' stomachs too. Phosphorus levels are very low, 0.69% on a dry matter basis, which is critical for senior cats. Even older cats without diagnosed kidney disease can use the reduced stress on their kidneys. This was clearly Hill's thinking on this low phosphorus content.
The protein in this food is primarily from chicken, which is especially important in senior cats. Animal proteins are better utilized to build muscle. Unfortunately, there is a significant amount of corn gluten meal in this food, a plant protein. It likely adds to the texture of the food, making it more palatable to senior cats. Fish oil is also listed as an ingredient, so we know that the all-important omega 3s have been included.
This food is the perfect example of Hill's as a company. The food is nutritious and tasty to cats, but it is high in plant protein. It would be great to see corn gluten meal replaced by an animal protein without compromising palatability. Hill's certainly has the human talent and financial resources to develop such a product, but regularly fails to do so. Corporate supply chains and the bottom line frequently get in the way of a superior product.
Best Budget Wet Food
Friskies Classic Pate Chicken & Tuna
At less than half the cost of many of the foods on this list, Friskies is a good option for the budget conscious cat owner. Friskies is made by Purina, a company with a decent track record for safety and quality considering its size. Compared to similarly priced cat foods, Friskies does a good job of being a safe and well researched cat food.
This flavor of Friskies has 184 calories per 5.5 oz can. This is slightly less than most of the cat foods on this list, but still much higher than the average can of cat food. This food also has a well controlled phosphorus level of 1.38% on a dry matter basis. This would make the food safe for senior cats and kittens alike.
Due to the low cost of this food, the ingredient list is less than perfect. The first ingredient in this food is meat by-products. By-products aren't necessarily bad, as they are simply leftover meat and organ meat from slaughter. However, it is concerning to have "meat by-products" specifically, as it is important for safety and quality to know the type of meat being put in the food.
Overall, given the price point of this food, we think Friskies Classic Pate Chicken & Tuna is a good choice if you are on a tight budget.
Non-Paté Texture
Merrick Purrfect Bistro Grammy's Pot Pie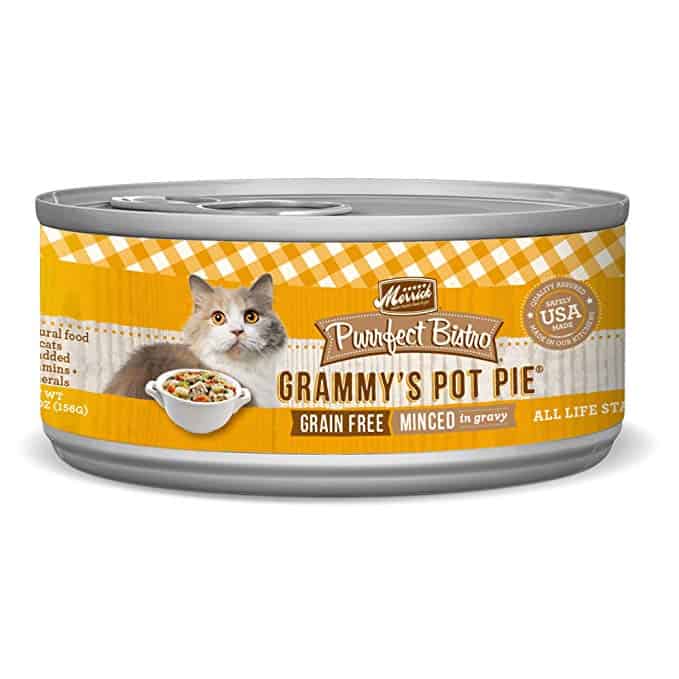 If your cat or kitten is not a paté fan, this is the weight-gain food for them. At 170 kcal per a 5.5 oz can there are plenty of calories in this chunky minced texture. The food comes packed together in a can with little gravy, so for pickier cats we recommend mixing with a fork and adding some water to make the food more of a "chunks in gravy" style. Your kitty may also wish to try the Thanksgiving Day Dinner flavor, as it has similar nutrition and texture, but with turkey in addition to chicken.
Besides the high calorie count, the formula for this food is simply great. Phosphorus is a well controlled 1.28% on a dry matter basis. Salmon oil is added for all of those healthy omega 3s. Carbohydrates are at 10.5% on a dry matter basis and come from a variety of sources including peas, potato, sweet potato and carrots.
All of the goodness in this food comes at a similar price as the other brands we have recommended here.
Merrick was bought by Nestle Purina in 2015, but maintains an independent operation from its parent company. They have their own production facilities and have a decent track record for food safety. They also take customer service seriously and are relatively transparent.
Merrick has been rapidly expanding and has hit some growing pains in product consistency. However, the fact that they are expanding their own manufacturing rather than outsourcing will have strong long-term safety and quality benefits.
According to Merrick, they have their own R&D formulation team but also use the resources of Purina to design their pet food. This is a great balance as it allows for them to draw on the much larger knowledge base of Purina while maintaining their nutritional philosophy.
For Diabetic Cats
Instinct Original Pate Real Lamb Recipe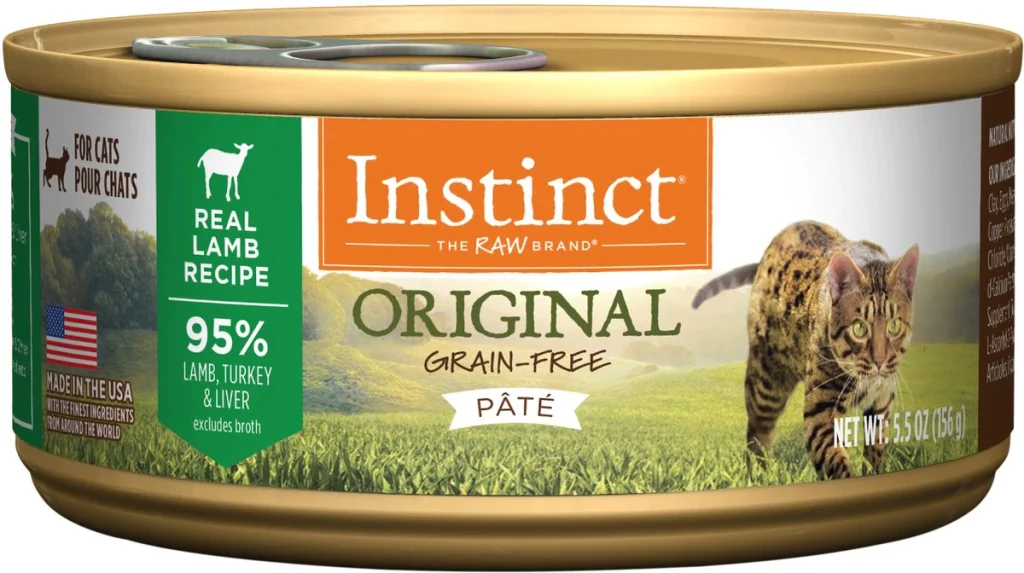 If your cat isn't a fan of poultry flavor, we recommend this lamb flavored cat food. Few foods can beat the calorie count of 206 kcal per 5.5 oz can.
This food is great stuff. In-fact, we recommend it as our top choice for diabetic cats. Carbohydrates are at a low 1.6% and phosphorus is at 1.8%, both on a dry matter basis. This means phosphorus is enough for a growing kitten and reasonably controlled for a healthy adult cat.
Because this food is primarily lamb, it has a higher price than the other foods on this list. The taste of this food is as popular with cats as most other patés. If your cat prefers red meat, this food should be a hit.
The carbohydrates present in this food are from peas, pumpkin, carrots, and flaxseed. These should be easy on your cat's stomach. Instinct goes as far as listing the omega 3 oil content, so we don't just have to guess based on the fact that they add fish oil.
The company that makes Instinct is Nature's Variety. This company has managed to take the advantages of being corporate structured while maintaining their core values. They have an in-house R&D team and hold regular meetings with outside experts to review the product line.
Nature's Variety contracts out the manufacturing of their canned foods. However, the company makes raw diets in-house so they are well aware of the realities of manufacturing. They have a reputation for having some of the tightest guidelines in the industry for their co-packers. Quality and safety are no joke to Nature's Variety.
Sources: