Inflammatory bowel disease and irritable bowel syndrome are conditions that occur when a cat's digestive system becomes chronically irritated. IBS and IBD are treated using a combination of medicine and dietary management.
The cause of chronic gut inflammation can be from any number of sources. Bad gut flora, autoimmune disease, food allergies, and food sensitivities are the main causes. Your vet will want to rule out other health issues, such as hyperthyroid or parasites, before giving a diagnosis of IBS or IBD.
Although irritable bowel syndrome (IBS) and inflammatory bowel disease (IBD) are technically different diseases, the terms are often used interchangeably in veterinary medicine. IBS is less serious and is highly responsive to stress. IBS comes and goes. IBD is a more day-to-day condition and without treatment can lead to weight loss and nutritional deficiencies.
Regardless of the technical differences between IBS and IBD, we know you are here because your poor kitty has upset stomach issues and you are trying to choose a food to help. Due to there being several possible causes of gastrointestinal irritation, no one food will work for all IBD cats. Finding a food that works for your cat will have some trial and error. Unless your veterinarian advises otherwise, try a food for 2 weeks before determining if there is an improvement.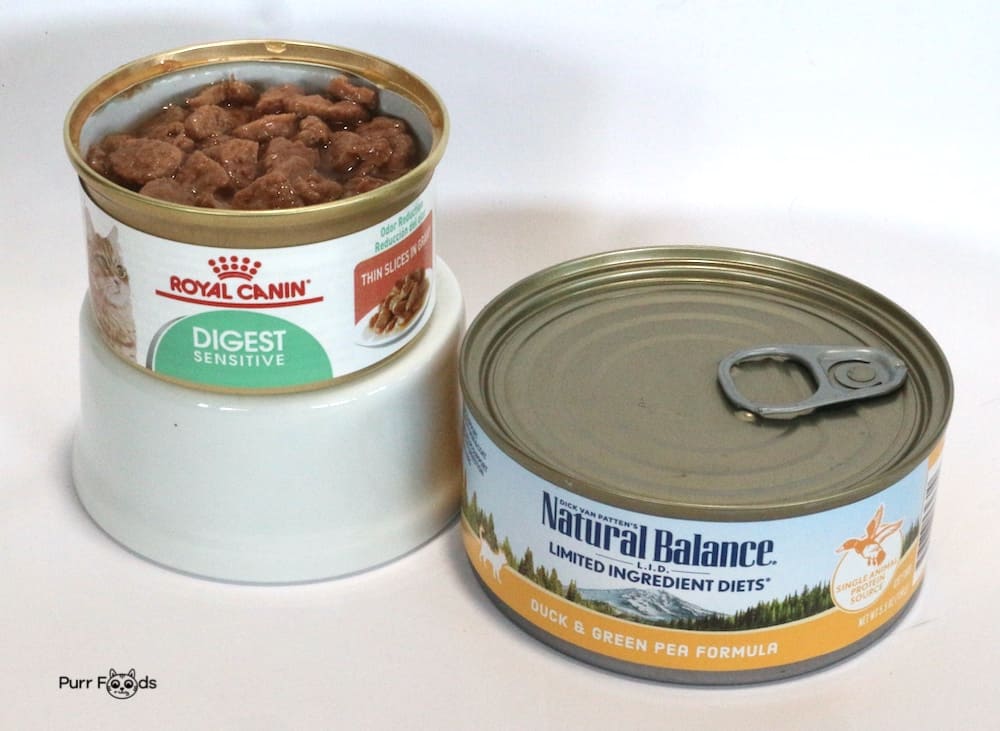 Best All-Natural Wet Food
Best All-Natural Dry Food
Best Prescription Wet Food
Royal Canin Selected Protein PD
Best Prescription Dry Food
Best Trusted Brand Wet Food
Royal Canin Digest Sensitive
Best Trusted Brand Dry Food
Purina Sensitive Skin & Stomach Lamb
Best Canned Food with No Additives
Best Dry Food with No Additives
Primal Rabbit Freeze Dried Nuggets
Best Low Carb Food for IBD/IBS
What to Look for in a Food for IBD and IBS
Veterinarians have published guidelines on what to look for when choosing a food for IBD.
The primary concern is finding a food that is highly digestible. Digestibility isn't simply something you can read on the label. In a perfect world, every pet food company would have digestibility studies available. However, this is rarely the case so we must use our understanding of feline nutrition to best determine how digestible a given food is. This means choosing meat protein sources, not vegetable sources.
Fiber and carbohydrates are the trickiest category when it comes to IBD. Some cats respond best to a low-carbohydrate diet. This has to come from wet food, as all dry foods are relatively high in carbohydrates. Low carbohydrate diets are biologically appropriate for cats, as cats are true carnivores. It would make sense that this is what an IBD cat needs, but in practice only a small portion of IBS and IBD cats get better with a low-carb diet.
Soluble fiber will slow down the passage of food in the digestive system and allow bacteria to work longer. It will also hang on to fat and cholesterol, which can help prevent rich foods triggering diarrhea. In cases of gastrointestinal upset soluble fiber can be a real lifesaver.
Many sources of soluble fiber are also rich in insoluble fiber. Peas, flaxseed, alfalfa and oats are common sources. These foods will feed gut bacteria, which depending on your cat's specific gut flora and immune response can help or hurt IBS. Agar-agar and guar gum are the two most common ingredients in cat food that provide soluble fiber without adding insoluble fiber.
Avoiding common food sensitivities is another component of choosing best cat food for IBD. IBD can be caused by food sensitivities or allergies. Chicken is a common food allergy in cats, simply because it is in nearly every food they eat. Beef, dairy and fish are common food sensitivities in cats, so these foods should be avoided too. Fish is also commonly high in contaminants such as mercury and arsenic, so there is good reason to avoid it.
On the other hand, fish provides omega 3s. These are essential for gut health as well as many other functions in the body. Cats cannot fully use plant-sourced omega 3s, so a type of fish or fish oil should be included in their diet. Avoid foods with fish as a primary protein source, but look for foods with salmon oil or another fish oil as an ingredient.
Finally, and perhaps most obviously, the food should not have any unnecessary additives. Color or flavor additives can cause a reaction in some cats. Note that "natural flavor" is not necessarily an additive, but may just be the juices from the meat. It is best to get clarification from the company on exactly what they mean by "natural flavor,"
Alternatively, there is the possibility that your cat's IBD is caused by specific food allergies. Your veterinarian may recommend a 12-week feeding trial of a hypoallergenic food. You can see our hypoallergenic food recommendations here. Keep in mind however, that modern veterinary thought is moving away from the simple food allergy hypothesis. It may be worth trying a food for IBD first considering the 12-week commitment of a hypoallergenic food trial.
Best All Natural Wet Cat Food for IBD – Lotus Rabbit Pate
Best All Natural Wet Food

Lotus Rabbit Pate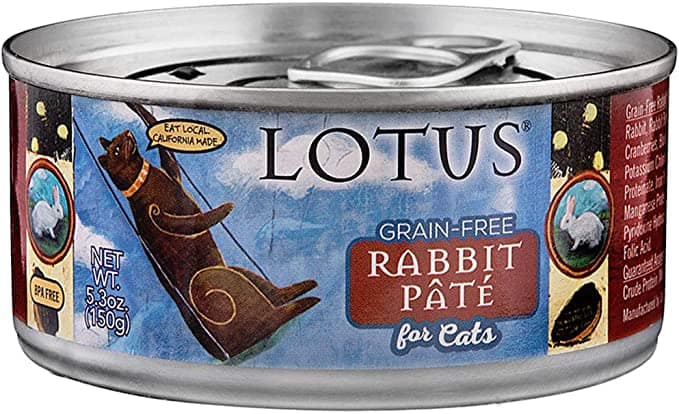 What an absolute gem of a cat food. The brand Lotus is known for their success with digestive issues. They have their own micro cannery so that they can keep an extremely close eye on the quality of their pet foods. Oh and of course the ingredients and nutrition of this food are top-notch.
The bulk of this food is rabbit, which is uncommon to find in canned cat food. Rabbit is highly digestible to cats and sensitivities to rabbit are extremely rare. This alone makes it a great food for irritable bowel!
The fiber content of this food is low, 3.4% dry matter, which is great for the overall digestibility of the food. The fiber that is included comes primarily from peas and agar-agar. This means that the food is high in soluble fiber, critical for stopping IBD symptoms.
The dry matter carbohydrate content of this food is 28%. This is on the high side for canned cat food, but most cases of IBD respond best to about this level of carbohydrates. Peas are the main source of carbohydrates, which is great. Peas have been proven time and again that they are easy on cat's digestive systems and are a good ingredient for preventing diarrhea.
This food has added salmon oil, so we know that omega 3 is there to help your kitty's gut. In fact, there are a lot of ingredients in this food known to have health benefits. It would be uncommon for a cat to have a sensitivity to these specific ingredients, but if you are concerned about food allergies or specific sensitivities, it may be better to pick a food with fewer ingredients.
This food is a paté and cats who are not used to a rabbit-pea flavor may be hesitant to eat it at first. Mashing the food with a fork, adding water or warming slightly will help get picky cats to love this top-notch food.
Best All Natural Dry Cat Food for IBD/IBS – Lotus Oven Baked Duck
At first glance Lotus dry foods look just like any other kibble on the shelf, however they are anything but. Lotus does not extrude their dry foods, but bakes them. Extrusion uses high temperature and pressure to dry and cook dog and cat kibbles extremely fast and efficiently. However, it also destroys nutrients and makes the pieces hard and less digestible.
As we said before, digestibility is the number-one concern with IBD. Lotus bakes their dry food, which increases digestibility. The best explanation we can give is cat vomit (gross we know). Have you seen whole kibbles in throw-up that look almost the same as they did in the bowl? This is because the extruded food is hard to digest. Lotus' baked food would never look this way.
The benefits of baking alone are nearly enough for this to be our top dry food pick. However, for a cat with IBS, this food has great ingredients and nutrition too. This recipe uses duck and pork as the meat sources, both are known to be gentile on the stomach and highly unlikely allergens. Peas are the main carbohydrate, which will provide soluble fiber.
Salmon oil provides omega 3s and they even list the omega 3 and 6 levels on the label. A 0.4 omega 3 to omega 6 ratio is very high for the average cat food and can be extremely beneficial to gut and skin health.
Lotus has also gone ahead and included probiotics and prebiotics in this food too. These should help restore gut health in cats. In rare cases of IBD these may cause an immune flare up. However, remember that no food will work for all cats with IBD. There will always be a trial and error process.
Lotus is a small family-owned company that has been around since 2003. They produce all of their own foods and have never had a recall. In-fact much of the reason that they have remained small is their refusal to switch from baking their kibbles to the extrusion process.
Best Prescription Wet Food for IBD – Hills d/d duck
Royal Canin has formulated a prescription food that utilizes their high standards of manufacturing to ensure that this food is duck and pea with absolutely no other protein containing ingredients. You can rest assured that if your cat has a food sensitivity, there is no cross contamination in this food.
Duck and peas are some of the best tolerated food sources for cats, which is likely why they were chosen for this food. Peas also have high levels of soluble fiber. There is added cellulose for the benefit of bulking stools and feeding gut bacteria. Fish oil has been added for omega 3s.
Cats who like a paté texture should like this food. Unfortunately, it does not come in other textures.
The real value of this food isn't something that can be read on the label. Any food can claim that it has limited ingredients, but only a company with strict manufacturing quality can actually ensure that there is no cross contamination. Royal Canin is a trusted brand with an established line of veterinary formulas. The main selling point of this food is that it has been well researched and has strict quality control.
If food sensitivity is the source of your cat's IBD, prescription food is the best way to make sure that they will not be inadvertently exposed to any other ingredients.
Best Prescription Dry Food for IBD – Hills' d/d duck
Hill's offers their limited ingredient prescription dry duck food. It has the similar benefits of the canned food that we describe above, but in a dry formula. This food offers omega-3s from fish oil and cellulose for improved stools. We do recommend that all cats receive wet food daily to keep their hydration levels up, so it is best to feed the Royal Canin PD duck wet food in combination with this dry food.
Best Trusted Brand Wet Cat Food for IBD – Royal Canin Digest Sensitive
This chunks in gravy canned cat food has been specially formulated to help cats with sensitive stomachs. Royal Canin has made an effort for the food to be highly tasty to cats, so it is a great choice for picky eaters.
Although it won't work for cats with chicken sensitivities, reviews show that this food really does help cats with gastrointestinal issues. Let's break down why that might be:
A simple reason is that this food has added cellulose. Although this fiber is insoluble, it has been proven to help cats with diarrhea and gastrointestinal upset. This will work for many cats with mild IBD. The ingredients also list salmon, a source of omega 3s.
Royal canin also tells us that this food has been specifically formulated and tested for high digestibility. Proteins come primarily from meat and carbohydrates are mostly from starches, which are highly digestible. There is wheat gluten listed in the ingredients, which has poor digestibility. However, it is low enough on the list that it appears to be added for the consistency of the gravy and does not contribute significantly nutritionally. We think that this is a good trade-off because any cat food is useless if they won't eat it.
Considering that high digestibility is the most important factor in choosing a food for IBD, it is great to know that Royal Canin has actually tested their food for digestibility. Digestibility is primarily why we chose this cat food.
Royal Canin extensively researches and tests their products. They hire animal nutritionists to formulate and put significant care into the nutrition of their products. They also make their food in their own facilities to maintain high levels of quality control. Being owned by a large corporation, Mars Inc., makes them subject to corporate interests, but Royal Canin still does a good job of making quality pet food.
Best Trusted Brand Dry Cat Food for IBD – Purina Sensitive Skin & Stomach Lamb
Rice is the key to this food helping with IBD. Although it is trendy to avoid grains, there isn't a nutritional benefit to doing so. The idea behind grain-free is to avoid carbohydrates, but all dry cat foods have a relatively high level of carbohydrates in order to give the kibble structure. Using gentle starches, especially rice, is key to choosing a dry food for IBD.
This food contains chicory root, which is a natural source of prebiotics, to help good bacteria grow. The food is also relatively low in carbohydrates for a dry diet, at 26% dry matter. In-fact the carbohydrate content is so low that we have previously recommended this food as a lower cost option for diabetic cats.
Fish meal is not an ideal ingredient in a food for IBD, but in this case it is likely added to provide omega 3 oils. It would be better to see omega 3s sourced from a fish oil, as fish meal sensitivities are common in cats. Fish meal can also be a source of heavy metal contamination. Considering that fish meal is low on the list of ingredients, it is unlikely to cause a problem for most cats or contribute significantly to heavy metal content.
Purina does extensive palatability testing on their foods, so your cat is sure to enjoy this kibble. Reviews of this food's effectiveness are overwhelmingly positive, but for serious cases of IBD something else may be needed. The large variety of protein and carbohydrate sources may trigger cats with food sensitivities.
Purina is known for producing safe cat food at every price point. Purina is owned by Nestle, so they are subject to corporate interests and the bottom line. Their huge supply chain network also exposes them significantly to feed ingredient recalls. However, their size means that they have a large knowledge base on nutrition and pet food manufacturing. Purina does a good job of utilizing their resources to formulate safe products with quality nutrition.
Best Canned Food for IBD with No Additives – Nature's Logic Rabbit
This food combines rabbit meat and pork liver to make a low carbohydrate and additive free diet for cats. When Nature's Logic says all-natural, they really mean it. This food has no synthetic vitamins or minerals added, but gets all of the nutrition from real food ingredients.
Strictly speaking, allergies are when the immune system reacts to proteins. However, food sensitivities is a more broad term. The digestive system can have a poor reaction to anything. Synthetic colors or flavors are common food sensitivities, but cats can be sensitive to any ingredient in a food.
If your cat seems to have a reaction no matter what food you try, it is worth trying Nature's Logic to rule out the synthetic vitamins and minerals. These ingredients are added to almost every cat food on the market, except Nature's Logic.
Rabbit and pork are excellent protein choices, as they are well tolerated by cats. Herring oil is added for omega 3.
The only reason this food isn't our #1 choice is because of the low soluble fiber content. For many cats, soluble fiber is going to give the fastest relief from IBD symptoms. Small amounts of apples and alfalfa are in this food, so a small amount of soluble fiber is included, but not enough to be therapeutic for immediate relief. Another downside is that this food is only offered in a paté texture.
Nature's Logic outsources manufacturing but has a legacy of quality. They have never had a recall and make an effort to be present for every manufacturing run. They have been independently recognized for quality and transparency, publicly posting supply chain information and detailed nutritional information.
Best Dry Food for IBD with No Additives – Primal Rabbit Freeze Dried Nuggets
Primal is a company that offers complete freeze dried diets that are free of any synthetic vitamin or mineral additives. It is recommended to rehydrate the food, as moisture is very important to cats, but it can be fed dry as well.
Besides avoiding the additives found in nearly every other cat food, this food has the bonus of exclusively rabbit meat ingredients. Small amounts of plants are added in the formula for vitamins and minerals, but this food is primarily freeze dried rabbit. Sardine oil is added for omega 3.
Similar to our canned food with no additives, this freeze dried diet also does not contain any significant amount of soluble fiber. Like the Nature's Logic food, this is the reason that Primal isn't our #1 choice for dry food.
Primal is an independently-owned pet food manufacturer. They have extremely high quality standards and an excellent track record. Their corporate offices are in the same facility as their manufacturing, so oversight is easy.
Best Limited Ingredient/Low Carb Food for IBD/IBS – Hound and Gatos Duck
Some cats with IBD simply respond better to a low carbohydrate diet. It is hypothesised that certain kinds of bowel upset are an inappropriate immune response to gut bacteria. Low-carb diets can starve the gut bacteria and prevent this flare up.
Hound and Gatos is unique in that it provides a limited ingredient diet that is also low in carbohydrates. This food is 98% duck and duck liver, with added vitamins and minerals to make it a complete diet.
The extremely high meat content of this food should make it very digestible. The agar-agar is added as an ingredient likely for texture, but it has the added bonus of being a soluble fiber. This will slow the digestion of food and help gut health. Salmon oils also added, so omega 3 is definitely in this food.
Hound and Gatos is a reputable company who DNA tests every batch of food to make sure their meat ingredients are 100% truthful. They outsource the production of their food, but have won recognition for their high safety and quality standards.
This short list of ingredients is sure to make a can with food sensitivities purr. We recommend this food if it appears that higher carbohydrate IBD foods are not doing the trick. It is also a great food to rule out specific food allergies and sensitivities.
Best Food for IBD on a Budget – Natural Balance Duck and Pea
Natural Balance offers a canned duck and pea cat food for roughly half of the cost of Hill's prescription duck and pea food. It is extremely similar in formulation to the prescription diet and should have many of the samenutritional benefits.
The main formulation difference between this food and the Hill's prescription diet is that Natural Balance lacks cellulose. IBD being what it is, some cats may be better off without cellulose while others may benefit from it. It is hard to say if this omission is generally an improvement or disadvantage over the prescription diet.
Considering that it is recommended for cats with IBD to eat novel protein sources, most foods are very expensive. Duck is more budget friendly than rabbit, but duck cat food is still more expensive than chicken. Natural Balance provides a duck canned cat food that is low in cost relative to other cat foods for IBD. Unfortunately, you will not find a truly low-cost IBS or IBD food.
Natural Balance was purchased by Big Heart Pet Brands, which previously only made low-end pet foods. Smuckers has since purchased Big Heart. These purchases actually have had a positive impact on Natural Balance. Since joining Big Heart, Natural Balance has no longer had to outsource manufacturing. Their outsourced manufacturing had been the source of a handful of recalls, but it appears no recalls have occurred since the change. The large production knowledge base of Smuckers has allowed them to improve quality and safety.
Sources: