Who Makes Royal Canin?
The Royal Canin Company is owned by Mars Petcare.
Royal Canin was founded in France in 1968 by a veterinarian named Jean Cathary. By 1972 the company was sold to a family-run feed business, and Royal Canin quickly expanded across Europe. They were in the US by 1985. In 1990, the parent company was sold to Paribas Bank, who ended up selling Royal Canin to Mars Inc in 2001. To this day Mars remains family owned, with Royal Canin still operating as a separate company under the ownership of Mars Petcare.
Best Royal Canin Cat Food Products
Best Dry Royal Canin Food – Feline Care Nutrition Dental Care
Royal Canin excels at making scientifically studied specialized diets, both prescription and over the counter. Out of all of their over the counter dry diets for adult cats, we believe that the Dental Care food is the best overall dry food by Royal Canin.
What makes this food unique is the scientifically studied kibble shape in order to help promote oral health. Tooth decay is a major health concern for cats, especially those that eat dry food, so this food would be the most beneficial Royal Canin dry cat food for the typical adult cat.
However, we did not choose this food for the dental benefits alone. This food is lean (322 kcal/cup), which will help prevent obesity. Unfortunately, the low calorie content is in part achieved by a high carbohydrate content of 37% on a dry matter basis. The main source of protein in this food is chicken meal, which is an excellent choice. Additionally, the omega-6 to omega-3 ratio is 7:1, which is a very healthy level. The omega-3s come from fish oil, indicating that DHA and EPA are also present in this food. 
A final differentiation of this food as compared to other Royal Canin dry food offerings is that the mineral mix offers chelated minerals such as zinc proteinate and manganese proteinate. These forms of minerals are the most digestible for cats, and they are ideally what we like to see included in cat food.
Best Royal Canin Wet Food – Feline Care Nutrition Intense Beauty Chunks in Gravy Pouch
Among Royal Canin wet cat foods, this food simply stands out. It has a very low phosphorus content of 0.64% on a dry matter basis. It also has one of the lowest carbohydrate contents among Royal Canin wet foods, at 16% on a dry matter basis.
This food also has guaranteed levels of omega-6s and omega-3s at a 5.5:1 ratio. These levels of omegas are included in the food to promote a healthy coat, but they also provide many other benefits for cats.
Given the low phosphorus content and high omega-3 content, this food would be excellent for both healthy adult cats and cats with kidney disease.
Reviewing Royal Canin as a Brand
Company Know How
Mars Petcare is the biggest pet food company in the world, measured by revenue. Mars itself has a large pet food knowledge base with their staff. Royal Canin operates mostly independently from Mars, running their own pet health nutrition center in Lewisburg, Ohio, and their own manufacturing facilities too. Cat foods are extensively and humanely tested for aspects such as digestibility, palatability, and urine pH. Royal Canin employs a large staff of animal nutritionists, veterinary nutritionists, and food scientists to develop their pet foods. They also have significant production know-how as well.
Company Values
Mars is a very large, but family-owned, company. Being family owned means that they have greater freedom and do not answer to investment firms or public shareholders. It appears that Mars takes a somewhat hands-off approach to Royal Canin.
Royal Canin's philosophy is stated simply, "to make a better world for pets." This can be clearly seen in their nutrition center, which offers large outdoor runs for dogs to play in and a state-of-the-art quality of life for their cats and dogs.
Unlike Mars, which has ramped up their research and nutrition expertise in recent years, Royal Canin has been science-minded from the start. They make several veterinary diets using this expertise.
However, Royal Canin has had a handful of lawsuits in recent years. Royal Canin, along with other major pet food manufacturers, was accused of price fixing in the EU. The whole concept of prescription pet food has also come under legal scrutiny, as there is nothing in the food that actually requires a veterinarian to write a script for. Companies are using the "prescription" system to charge extremely large mark-ups on cat and dog food.
Perhaps the most bizarre thing Royal Canin has done is sponsor bear baiting contests in Ukraine. Apparently, this was the decision of a territory sales division. To their credit, Royal Canin took full responsibility and worked closely with the organization that exposed their sponsorship to help fund rescuing the bears.
Production
From the production side, Royal Canin makes all of their food in their company's own manufacturing plants. Manufacturing locations in the US include Rolla, MO, Lebanon, TN, and Fremont, NE. Doing their own production and doing so semi-independently of Mars, allows Royal Canin to maintain more strict oversight on their food.
Based on local reviews, there does appear to be some slight variation in quality between facilities, but nothing significantly different. Royal Canin does a good job of understanding their complex supply chains and performing quality control on ingredients.
Royal Canin Recalls
Royal Canin has not had a recall since 2007. The company did have extensive recalls for melamine in their rice protein concentrate. In 2006, Royal Canin also had a recall for excessive vitamin D levels.
Quality
Royal Canin has excellent quality standards. The fact that they manufacture their own food is a huge plus, especially considering they have gone 13 years without a recall. It is rare to see such a good track record in a large legacy pet food brand, and Royal Canin should be applauded for it. They are clearly doing something right.
Puremarket
Puremarket/The Clean Label Project has tested hundreds of cat foods for various contaminants, such as lead, mercury and acrylamide. They have tested one Royal Canin wet cat food and seven Royal Canin dry cat foods.
The wet food, Adult Instinctive Loaf in Sauce, received a B+ grade with slight heavy metal contamination. Dry foods ranged from A- to F in their scores. The charity group found various levels of heavy metal contamination and plasticizers in most foods. They also found pesticides/mycotoxins and process contaminants (likely acrylamide) in some foods as well.
Transparency
The website does not list much in the way of nutrition (they don't even list phosphorus content), but questions on chewy.com for things like carbohydrate content or phosphorus content are answered. Royal Canin has a nutrition-specific customer service that was able to promptly answer questions such as copper content in their foods. Royal Canin does a great job with this service and, unlike similar brands, makes it available to both veterinarians and average pet owners.
Other pet owners have had difficulty getting questions about the country of origin of ingredients answered. This is likely due to both a simple lack of communication on the part of Royal Canin and the extremely complex supply chains they use to make their foods.
What Foods Does Royal Canin Make?
Royal Canin makes a huge number of cat foods, offering about 40 varieties each of wet and dry foods. Recipes are mostly based on breed, age, and health concerns.
Royal Canin's Wet Food Offerings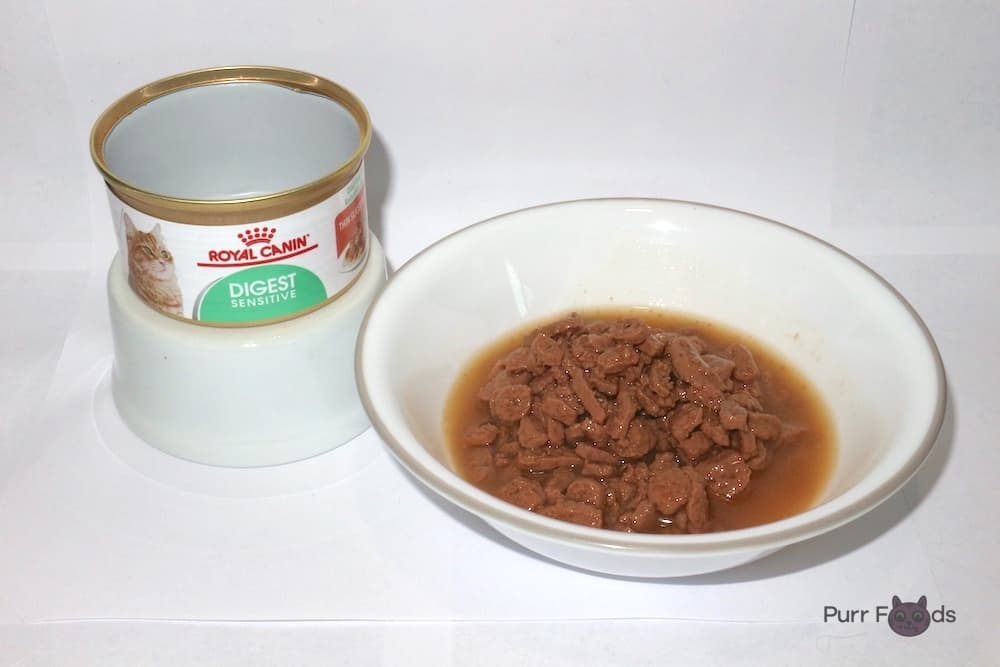 About half of the Royal Canin wet cat foods are veterinary prescription diets. This nutritional analysis is of the over the counter diets. All foods come in cans, with no pouches of cups available.
Of the over the counter diets, there are breed and life stage specific formulas. Additionally, they have over the counter foods for minor health issues, such as weight loss, hairball care, and sensitive stomachs. There is almost no variety in protein sources, with all foods containing pork and chicken.
Flavor and
Texture Variety
B
Royal Canin Wet Food Nutrition Review
Ingredients
The wet cat food formulas are made of a combination of pork by-products, pork liver, chicken, and chicken liver. In this case, pork by-products include organ meat such as lungs, spleen, brain, kidney etc.
Ideally, it would be better to see each pork ingredient listed separately, but it is much more expensive and may be impossible for Royal Canin to buy various pork organ meats in the quality they need. Oftentimes, purchasing an ingredient as "by-products" is the best a large company can do. That being said, the by-products in this food are listed as "pork" and not "meat," so it indicates that there is significant care going into the ingredient sourcing.
Many formulas include wheat gluten as an ingredient. This plant protein is a cheap way to increase the protein content of the food, but the amino acid composition is much less useful to cats than a meat protein. It would be preferable to see the protein in this canned food come entirely from meat.
The Royal Canin canned cat formulas are thickened with a variety of ingredients. Formulas use gelatin, pork plasma, and cellulose to enhance the texture of the food. Gelatin and pork plasma are great protein-rich texture enhancers, while cellulose provides insoluble fiber.
Vegetable oil is used in the formulas, which is not ideal. This oil is pro-inflammatory and rich in omega-6s. On the bright side, the formulas also include fish oil or salmon in the ingredients to help balance the omega-6 to omega-3 ratio.
Despite canned food not requiring a carbohydrate source, Royal Canin has chosen to add modified corn starch and sometimes wheat or rice flour to their wet cat foods. The corn starch is likely to help enhance the texture and palatability of the food, but starches are not nutritionally necessary for cats.
Finally, we see traditional thickeners in the ingredient list. Guar gum and/or carrageenan are soluble fiber sources that help enhance the texture of food.
The mineral supplement used in the foods is primarily a cheap mineral salt supplement. However, the zinc is chelated, meaning that it is bound to an amino acid and is more readily absorbed by the body.
Nutrients
Protein, Fat, Carbohydrates
The average dry matter protein content in Royal Canin's wet cat foods is around 50%, with a range of 39% to 58%. The average dry matter fat content is 13%, with a range from 6% to 24%.
The dry matter carbohydrate content is around 23% on average, with a range from 16% to 30%. Unfortunately, formulas for senior cats or weight loss are higher in carbohydrates, likely in an attempt to reduce calories. However, overweight cats are prone to diabetes, and the most current nutritional thinking is to reduce their carbohydrate content as much as possible.
The average dry matter phosphorus content in the wet cat foods is 1.1%, with a range of 0.5% to 1.6%. This is a reasonably well controlled phosphorus level, and Royal Canin has made an effort to keep senior formulas very low in phosphorus.
Formulas do include fish oil or fish in the ingredients, so it is clear that Royal Canin has provided a source of EPA and DHA omega-3s in every canned recipe. They do not openly publish their omega-3 content of their canned cat food, but it appears that their formulas ensure it is present.
Royal Canin's Dry Food Offerings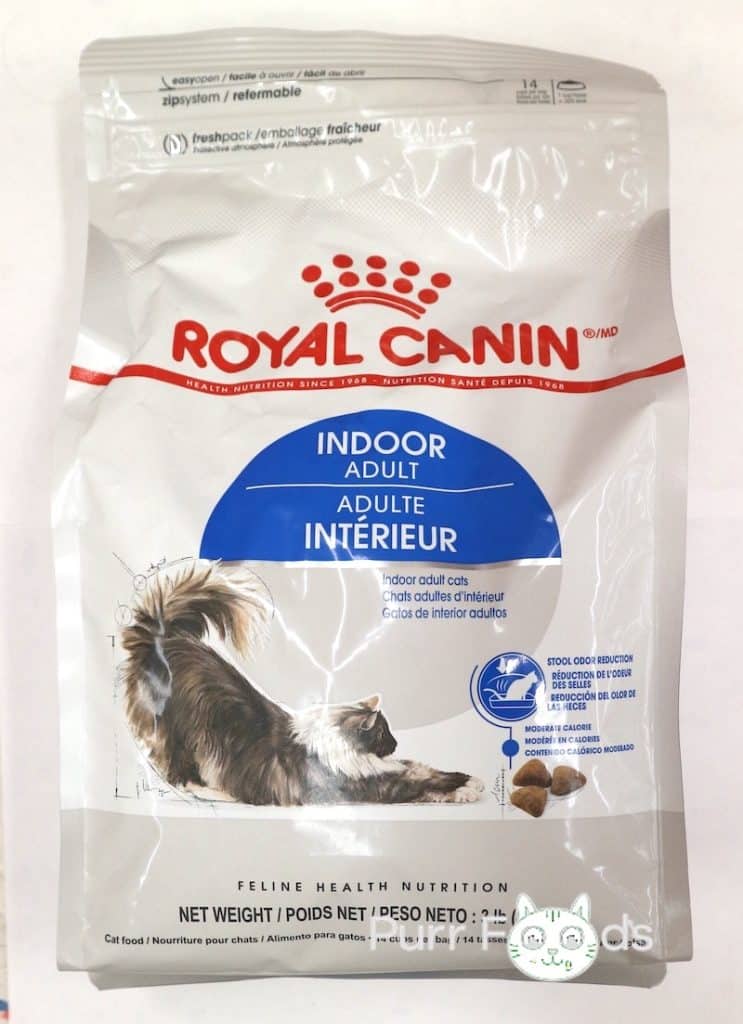 Like the canned foods, about half of Royal Canin's dry cat formulas are prescription diets. Of the over-the-counter diets, foods are designed for specific breeds, lifestyles, ages, and minor health issues.
Flavor and
Texture Variety
B
Royal Canin Dry Food Nutrition Review
Ingredients
The first ingredient in Royal Canin formulas is chicken meal. This is great to see because chicken meal has had the moisture removed, meaning chicken is truly the first ingredient on the list.
After the chicken meal, a number of carbohydrate sources are listed. These include corn, brewers rice and wheat. Considering there are a number of carbohydrate sources, it is likely that overall there are more grains in this food than meat. In addition to grains as a carbohydrate source, corn gluten meal and wheat gluten are also in the ingredients. Glutens are the proteins from these plants. They have a poor amino acid composition compared to meat and are less nutritionally useful to cats. Gluten is a cheap way to increase the protein content of cat food.
For fiber, the ingredients include pea fiber, rice hulls, and/or dried beet pulp. These soluble fiber rich ingredients can help with digestion and make cats feel full between meals.
The fat sources in Royal Canin dry cat foods include chicken fat, vegetable oil, and fish oil. Chicken fat and fish oil are great sources, but vegetable oil is rich in omega-6 and is proinflammatory.
Prebiotics are also included in the formulas, including fructooligosaccharides and often psyllium seed husk too. These are great ingredients to promote a healthy gut.
Strangely, some formulas include mineral mixes that are chelates, while others do not. Chelated minerals are the gold standard in supplements, as they are more readily absorbed by the body.
Nutrients
Calories, Protein, Carbohydrates and Fat
The caloric content of Royal Canin's dry cat foods is well managed. The majority of the foods sit in the 300–350 calorie per cup range. However, weight loss foods sit in the 250–300 range. Kitten foods are in the 450–500 range. All of this variation shows that Royal Canin has carefully considered calories when formulating their foods.
Protein on average is around 35% on a dry matter basis, with a range from 29% to 44%. Considering that a portion of the protein also comes from gluten, this indicates a relatively low meat content in the dry cat foods. Fat has a wide range, from 9% to 25% on a dry matter basis, with an average content of about 16%. This indicates that the amount of fat has been carefully controlled based on the caloric needs of the diet. Kitten foods are higher in fat, while weight loss foods are lower.
The carbohydrate content ranges widely between formulas, from 27% to 50% on a dry matter basis. Most foods are in the 25% to 30% range, which is reasonable considering that dry cat foods require a certain amount of carbohydrates in order to maintain their structure.
The average dry matter phosphorus content of the dry cat foods is around 1%. This is a very good level, and foods are well controlled ranging from 0.5% to 1.2% phosphorus on a dry matter basis. Phosphorus clearly has been carefully considered in these formulas.
The ingredient list includes fish oil in all of the formulas we considered. Therefore, there is a source of the essential EPA and DHA omega-3s in Royal Canin's dry formulas. The companies do not publish the exact levels of omega-3s and omega-6s, but it can at least be said that they have been considered.