Food allergies in cats can manifest in a few different ways. Itchy cats with inflamed skin may have food allergies. Cats with frequent vomiting or diarrhea may also have food allergies. These types of symptoms can have many causes, so your veterinarian should rule out things like fleas and hyperthyroid before considering a food allergy.
Symptoms of food allergies can also occur from feeding a diet that is too low in omega-3 oils. The Association of American Feed Control Officials does not require a minimum amount omega-3 in adult cat food. Poorly formulated foods with not enough omega-3 can lead to skin and digestive issues. These look nearly identical to a food allergy.
If digestive issues are the primary symptoms, it is possible that your cat has irritable bowel disease (IBD) instead of or in combination with food allergies. Treating food allergies with a hypoallergenic diet requires a 6 to 12 week food trial. It may be worth asking your veterinarian about IBD instead, as foods can be tried for 2 weeks instead. You can see our IBD and IBS food recommendations here.
If you want the best single protein limited ingredient cat food for allergies, here is our list. We have discussed these foods individually in detail later in the article.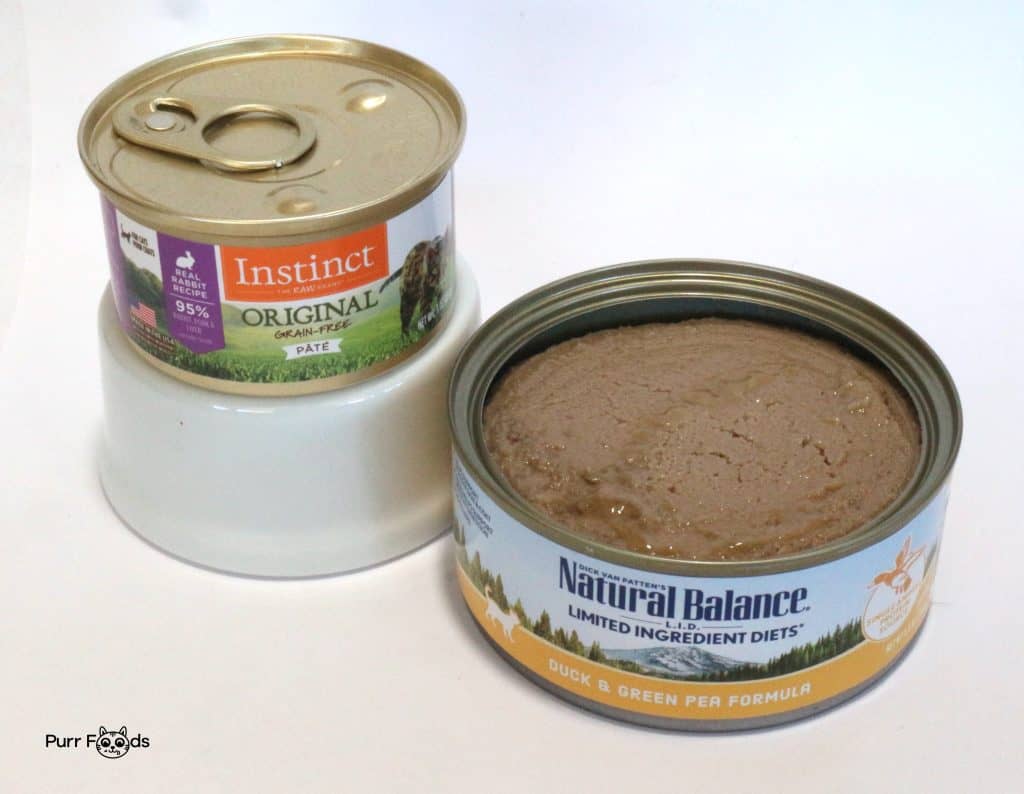 Instinct Limited Ingredient Rabbit Wet ​
Instinct Limited Ingredient Rabbit Dry ​
Hound and Gatos Duck and Liver Formula ​
Natural Balance Limited Ingredient Diet Green Pea & Duck ​
Best Budget Wet Pick(Duck) ​
Natural Balance Limited Ingredient Duck and Pea
Best Textured Wet (Pork) ​
Lotus Just Juicy Pork Stew ​
Best Textured Wet (Venison)​
Lotus Just Juicy Venison Stew ​
Natural Balance Limited Ingredient Diet Green Pea and Venison
Beginning a Hypoallergenic Diet
When cats start a trial of a hypoallergenic diet they should be fed one type of food. No treats or table scraps can be given. Depending on your veterinarian's recommendation this trial can last from 6 to 12 weeks. A novel protein and carbohydrate source should be chosen. This means ingredients that your cat has never eaten before.
Types of Hypoallergenic: Limited Ingredient versus Hydrolyzed Protein
Many companies offer foods that have limited ingredients and are designed for pets with allergies. These foods can be hypoallergenic without requiring a prescription. A prescription limited ingredient diet offers more guarantee that there has been no cross-contamination in manufacturing(1). However, a handful of non-prescription brands offer a high standard of manufacturing and are careful not to cross contaminate. We only choose brands known for their quality standards that specialize in limited ingredient diets.
However, a truly 100% hypoallergenic diet is made from hydrolyzed proteins and is only available with a prescription. These are called hydrolyzed protein diets and they differ from limited ingredient diets.
To understand what a hydrolyzed protein diet is, we need to explain a bit about allergies and proteins. A food allergy is when an antibody recognizes a harmless protein as something that can cause a disease. Allergies are only to specific proteins. Cats (and all animals) need protein in their diet because it is made up of amino acids. Amino acids are the main building blocks of the body.
A hydrolyzed protein diet breaks up the proteins in the food into such small pieces that the antibodies cannot recognize them. Nutritionally, the amino acids are still available but the immune system doesn't recognize that there is protein in the food. These prescription 100% hypoallergenic diets are typically used when other limited ingredient hypoallergenic diets have failed.
Best Wet Food For Cats with Allergies- Rabbit and Pea
Rabbit and Pea – Wet
Instinct Limited Ingredient Diet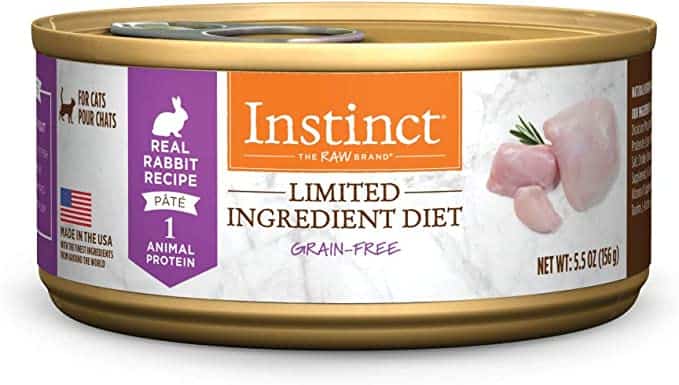 Rabbit is a popular choice for hypoallergenic cat food. While some cats may have been exposed to duck or pork, most cats have never eaten rabbit in their lives. This makes rabbit a novel protein to most cats. Rabbit is well tolerated and many would argue that rabbit is the closest available protein to what cats have evolved to eat.
The fact that Instinct labels this food as a "limited ingredient diet" is great because it shows that this food has been manufactured with food allergies in mind. This food is simply rabbit, peas and added vitamins and minerals.
Instinct does contract out the manufacturing of their canned foods, but they have extremely strict specifications for the facilities. Nature's Variety, the company that is behind Instinct, has a good track record for quality. Based on what we know about the company, we believe that there is almost no chance that Instinct's Limited Ingredient Diets would have any cross contamination with other foods.
This food is pricey, at about the same cost as prescription hypoallergenic cat food. However, in both the case of Instinct and prescription diets, you are paying for excellent quality standards. The rabbit meat is sourced from France and Italy to ensure safety.
Instinct also guarantees the content of omega-3s in this food. This is important considering that no fish oil has been added to this food. High quality, typically grass-fed, meat contains natural omega-3s and it appears that this is the case for the rabbit meat used in this food.
The flavor of this food seems to go over well with cats for a paté texture. If you have a picky eater, you may want to try mashing up this food with a fork, adding water or warming it slightly.
Additional health benefits of this food include a reasonable phosphorus and carbohydrate level. Phosphorus is 1.45% on a dry matter basis, which is well controlled and will help prevent stress on the kidneys. Carbohydrates are 9.5% on a dry matter basis, which is a reasonable level.
Best Hypoallergenic Dry Food – Rabbit, Pea and Tapioca
Rabbit, Pea and Tapioca – Dry

Instinct Limited Ingredient Rabbit Dry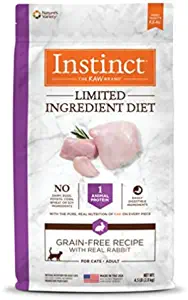 Like the canned food, the rabbit is sourced from France and Italy and appears to be rich in omega-3s. The natural flavors in this food are derived from rabbit. This means that the only protein containing ingredients (remember allergies are to specific proteins) in this food are rabbit, peas and tapioca. Truely a limited ingredient diet.
This food is a great overall dry food too. The dry matter carbohydrate content is 25.8%, which is pretty low for a dry kibble. The phosphorus level is also well controlled at 1.1% on a dry matter basis. These are great values for metabolic health and kidney health.
We recommend pairing this food with Instinct's canned limited ingredient rabbit food, since hydration is critically important for cats. It is never recommended to feed cats an exclusively dry diet.
Best Hypoallergenic Wet Food – Duck
Duck is a great protein because it is so easy on cat's stomachs. If your cat hasn't eaten duck before we think this food is a good place to start for a hypoallergenic diet.
This canned cat food is 98% duck and duck liver. There are no vegetables, grains or legumes added. This means a very low carbohydrate content of 2.3% on a dry matter basis. Not only is that great news for your cat's overall health, but it is good news for allergies too. Vegetables, legumes and grains contain some amount of protein and any protein can be an allergen. The only possible allergens in this food are duck.
This food contains salmon oil, which is a great source of omega-3s that can help skin and the digestive system. Since salmon oil is a fat and does not contain protein, this food will still be hypoallergenic for cats with fish allergies. It would be extremely rare for this ingredient to cause issues for cats and it is more important that ample DHA and EPA omega-3 oils are present in the food. Many times, symptoms of allergies are actually an omega 3 deficiency.
Hound and Gatos does not market this food as a limited ingredient diet or a food for allergies. They also outsource their manufacturing to a facility in South Dakota. This brings concerns about cross contamination in the manufacturing line. However, Hound and Gatos DNA tests their food to ensure it is the correct protein. They have also won significant recognition by an independent pet food safety group for proving their supply chains and quality standards.
The duck in this food comes from France. Hound and Gatos refuses to source meat ingredients from Asia. The texture is paté and cats seem to like the flavor. As always, picky cats may appreciate mashing with a fork, adding water or warming the food.
Best Dry Cat Food For Allergies – Duck and Pea
Natural Balance has offered limited ingredient dry foods for many years and have become a standard in hypoallergenic pet foods. As far as we can tell, Natural Balance is the only company to offer an over-the-counter truly limited ingredient duck dry food. Other duck dry cat foods have long lists of protein containing ingredients, preventing them from being considered hypoallergenic.
Because hydration is so important for cats, we recommend feeding this food in combination with a hypoallergenic duck wet diet. Two examples include the Hound and Gatos Duck and the Natural Balance canned food designed to be paired with this dry kibble.
Best Budget Hypoallergenic Wet Cat Food – Duck and Pea

Best Budget Wet – Duck and Pea
Natural Balance Limited Ingredient Duck and Pea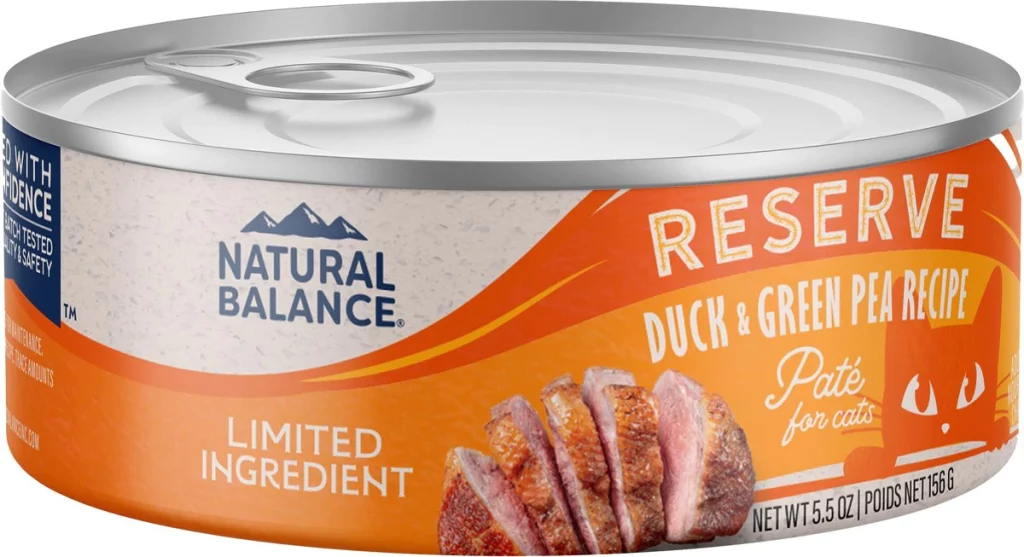 Natural Balance has a canned duck and pea diet to accompany their dry food. Unfortunately, all hypoallergenic cat foods are on the pricey side. This is because of the strict manufacturing standards and the need for novel protein sources. That being said, Natural Balance Duck and Pea canned food is significantly lower in price than the other canned foods on this list. It is a great cost-effective option for a best hypoallergenic cat food.
Like many things in life, you get what you pay for. While the Hound and Gatos Duck food is 98% duck, this food has a significant amount of peas and pea protein. The duck is also sourced globally and has no specific country of origin.
Natural Balance as a brand has been sold many times, first to Big Heart (Del Monte), which is known for making low-end cat foods like Meow Mix. Their foods have a good track record of safety, but the ingredients are sourced cheaply and globally. Smuckers has since purchased Del Monte and now owns Natural Balance. All of the corporate changes have left pet owners wondering.
Counterintuitively, it appears that Natural Balance has actually improved in quality since the sale of the brand. We wouldn't recommend Natural Balance if we didn't trust the brand, but there is significantly more transparency and higher quality in other hypoallergenic cat foods. Overall, Natural Balance canned food is a great option for budget conscious pet owners.
Best Textured Hypoallergenic Wet Food – Pork, Carrot and Potato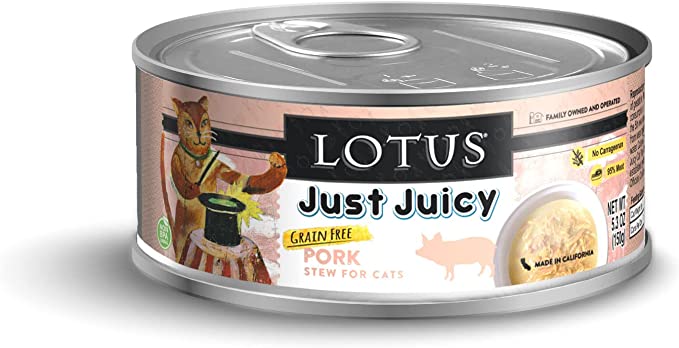 Excluding most prescription veterinary diets, pork is a relatively rare ingredient in cat food. This food is especially unique in that it is in a shredded-stew texture. This is a life saver for texture-picky cats that need a hypoallergenic diet.
The potential allergen containing ingredients in this food are pork, carrots and potatoes. Considering that most limited ingredient diets use peas, this is a great opportunity to try a different carbohydrate source. The potato starch is likely added to give thickness to the stew texture, along with the agar-agar.
Lotus makes their food in their own cannery so that they can keep an extremely close eye on quality control. The company is family owned and has a good track record for safety. Their pork is sourced from the US and Canada. The only thing more we could ask for would be for Lotus to market this food as a "Limited Ingredient Diet" to have some guarantee that there is no cross contamination from other foods. However, considering these cans are hand packed in a small cannery there is limited chance for cross contamination.
Unfortunately, we could not find a limited ingredient dry pork diet to pair with this food. But luckily wet food is much healthier for cats and they can eat this Lotus Pork Stew exclusively.
Best Textured Hypoallergenic Wet Food – Venison, Carrot and Potato
Best Textured Wet – Venison, Carrot and Potato
Lotus Just Juicy Venison Stew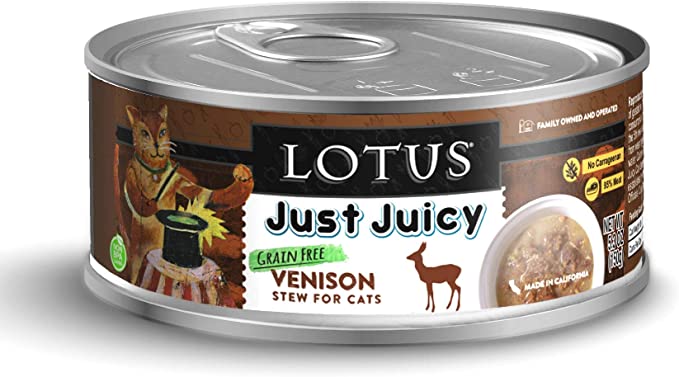 In addition to pork, Lotus offers a venison stew as well. This food is much the same as the pork flavor nutritionally. The venison flavor is somewhat more expensive than the pork, but venison comes with the benefit that limited ingredient venison dry diets are available on the market, unlike pork.
If your cat prefers a shredded texture and you would like to feed a dry food as well, we recommend choosing Lotus Just Juicy Venison Stew.
Best Hypoallergenic Dry Food For Skin Allergies – Venison and Pea
One of the few dry venison cat foods on the market, Natural Balance has developed this food for cats with allergies. It is very similar to their green pea and duck limited ingredient diet, but replaces the duck with venison.
A nice touch to this food is the high level of omega-3s. This is achieved with flaxseed and salmon oil. The high omega-3 to omega-6 ratio shown on the guaranteed analysis indicates that this food should help with skin and digestion issues beyond simply being hypoallergenic.