Who Makes Rachael Ray Nutrish?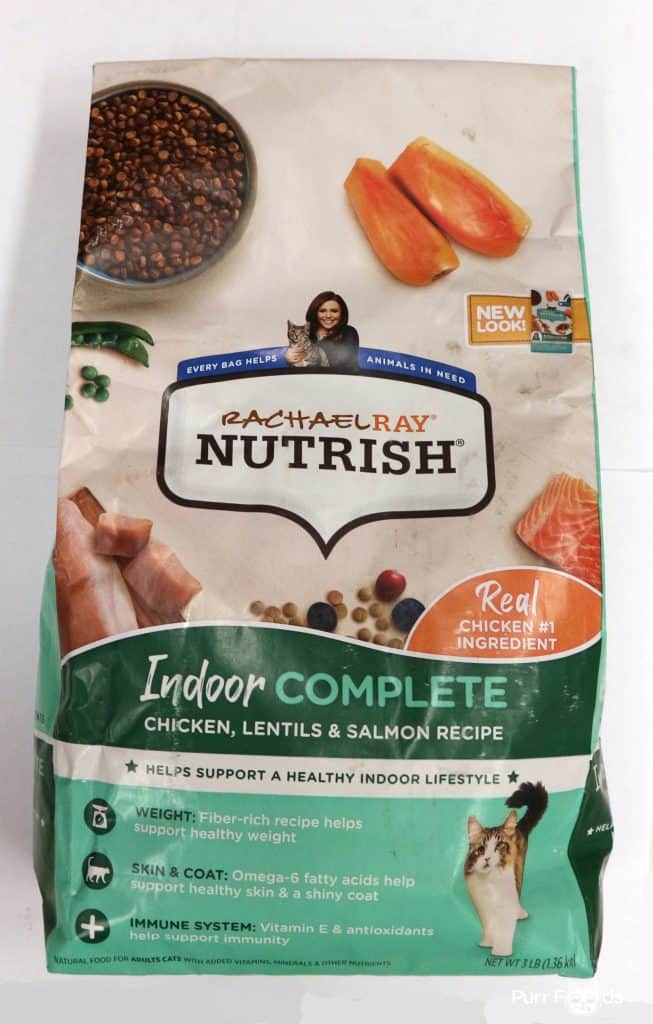 JM Smucker owns and manufactures the Rachael Ray Nutrish pet food line. JM Smucker acquired Rachael Ray Nutrish when they purchased Ainsworth Pet Nutrition in 2018. Ainsworth was a large contract manufacturer of pet foods. They started the Rachael Ray Nutrish line of pet food in 2008 as an in-house brand.
Best Rachael Ray Cat Foods
Overall, Nutrish's line of dry cat foods is nutritionally very similar. Key nutritional components such as protein, carbohydrate, and phosphorus contents are nearly identical, showing that care was put into formulating the various flavors.
We chose the Salmon & Brown Rice Recipe for two main reasons. Firstly, this food has a high omega 3 content, at 0.4% on an as-fed basis. The omega-6:omega-3 ratio is a healthy 5:1. Secondly, this food is on the lower end of the calorie content spectrum for Rachael Ray's foods, at 361 kcal/cup. This calorie content, in combination with the soluble fiber from beet pulp in this food, will help cats maintain a healthy weight by keeping them feeling full.
Rachael Ray offers chicken and seafood based wet cat foods. Due to heavy metal concerns, cats should ideally not have a large portion of their diet consist of seafood. This eliminates many of the flavors of Nutrish's wet cat foods.
Of the chicken flavors, Purrfect Entrees stands out. While other chicken flavors have no source of EPA and DHA omega-3 fatty acids, this Purrfect Entrees flavor includes fish oil to promote healthy skin, coat, and overall health. The texture of this food is shredded, which should have a wider appeal to cats than a pate texture, and there is a high moisture content of 82%. Overall, all of the Racherl Ray wet foods have reasonably well controlled phosphorus levels, and this food has a dry matter phosphorus content of 1.16%.
Although the vegetables in this food, pumpkin, carrots, and spinach, are not particularly needed in a cat's diet, they do provide benefits. These ingredients offer a natural source of fiber to help your cat feel full between meals and keep stools regular. Looking at the guaranteed analysis, it does not appear that these ingredients have increased the carbohydrate content of the food on a considerable level; however, at the time of this writing, we are still waiting to hear back from the company about the dry matter carbohydrate content of this food.
Reviewing Rachael Ray Nutrish as a Brand
Company Know How
JM Smucker is relatively new to pet food, having only entered the industry in 2015. However, they have "hit the ground running" and employ several full-time animal nutrition experts and a veterinary nutritionist. They have invested significantly into having in-house experts in everything from production, safety, food science and animal nutrition.
JM Smucker also invests resources into researching their foods. The company does 3rd party testing on their foods for things such as palatability and digestibility. Tests are non-invasive and ensure that pet foods are safe and of high quality before they reach the greater market. However, it does not appear that the formulas have undergone AAFCO feeding trials.
Company Values
JM Smucker entered the pet food industry when they purchased Big Heart Pet Brands, which includes brands such as Meow Mix, Milk-Bone and Milo's Kitchen. Their interest in pet food is clearly a financial one as pet food is currently a growth industry. Rachael Ray Nutrish and Natural Balance are the top-line foods for the company, while most of their foods serve a lower-end market. The company appears to be attempting to mimic Nestlé Purina and Mars Petcare by making a huge variety of brands at every price point. However, they are somewhat behind the big companies in building up a good knowledge base and it remains to be seen how serious their efforts will be.
It is interesting to note that JM Smucker is still primarily a family-owned company, but is also publicly traded.
Production
Rachael Ray Nutrish was created in order for Ainsworth to have an in-house brand. Although Ainsworth was sold to JM Smucker in 2018, it is unlikely that much has changed as far as production goes. Dry foods are made in the US, primarily in the Meadville PA facility. The wet cat foods are made in Thailand. Keep in mind that imany brands of wet cat foods are manufactured in Thailand. Unlike China, the country has a very good history of safety and quality in pet food. Pet food manufacturing in Thailand grew as an extension of the human-grade tuna canning facilities.
Rachael Ray Nutrish Recalls (and Parent Company Recalls)
Our research has found only one recall for Rachael Ray Nutrish cat food. However, JM Smucker has had two recalls on other brands since they acquired Rachael Ray Nutrish in May 2018.
| Date | Brand | Manufacturer | Reason | Who Discovered? | Injury or Illness? |
| --- | --- | --- | --- | --- | --- |
| June 2015 | Rachael Ray Nutrish Canned Cat Food | Ainsworth | Excessive Vitamin D | Pet Owners | At least 11 reports to FDA of illness |
| Dec. 2018 | 9Lives Canned Cat Food | JM Smucker | Low Vitamin B1 | JM Smucker | None Reported |
| Dec. 2019 | Special Kitty Canned Cat Food | JM Smucker | Likely Pentobarbital | JM Smucker | Yes |
Quality
It appears that Rachael Ray Nutrish has a good track record of quality overall under the ownership of Ainsworth. The dry food has never been recalled and Ainsworth has a relatively decent reputation for safety and quality.
Under the ownership of JM Smucker, the Rachael Ray Nutrish food has not had any recalls, and it is likely that little has changed with the brand as far as manufacturing. However, JM Smucker has had some very serious recalls of other brands. This includes the euthanasia drug pentobarbital being found in their foods. Hopefully the Rachael Ray Nutrish brand is able to avoid these safety and quality concerns, but truthfully it is too soon to tell.
Puremarket
Puremarket is an online database set up by the Clean Label Project in order to help consumers better understand the contaminants in their pet foods. They test products for contaminants such as heavy metals, pesticides and plasticizers. Unfortunately, none of the Nutrish cat foods have been tested, but the organization has tested a handful of the wet and dry dog foods.
The three wet foods received an "A grade," indicating low levels of contaminants. Dry foods had a wide variety of grades, ranging from F to B-. Typically foods received a low grade for heavy metal contaminants, which is a common issue in foods that include seafood. However, many of the foods with heavy metal contamination did not have high seafood content, so it is somewhat concerning that there is significant heavy metal contamination found in certain flavors.
Transparency
Contacting Rachael Ray Nutrish is relatively straightforward and one can expect to receive thorough answers. They were hesitant to give specific information on things such as the copper content of their foods, and asked for a veterinarian to call. However, it appears they do have in-depth nutritional information about their foods available, but simply require some persistence on the customer's part in order to get it.
However, it can not be forgotten that Rachael Ray Nutrish now exists within JM Smucker. JM Smucker has been extremely opaque about information. In December 2019, they recalled many products and outright refused to disclose why. Even though death was listed as a possible side effect of their contamination issue, they would not even disclose to veterinarians of sick animals why they recalled their food.
What Foods Does Rachael Ray Nutrish Make?
Rachael Ray Nutrish offers dry cat food, wet cat food in plastic cups and a handful of broths and treats as well. Within the brand there are a few lines of food, "Nutrish," "Nutrish Peak," "Nutrish Zero Grain" and "Nutrish Purrfect Entrees."
Rachael Ray Nutrish's Wet Food Offerings
Flavor and
Texture Variety
B
All of the Nutrish wet cat foods are available in 2.8 oz plastic cups. They are shredded or pieces in gravy texture. There are a wide variety of proteins available, including chicken, fish, duck and beef.
Rachael Ray Nutrish Wet Food Nutrition Review
Ingredients
The first few ingredients in the canned food formulas are meat and meat broths. This is a good indicator that the food has a decent meat content.
Shortly after the meat, vegetable oil appears on the ingredient list. This proinflammatory, high omega-6 oil is less than ideal as a fat source in cat food. The PEAK line of Nutrish replaces it for palm oil, which is healthier but poses major sustainability issues.
Foods include a source of soluble fiber, typically powdered cellulose, but some formulas use pumpkin instead. This is helpful to keep cats feeling full and their digestive system functioning properly.
For whatever reason, Nutrish used four different types of thickeners in their canned foods. These are guar gum, xanthan gum, carrageenan and cassia gum. These ingredients thicken the broth and make the food more palatable to cats. They are naturally derived and perfectly healthy for the vast majority of cats. However, it is strange to see four different kinds of "gum" used in a single food. It is possible that this is done in order to split up the ingredient and make it appear further down on the list.
Many of the Nutrish foods include fructooligosaccharides. These are more commonly known as prebiotics and help promote healthy gut bacteria.
Paprika is also listed in the majority of the wet food formulas. It is unclear what role this plays in the food exactly. The company claims it enhances the taste of the food, but it is more likely that it is acting as a natural color enhancer.
The mineral supplements in the wet food are chelated. This means that the minerals are bound to amino acids and more easily absorbed by your cat's body. This is the gold standard in mineral supplements.
Nutrients
Protein, Fat, Carbohydrates
The dry matter protein content for Nutrish wet cat foods is in the 43% to 50% range. The dry matter fat content ranges from 14% to 28%. These are reasonable nutritional values for a wet cat food.
The dry matter carbohydrate content is 16% to 27%, which is relatively high for a wet cat food. However, from the ingredients list it does not appear that many of the foods have a significant carbohydrate source. There are no grains and most recipes do not include any significant vegetable material. It actually appears that the way the company is measuring the carbohydrate content also includes the soluble fiber content. Without getting too much into food science, understand that soluble fibers are not measured under "crude fiber" in the guaranteed analysis. Depending on how the pet food company measures their carbohydrate content, the soluble fiber can often get included as "carbohydrates." This appears to be what has happened in this food. However, it begs the question as to why Rachael Ray Nutrish wet cat foods have such high soluble fiber content.
Amongst the Nutrish wet cat foods dry matter phosphorus content ranges from 1.0% to 1.7%. Typically phosphorus content is at or below 1.3%. Phosphorus content is critical to keep low in cat foods due to the high rate of kidney disease in older cats. Phosphorus appears to be well controlled in this food, but is not low enough for cats with diagnosed kidney disease.
Many, but not all, of the Nutrish wet cat food flavors include fish or seafood as a protein source. This provides a natural source of omega-3 fatty acids in these foods. For foods lacking fish or seafood, only a handful had added fish oil to provide omega-3s. There were several Nutrish foods that provided no significant omega-3 source. If rotating through flavors, lack of omega-3 would unlikely become an issue, but if sticking to a single flavor or handful of flavors, omega-3 levels could be a concern.
Rachael Ray Nutrish's Dry Food Offerings
There are 10 varieties of Nutrish dry food. Flavors use chicken, fish or a combination of both for their main protein source.
Flavor and
Texture Variety
B-
Rachael Ray Nutrish Dry Food Nutrition Review
Ingredients
The first two ingredients in the dry food formulas are a meat and a meat meal. Ingredients are listed by their weight in the food. When meat is simply listed as "chicken" it is listed including the water weight. This is often done to make meat appear higher on the ingredient list. However, with a "meal" being the second ingredient, it can be assured that meat truly is the main ingredient in the food.
Many of the Nutrish formulas, including PEAK, include plant proteins in the ingredients. Either a corn gluten meal or a pea protein is added to many formulas. Plant proteins are made up of amino acids which are less easily utilized by cats. Plant proteins are cheap ways to increase the protein content of a cat food, with little actual nutritional benefit.
All dry foods require a carbohydrate source, and Nutrish typically uses rice in their grain-inclusive formulas and peas and lentils in their grain-free formulas. Potatoes, tapioca and sweet potatoes also make an appearance in some foods. Most formulas use multiple carbohydrate sources, which is often a way to "split" the carbohydrate ingredient in order to make them appear further down on the list. For example, one recipe included brown rice and brewers rice. It is likely that if these were combined as a single "rice" ingredient, it would have been listed higher than the chicken meal.
Many formulas include flaxseed, which is a great source of ALA omega-3s. All foods also include a fish meal or salmon to provide the necessary EPA and DHA omega-3s.
For soluble fiber, Nutrish foods have beet pulp. Many indoor and weight loss formulas also include pumpkin and/or cellulose to provide additional fiber and assist with keeping your cat feeling full
The minerals supplement used in the dry foods is unfortunately not chelated. Nutrish has chosen to use a cheaper mineral supplement option.
Nutrients
Calories, Protein, Carbohydrates and Fat
Calories per a cup of Nutrish dry cat foods range from around 350 to 475. Zero grain and PEAK lines of food have higher calorie counts on average. These are reasonable calorie ranges for an "all-natural" dry cat food, but calorie conscious cat owners should be cautious, as the different lines of food can be somewhat misleading. For example, the Zero Grain Indoor Weight Control food has 385 calories per a cup, while Natural Salmon & Brown Rice actually has fewer calories,at 361 per cup.
The dry matter protein overall ranges from 33% to 37%, except for the PEAK foods, which has a 44% dry matter protein content. Fat content alongst all of the Nutrish foods ranges from 10% to 20% on a dry matter basis. These are reasonable nutrient levels, but when one considers that plant proteins are extensively used in the Nutrish foods, it indicates that there is not an especially high meat content.
Carbohydrate content in the Nutrish dry foods varied widely from 26% to 41% on a dry matter basis. PEAK foods had a much lower carbohydrate content while all of the other Nutrish foods had a carbohydrate content over 35% on a dry matter basis. These are relatively high carbohydrate levels, but are not beyond a normal range for dry cat food.
Again, the PEAK line of foods and the rest of the Rachael Ray Nutrish foods have somewhat of a different nutritional composition. In PEAK, the dry matter phosphorus level sits at roughly 1.6%, while in all other foods it ranges from 0.9% to 1.4%. While 0.9% to 1.4% would be considered a well controlled phosphorus range, 1.6% is beginning to be on the high end for phosphorus content. These levels are perfectly safe for healthy cats, but owners of senior cats or cats with kidney issues should choose the non-PEAK Nutrish foods.
All of the dry food formulas include some source of the essential EPA and DHA omega-3s. Rachael Ray's Nutrish also publishes their omega-3 and omega-6 content on the guaranteed analysis of many of their foods. The omega-6 to omega-3 ratio for the non-fish based flavors sits at 13:1, while the ratio for fish-based flavors ranges from 2:1 to 5:1. Ideally, the omega-6 to omega-3 ratio for cat food should be 6:1 or lower, and Nutrish's fish flavored foods easily achieve this. 13:1 is not a terrible ratio, but could be much better.