Who Makes Nulo?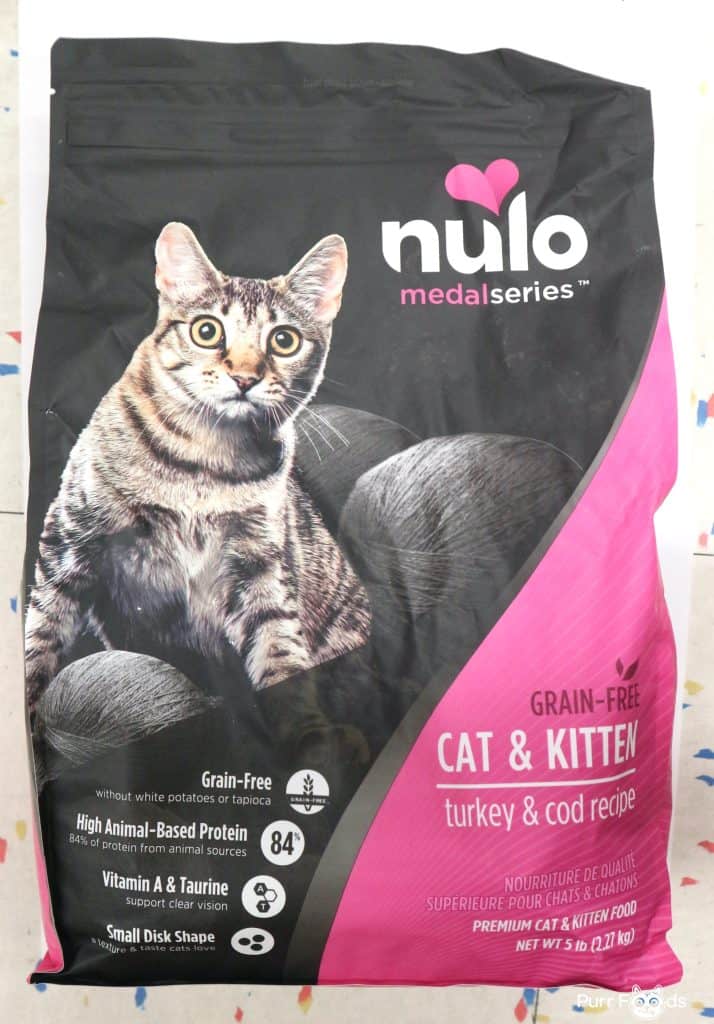 Nulo was founded in 2009 by Michael Landa and Brett Montana after seeing the high rates of diabetes and other medical issues in dogs and cats while running their pet sitting business. The company is still privately owned, with Michael Landa remaining as CEO.
Best Nulo Cat Foods
Nulo's dry cat foods are all nutritionally similar, with the notable exception of calorie count. Due to the high meat content of the foods, Nulo's dry cat foods have a very high number of calories per cup. For this reason, we like the Salmon & Lentils Adult Trim recipe, as it offers a lower calorie count at 421 kcal/cup. Given that this is still a relatively high calorie count, this food is still suitable for cats that do not need to lose any weight.
The overall carbohydrate content of this food is well controlled at 24% on a dry matter basis. Phosphorus is 1.0% on a dry matter basis and the omega-6 to omega-3 ratio is 3.8:1. These are all excellent values for a dry cat food.
Although the food is titled "Salmon & Lentils," this food also includes turkey, chicken, and cod as protein sources, which helps keep this a better rounded diet. Flaxseed and chicory root will help keep your cat feeling full and prevent overeating.
Unfortunately, the best dry food Nulo has to offer is not suitable for growing kittens. In the case of kittens, the best Nulo choice is the Turkey & Duck Recipe. This food offers a high omega-6 to omega-3 ratio of 2.4:1, which is excellent for growing kittens. The omega-3's in this food come from menhaden fish meal and ground flaxseed, so EPA, DHA, and ALA, the three types of omega-3s, are all well represented in the food.
Although Nulo has formulated this food for both cats and kittens, the high calorie count of 463 kcal/cup makes it a better choice for kittens only.
This pate textured Turkey & Duck recipe is the best wet food Nulo offers in regards to feeding both healthy adults and kittens. Nulo has a wide variety of carbohydrate content in their line of wet foods, but this food is almost entirely meat, with a very low dry matter carbohydrate content of 1.34%.
This food is primarily turkey and chicken, with the inclusion of texture enhancers, vitamins, minerals, and a small amount of cranberries and pumpkin. Like most Nulo canned foods, this food has menhaden fish oil, which ensures that your cat will be provided with a biologically appropriate source of omega-3s.
This food is on the higher end for phosphorus, at 1.78% on a dry matter basis. This is a reasonable value for a wet food for a healthy cat, but owners of very old cats or cats with diagnosed kidney disease may want to consider another food.
Reviewing Nulo as a Brand
Company Know How
Nulo's formulas are made by hiring an outside Ph.D. Animal Nutritionist, however, they also employ a product development manager who has a master's in animal science as well as a Ph.D. in progress.
Nulo appears to outsource the majority of its knowledge base, with a focus on hiring marketing and sales professionals. However, Nulo was able to easily answer what various mineral content levels, such as copper and zinc are in their foods. This is a great sign that the foods have been formulated with care and that Nulo shows a continued interest in nutrition. Unfortunately, their foods do not undergo any feeding trials beyond palatability testing. This means that aspects of the food such as urine pH, digestibility and long-term nutritional adequacy remain unknown.
Company Values
Nulo was founded by people with a background in the pet industry. It appears that they do care about providing a nutritionally superior product to dogs and cats, but Nulo is also very much a business. Nulo is still privately owned but has taken significant private equity investment both to start the company and to continue to grow it. They appear to be very focused on growth, with little significance placed on truly innovating in pet food.
Production
Nulo outsources all of the manufacturing of their foods. In the past Nulo has disclosed that CJ Foods (now Alphia) and Simmons manufacture the dry and canned foods, respectively. However, Nulo would only confirm that the dry foods are made in the northern US and the canned foods are made in the midwest US. Given these general locations and the change in transparency, it appears that Nulo may have changed who co-packs their foods.
Nulo Recalls
This brand has never been recalled. We also could not find any major quality complaints that have been made against the brand.
Quality
It is wonderful news that Nulo has never had a recall. Even though they outsource manufacturing, it appears that they have chosen good companies to work with. But it would be better to know who manufactures their foods to fully understand the quality.
Clean Label Project
The Clean Label Project is a charity that tests several consumer products for contaminates. They have tested five Nulo wet cat foods for heavy metals, pesticides, mycotoxins, plasticizers, biological contaminants, and process contaminates. The foods tested as excellent in all of these categories, except heavy metals.
Heavy metal levels were hit-and-miss among the cat food formulas, which is common especially in cat foods containing fish. Due to the contaminants in our oceans, fish cat foods routinely test high for heavy metal content. The canned Salmon & Mackerel Recipe had the highest level of heavy metals while the Chicken & Herring Recipe was considered "good" for its level of heavy metals.
Transparency
Nulo doesn't put a lot of information about the company on their website, but customer service is quick and very thorough in answering any questions via email. They have a relatively extensive nutritional analysis for their foods posted online, and even more nutritional information is readily available upon request. However, they will not reveal where their foods are made. The given reason being that they are under contract from the manufacturers to not disclose this information.
What Foods Does Nulo Make?
Along with the standard canned and dry cat foods, Nulo makes freeze-dried raw cat food, bone broth for pets, meaty toppers and perfect puree cat treats.
Nulo's Wet Food Offerings
Flavor and
Texture Variety
A-
Wet foods are available in shredded, minced, and pate textures. Foods come in a wide variety of proteins, including turkey, duck, chicken, salmon, beef, tuna, and more. All foods are formulated for both cats and kittens.
Nulo Wet Food Nutrition Review
Ingredients
There are two basic "formulas" to Nulo's canned cat foods, one being the pate texture and the other being the shredded/minced texture. In both kinds, first several ingredients are meat, typically 2-4 types in a given formula. For example, the Duck and Tuna Recipe includes duck, chicken, turkey liver, and tuna.
After the meat ingredients, the shredded/minced texture foods include dried egg whites. This is most likely added to help maintain the texture of the food, but also is a good source of protein. The shredded/minced formulas also include carrots and peas, which are a good source of fiber. Additionally, agar agar, which comes from seaweed, is in the shredded/minced formulas as a source of soluble fiber and a texture enhancement.
Both the pate and shredded/minced formulas include guar gum, another natural source of soluble fiber, and texture-enhancer.
All of Nulo's canned formulas include a handful of fruits/vegetables. These include cranberries, pumpkin, blueberries, and tomato. These ingredients are far enough down the list that they are unlikely to add any significant nutritional value to the food.
Interestingly, Nulo uses kelp as the source of iodine in their foods. This is the natural alternative to adding synthetic iodine salts to cat food.
Another interesting ingredient in Nulo's wet cat foods is Yucca Schidigera Extract. This is a natural supplement made from the yucca plant, which reduces feces odor.
The final ingredient included in Nulo's shredded/minced formulas, but not their pate formulas is Inulin. This ingredient is a pre-biotic that promotes gut health.
Finally, it is important to note that the minerals included in Nulo's canned cat foods are chelated. This is the gold standard of mineral supplements in pet food, as chelated minerals are much more readily digested by the body.
Nutrients
Protein, Fat, Carbohydrates
The dry matter protein content for Nulo's canned foods ranges from 50% to 56%, with the shredded/minced varieties on the higher end of the protein range. The dry matter fat content ranges from 17% to 32%, with the pate formulas on the higher end of the fat range.
Dry matter carbohydrate content ranges from 1.2% to 11%. The shredded/minced foods sit at about 10% dry matter carbohydrate content, while the pate foods sit at 1% to 7%.
These values represent a high meat content overall. The shredded/minced varieties likely have higher carbohydrate content due to the inclusion of peas and carrots in the formulas. However, these foods all have a reasonable amount of carbohydrates.
The dry matter phosphorus levels in Nulo's canned cat foods ranges from 1.1% to 1.8%. On average, their foods have a 1.4% dry matter phosphorus content. Due to the high prevalence of kidney disease in cats, phosphorus content is extremely important in a cat food. Nulo has done a good job of keeping a reasonable phosphorus level in their canned cat foods.
Nulo published all of their omega-6 to omega-3 ratio of their foods on their website. Ratios range from around 10:1 to 2:1. Generally, the recommended ratio is 6:1 or less, so their foods have a good omega-3 level overall.
The pate formulas include menhaden fish oil, which is an excellent source of the EPA and DHA omega-3s that cats require. However, their shredded/minced formulas do not contain any fish oil. The omega-3s in these foods primarily come from flaxseed. Consequently, shredded/minced formulas without fish as a protein source contain no significant source of the necessary EPA or DHA omega-3s.
Nulo's Dry Food Offerings
Flavor and
Texture Variety
C+
Nulo Dry Food Nutrition Review
There are two lines of Nulo dry cat food: Freestyle and MedalSeries. MedalSeries is available only at Petsmart. Of the Freestyle foods, there are six varieties, mostly targeting lifestyles/ages such as senior, indoor and trim.
Ingredients
The first several ingredients of Nulo's dry foods are meat. Although some of the meats are included with their water weight (which makes them appear higher on the ingredient list), many ingredients are also listed as "meal" which is a dry weight. Some examples of the meat meals Nulo uses include turkey meal, chicken meal, and menhaden fish meal.
After the meat ingredients, Nulo has peas and lentils as a carbohydrate source. It is difficult to say exactly what percent of this food is carbohydrate sources, as there are two sources, which moves the carbohydrate foods lower down the ingredient list. However, considering that there are several meat meal ingredients in each food as well, it is likely that Nulo has chosen to use peas and lentils for nutritional formula reasons rather than designing a deceptive ingredient list. Some foods, such as the senior diet, also include chickpeas as carbohydrate sources. Sweet potato can also be found much lower down on the ingredient list.
Most of Nulo's foods have pea fiber. This increases the overall soluble fiber content of the food and can help with cats feeling full. Along with this soluble fiber, dried chicory root adds natural inulin to the food. Inulin is a prebiotic fiber.
For omega-3s Nulo adds ground flaxseed. This is a great source of ALA omega-3s, but does not include EPA and DHA omega-3s, which cats also require.
Kelp is used as a natural source of iodine in Nulo's foods. Additionally, other minerals in this food are in the chelated form, meaning that they are bound to a protein and more absorbable to the body than low-cost supplements.
DL-Methionine is an ingredient in Nulo's foods that helps maintain proper urine pH, although Nulo does not actually do feeding trials which test urine pH for cats eating their foods. However, the inclusion of DL-methionine is likely a step in the right direction.
And finally, to help keep the litterbox happy, the foods have both probiotics and yucca schidigera extract added to them.
Nutrients
Calories, Protein, Carbohydrates and Fat
Nulo's dry food formulas have roughly 450 calories per a cup. This is a typical caloric level for an all-natural brand. The trim formula has 421 calories per a cup, which is certainly lower than Nulo's other dry foods, but is still relatively high for a weight loss diet.
The dry matter protein content of the dry cat foods ranges from 42% to 47%, with an average of 45%. The dry matter fat content ranges from 13% to 22%, with an average of 17% The dry matter carbohydrate content ranges from 22% to 28%, with an average of 24%.
Somewhat disappointingly, the senior formula is on the lower end of protein content and the higher end of carbohydrate content. This is a somewhat old-school nutritional idea that senior cats need less protein. However, in reality many senior cats experience muscle wasting and/or diabetes, which both require a higher protein and lower carbohydrate diet.
All of Nulo Freestyle dry cat foods have 1.0% phosphorus content on a dry matter basis. This is an excellent level of phosphorus and shows that Nulo took kidney health seriously when formulating this food.
Nulo publishes their omega-3 and omega-6 content in their dry cat foods. The omega-6 to omega-3 ratio ranges from 6:1 to 2:1. These are excellent ratios and Nulo should be applauded for considering the importance of omega-3s in their cat foods.
Nulo doesn't add fish oil to their food, but instead relies on fish and flaxseed to provide omega-3s. The dry formulas all include at least one type of fish as a major ingredient so the important EPA and DHA omega-3s are provided by this fish. It would be better to see a slightly increased EPA and DHA content by using fish oil instead, but this is an extremely minor criticism. Overall the omega-3 content of this food is excellent.