Who Makes Instinct Pet Foods?
Instinct is a brand of the company Nature's Variety. Nature's Variety was founded in 2002. By 2008, L Catterton (a food industry investment group) became a significant shareholder in the company and allowed it to grow rapidly. In 2014, Agrolimen (a food and pet food industry investment group based in Spain) made a large investment in the company, and by 2016 bought out all other shareholders. However, Nature's Variety continues to operate as a stand-alone company.
About Nature's Variety
Company Know How
Nature's Variety has their own modest research and development team of animal scientists and food scientists. They also run a nutrition council several times per year. The nutrition council is led by Nature Variety's veterinary nutritionist and reaches out to internal staff as well as veterinarians and pet owners to review their product formulations. This is an outstanding amount of nutrition knowledge for a company of their size.
Nature's Variety has non-invasive feeding trials conducted on all of their foods to ensure that they are healthy for pets before hitting the market. They also partner with the University of Nebraska to help develop improved manufacturing methods for raw pet foods.
Company Values
Nature's Variety is owned by an investment group, but operates independently. It appears that Agrolimen has allowed Nature's Variety to keep doing what they do best. The company does have a corporate structure. Management overall seems to have a strong background in the pet food and food industries.
It is clear that the company has a strong belief in raw pet foods, with all of their products attempting to point consumers in a more raw direction.
Production
Nature's Variety makes all of their own raw diets and outsources manufacturing for canned and dry foods. They are open about who makes their foods, CJ Foods for dry and Simmons foods for cans. All of their food is made in the United States. They have also outsourced production to Midwestern Pet Foods in the past. Nature's Variety actually puts higher than typical production standards on their foods, insisting that facilities completely clean the lines between runs of various flavors.
Nature's Variety Recalls Since 2008
| Date | Foods Affected | Reason | Who Discovered | Injury or Illness? |
| --- | --- | --- | --- | --- |
| February 2010 | Instinct Raw Chicken Formula | Salmonella | Pet Owner and Nature's Variety | None officially reported, presumably at least one case of minor pet illness |
| Feb. 2013 | Instinct Raw Chicken Formula | Plastic Pieces | Pet Owner and Nature's Variety | None Reported |
| Jul. 2015 | Instinct Raw Chicken Formula | Salmonella | FDA routine surveillance | None Reported |
Quality
As far as our research could find, Nature's Variety has never had a recall on their canned or dry formulas. All three of their recalls have been for their raw foods, which are notoriously more difficult to manufacture safely than dry or canned pet food. The brand overall has a very good track record of quality.
Clean Label Project
Two of Instinct's canned cat foods were tested by the independent consumer watchdog group, Clean Label Project. This non-profit tests for several contaminants including heavy metals, acrylamide and fungal toxins. These foods were Chicken Formula and Lamb Formula and they both rated three out of five stars for purity. This is an average rating and is especially common for pet foods with a high meat content.
Transparency
Customer inquiries through email receive a quick response from Nature's Variety. There is also a live chat option right on their website. They are very open about who manufactures their foods and where their ingredients are sourced. Full nutrient profiles for their raw foods are available on their website, while nutrients of their other foods are available upon request.
What Foods Does Instinct Make?
Instinct has over 50 types of foods for cats. They make dry food, freeze dried food, canned food, and frozen cat food. Many of the products are "boosts" or "toppers" for your cat's food, but they offer several stand alone diets as well.
Instinct's Wet Food Offerings
Flavour and
Texture Variety
B+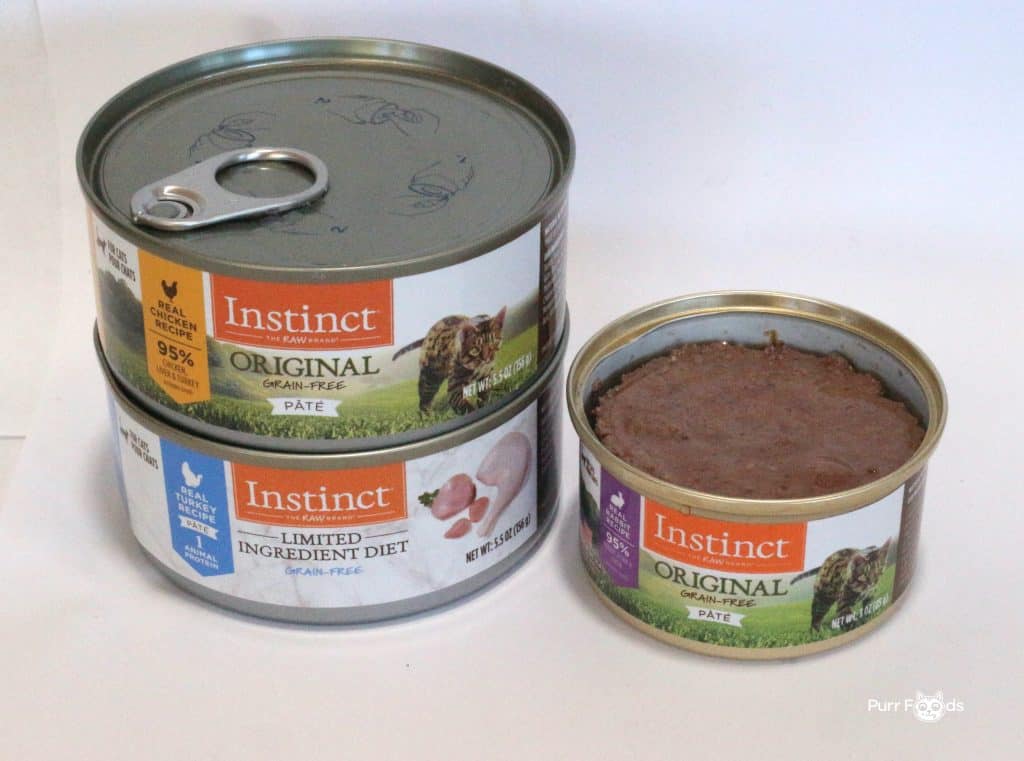 Instinct has cans and cups of wet cat food available. They also offer a limited line of meal topper pouches. In addition to Instinct Original, the company offers Instinct Ultimate Protein and Instinct Limited Ingredient Diets. However, in the wet cat food the "Original" and "Ultimate Protein" varieties are actually the same formula. All of the canned foods are the pate texture, while the cups are a minced texture. There is a huge variety of protein sources available including chicken, rabbit, salmon, lamb and venison. Some examples of their wet foods are:
Some examples of their wet foods are;
Original Pate:
Real Chicken Recipe
Real Rabbit Recipe
Real Salmon Recipe
Limited Ingredient Diet Pate:
Turkey Recipe
Rabbit Recipe
Instinct Ultimate Protein:
Minced Recipe Cups:
Instinct Wet Food Nutrition Review
Ingredients
With the exception of the Limited Ingredient Diets, Instinct's wet cat foods all follow a similar ingredient formula. The first few ingredients are meat. In their top selling Pate Real Chicken Recipe formula, for example, the first few ingredients are "Chicken, Turkey, Chicken Liver and Chicken Broth." Based on the ingredients Instinct's wet foods do appear to have a high meat content.
Ground Flaxseed is also found in Instinct's wet cat foods. This provides soluble fiber, insoluble fiber and plant-based omega-3 fatty acids.
Montmorillonite Clay is included in Instinct's wet cat foods as a natural source of magnesium as well as an anti-caking agent. Egg Product is also added for the texture of the food.
Peas and carrots also make the list of most of Instinct's wet cat foods. They offer fiber as well as vitamins for cats. It appears that only a limited amount of peas and carrots have been added to Instinct's wet cat foods and these ingredients are not being used as a filler.
Instinct used chelated minerals in their foods. These are higher-end mineral supplements that are more readily absorbed by cats' bodies. Some of the chelated minerals include zinc proteinate and iron proteinate.
Menhaden Fish Oil is included in some but not all of Instinct's wet foods. Fish oil is an essential ingredient in order to provide EPA and DHA omega-3. Fish oil is notably absent from the limited ingredient diets and from the minced cup recipes.
Many other vegetables are included at the very end of the ingredient list. Artichokes, Cranberries, Pumpkin, Tomato, Blueberries, Broccoli, Cabbage, Kale, and Parsley are likely not in any significant amount to have a nutritional effect on the food. Pet food companies will often add these types of ingredients only to make the food label look more appealing to humans.
Nutrients
Protein, Fat, Carbohydrates
Overall the dry matter protein in Instinct's wet cat foods ranges from 45% to 55%. The fat content ranges from 10% to 42% on a dry matter basis. Fish and rabbit varieties have a fat content on the lower end of this range. The best selling original chicken pate recipe was 34% fat, which is somewhat high for a wet cat food, but should be fine for the majority of cats.
The dry matter carbohydrate content for Instinct's wet cat food ranges from 5% to 12%, with the original recipes having the lowest carbohydrate content overall. This is a relatively good carbohydrate content for wet cat food and again shows us that Instinct has a high meat content.
The phosphorus content of Instinct's wet cat foods are 1% to 2% on a dry matter basis. This is an okay overall phosphorus content for healthy cats, but it closer to 1% would be better.
The Instinct wet cat foods have a very good omega-3 to omega-6 ratio of about 1:5. This is excellent news, especially for foods that have menhaden fish oil listed in the ingredients. Since cats cannot make EPA and DHA from the plant based ALA omega-3, fish oil or fish ingredients are critical. Instinct's Limited ingredient and Cup wet foods unfortunately lack fish oil.
Instinct's Dry Food Offerings
Flavour and
Texture Variety
A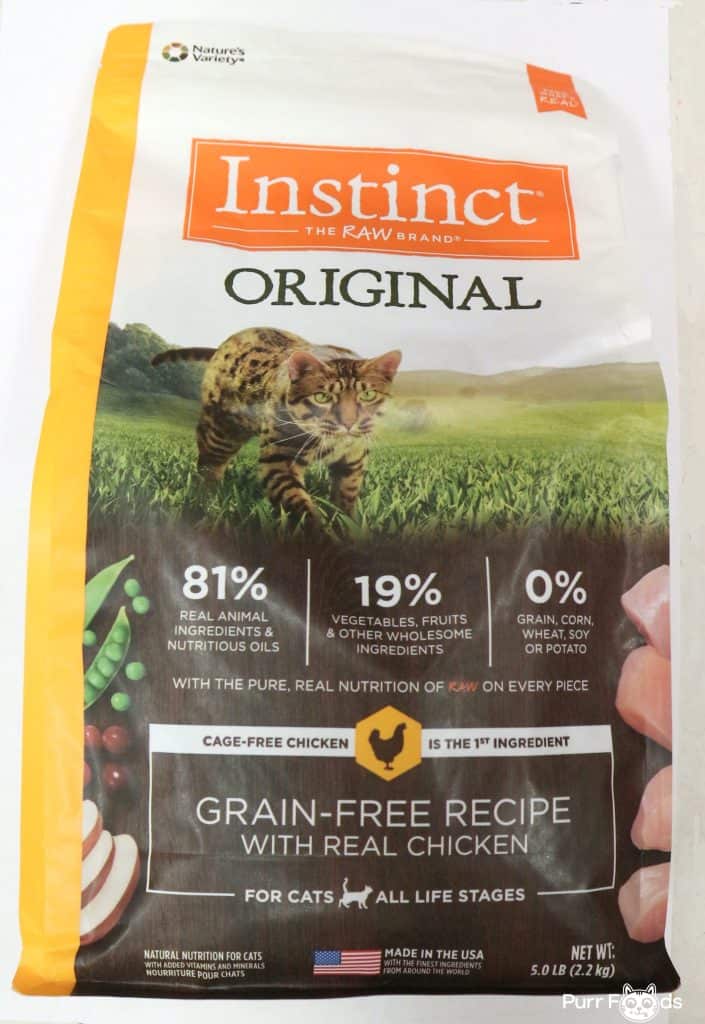 There are a wide variety of Instinct dry cat foods available. Many offer a freeze-dried raw boost mixed in with the traditional kibble. Like the wet food, they have Original, Ultimate Protein and Limited Ingredient varieties available. Proteins available are quite varied and include chicken, rabbit, duck, turkey and salmon.
Some examples of their dry foods are
Original:
Grain-Free Recipe with Real Chicken Freeze-Dried Raw Coated
Grain-Free Recipe with Real Rabbit Freeze-Dried Raw Coated
Limited Ingredient Diet:
Grain-Free Recipe with Real Rabbit Freeze-Dried Raw Coated
Grain-Free Recipe with Real Turkey Freeze-Dried Raw Coated
Ultimate Protein:
Grain-Free Cage-Free Chicken Recipe Freeze-Dried Raw Coated
Raw Boost:
Grain-Free Recipe with Real Chicken & Freeze-Dried Raw Pieces
Instinct Dry Food Nutrition Review
Ingredients
Instinct Original and Instinct Raw Boost both have very similar ingredients and ingredient patterns. The Limited Ingredient Diets and the Ultimate Protein foods have a shorter and more simple ingredient list.
The first few ingredients are meat and meat meals. This indicates that the food truly does have a high meat content. Menhaden fish meal is also listed, which is a great source of EPA and DHA fish oil as well as animal protein.
Ultimate protein uses whey protein in addition to a high meat content in order to increase the overall protein of the food. Although whey protein is more nutritionally valuable than plant proteins, it still is cheaper and somewhat inferior to meat. Nutritionally, there isn't much of a benefit to feeding Instinct Ultimate Protein over the other Instinct foods.
The main carbohydrate sources in Instinct's cat foods are peas, alfalfa meal and tapioca. Peas and alfalfa meal both have a high fiber content and can help keep cats feeling full.
What makes Instinct's dry food considered "raw" is the inclusion of freeze-dried meats. For example, the chicken recipes have freeze-dried chicken, hearts and liver. Traditional kibble is cooked at a very high temperature, which can destroy vitamins and make the food less digestible. The idea behind the inclusion of freeze-dried ingredients is to provide some highly nutritious and digestible bits in the food. The Raw Boost foods have a higher amount of these ingredients than the normal kibble.
Instinct also includes pre-biotics called Fructooligosaccharides in their ingredients to help promote gut health. They also include probiotics in the food too.
Most varieties of instinct have several vegetables and fruits listed towards the end of the ingredients. Things like carrots, apples, cranberries, and blueberries are included in such low levels in the food they are unlikely to make any nutritional impact. These types of ingredients are typically added to make the label look more appealing to consumers.
Nutrients
Calories, Protein, Carbohydrates and Fat
The Instinct Original and Raw Boost dry cat foods have roughly 45% protein on a dry matter basis. The Ultimate Protein foods have roughly 52% dry matter protein. The Limited Ingredient Diets have closer to 40% dry matter protein. These are all higher than average protein content for a dry cat food.
Dry matter fat content of food was 15% to 25% among varieties. For the Limited Ingredient Diets as well as Indoor or Healthy Weight formulas, the dry matter carbohydrate content is around 25%. For most of the other Instinct dry cat foods, carbohydrate content is ultra-low, at roughly 14% on a dry matter basis. This is nearly unmatched in dry cat food and Instinct truly should be applauded for their low carbohydrate count.
The main Instinct foods have a very high calorie count, near the 500 calories per a cup mark. This is almost unavoidable in kibbles with such a high meat content. Instinct does offer lower calorie options, such as Indoor Formula at 429 calories per cup and Raw Boost Healthy weight at 385 calories per cup. However, given the higher carbohydrate content of the lower calorie options, it would likely be a better idea to switch to Instinct's wet food if your cat is having weight issues.
Unfortunately Instinct's dry foods range widely from 1.0% to 2.6% dry matter phosphorus content. Most of the foods fall above 1.4% dry matter phosphorus. Over 2% dry matter phosphorus is not recommended for cat food, especially in dry diets. Before feeding a variety of Instinct, especially to cats over the age of 7, we highly recommend you check the phosphorus content.
Instinct Original and Instinct Raw Boost dry foods have good sources of EPA and DHA omega-3s in their ingredients. Menhaden fish meal, salmon meal, and salmon oil are all excellent sources of this essential nutrient. Good ratio, occasionally no fish oil. Mainline foods have menhaden meal, salmon meal, and salmon oil. However, the Limited Ingredient Diets and Ultimate Protein foods are lacking these ingredients. Flaxseed is used to provide omega-3s, but cats cannot process the ALA omega-3s into the essential EPA and DHA omega-3s.
Instinct publishes their omega-3 to omega-6 fatty acid ratio on their guaranteed analysis. In non-fish flavors of the food, the ratio ranges from 3.5:1 to 7:1. When fish ingredients are included, this indicates an excellent level of omega-3s.