Who Makes Fromm?
This company has actually been around since 1904 and remains in the Fromm/Nieman family to this day. They began making dog food in 1949, but it was not their primary business. The current owner, Tom Nieman, shifted the focus of the feed plant to dog and cat food in 1984. Fromm's lines of pet food that exist today, Fromm Gold and Four-Star, began in the late 1990's and early 2000's.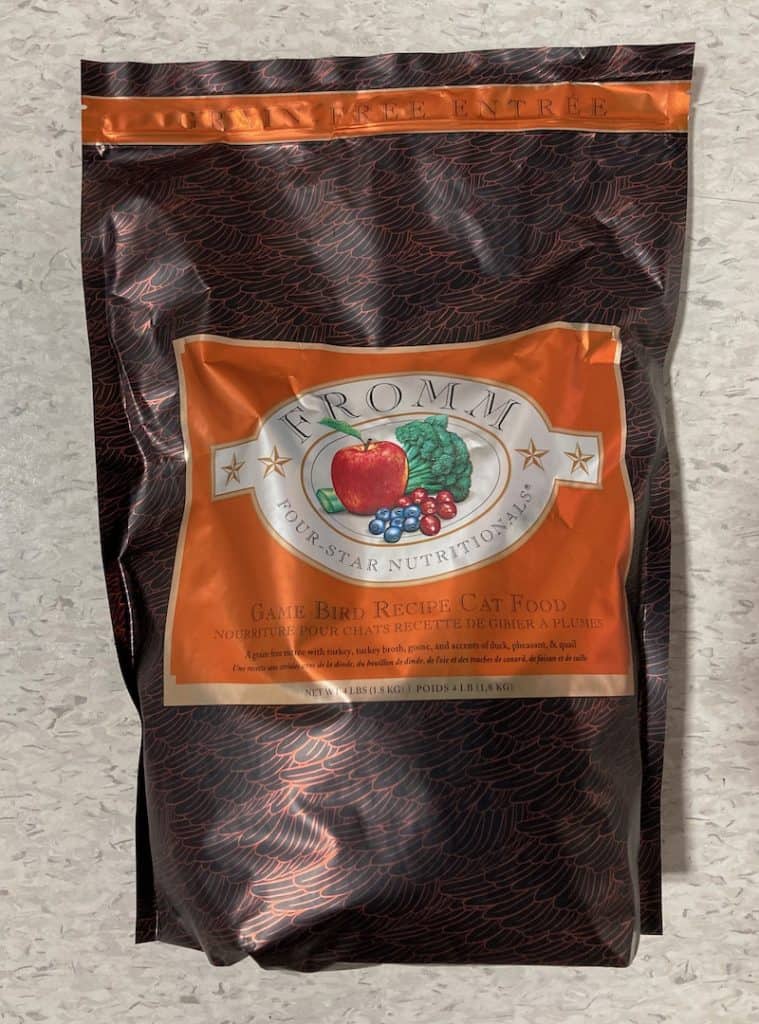 About Fromm
Company Know How
Historically, Fromm Bros., Neiman and Co. has made innovations in the pet food industry. However, the company now appears to have moved away from research and development or nutritional innovation. The small number of employees in the company appear to be more focused on operations, branding and marketing than animal nutrition. The owner, food formulator and 4th generation family member, Tom Neiman, was a chemical engineer before taking over Fromm.
The company simply formulates food to meet the AAFCO nutrient profiles with little formal education on animal nutrition. Fromm does not conduct feeding trials on their foods and therefore important aspects of the food such as target urine pH (in order to prevent urinary stones) and digestibility remain unknown.
The redeeming feature of Fromm's know-how is that they produce the foods themselves. This allows for a good understanding of food safety, supply chains and quality standards.
Company Values
It is clear that Fromm uses their business to support their local community by producing safe and high-end pet food. They have grown their business without outside financing in order for it to remain family owned and true to their values. They have a strong philosophy of supporting small business and the owner is very involved in the Small Business Administration.
In the past it appears that the company's main focus was on innovation, while now they are focused on quality and consistency. This is an admirable goal, but it would be beneficial to see more of a dedication to keeping up with the best science in cat and dog nutrition as they appear to have done in generations prior.
Production
Fromm owns two dry food production facilities and one wet food production facility, all located in Wisconsin. The company makes all of their own foods and continues to expand their plants as the company grows. It should not be understated the dedication it takes to expand in this methodical way. Many companies would simply outsource a portion of their manufacturing until their manufacturing facilities can be expanded, but not Fromm. They see the value in keeping production in-house to remove the potential of a sacrifice in their high standards.
They have a long history in pet food and have pioneered many innovations (such as vitamin E as a preservative) over the years. Fromm's in-house production is one of the strong positives about their food.
Fromm Recalls
Quality
Considering Fromm's current lines of cat and dog food have been around since the late 1990's they have an excellent track record of quality. Their single recall in 2016 was for an issue discovered by Fromm themselves. While many companies would have chosen to sweep this under the rug, Fromm did the right thing and came forward. Oftentimes it is better to see a company with a single minor recall than no recalls at all, as pet owners can peak behind the curtain and understand the values and ethics of who manufactures food for their pet.
Clean Label Project
Many of Fromm's dry foods were tested by the Clean Label Project. This consumer advocacy group tests pet foods for contaminants such as mercury, lead and acrylamide. Typically foods high in meat content score lower than grain-based cat foods. Fromm's foods scored three out of five stars for contaminate levels, with the exception of their fish flavors. Due to the high levels of contaminants in our oceans, Fromm's fish flavored cat foods scored only one star.
Transparency
In our experience Fromm takes about two business days to respond to emails. They answer questions thoroughly, but had slight difficulty with providing nutritional information in the format we needed in order to make scientific comparisons. However this was quickly resolved with follow-up emails.
The company overall appears to make an effort to be highly transparent. The website has a wealth of information on the company operations and the individual foods. There is some expanded nutritional information as well, but carbohydrate content is notably absent.
What Foods Does Fromm Make?
There are a total of 25 types of cat food listed on Fromm's website. The foods come in a wide variety of flavors. They have two lines of foods "Four-Star" which is available in canned and dry and "Gold" which is only available as dry food.
Fromm's Wet Food Offerings
Flavor and
Texture Variety
C-
Fromm offers a wide variety of wet food flavors using unique protein and carbohydrate sources. In total they have 13 wet cat food recipes with a wide variety of primary ingredients. However, canned cat food is only available in the pate texture and only in 5.5 oz cans.
Fromm Wet Food Nutrition Review
Ingredients
The ingredients in Fromm's wet cat foods all follow a similar overall recipe. The first few ingredients are meat such as beef, beef broth and beef liver. There are quite a variety of meat sources that Fromm offers including turkey, chicken, duck, beef, venison, lamb, seafood and salmon. The food appears to be primarily meat, which is great.
After the primary meat ingredients there are typically one or two carbohydrate sources. These include pearled barley, lentils, sweet potato, flaxseed, chickpeas, broccoli and carrots. It is unique for a brand to have such a wide variety of choices for carbohydrate sources. Although this will likely not matter to the average cat, the wide variety of carbohydrate sources to choose from may prove beneficial in providing choices for cats with food sensitivities.
The canned cat foods also include tomato paste in the ingredient list. This is added to cat food in order to both enhance flavor and as a healthy fiber source. It is also a good source of antioxidants.
The mineral mix that Fromm uses is a combination of mineral salts and chelated minerals. Chelated minerals are considered higher end and are more easily absorbed by your cat's body than mineral salts. It is unclear why Fromm has chosen a mix of both types of mineral supplements, but it is good to see that a portion of the minerals in this food are chelated.
Nutrients
Protein, Fat, Carbohydrates
The dry matter protein content in Fromm's canned cat foods ranges from 40% to 50%. Dry matter fat content is much more variable between flavors and ranges from 14% to 45%. However, the majority of the canned formulas fall in the 20% to 30% range for dry matter fat content. Finally the carbohydrate content has quite a variety of values between flavors. Carbohydrates range from 1.9% to 20.2% on a dry matter basis. The overall average is 12.3%, with Chicken & Duck Pate and Salmon & Tuna Pate both sitting below 5%.
The protein, fat and carbohydrate content of Fromm's canned cat foods nearly span the entire range of types of cat food formulas. 20.2% dry matter carbohydrate content in a canned cat food is a relatively high value, while 1.9% is very low and extremely admirable. It is difficult to speak to the overall meat content of Fromm's wet foods due to the high variability in the formulas. It is also difficult to tell simply from the ingredients list and guaranteed analysis how much meat is in a given formula.
The overall average dry matter phosphorus content of all of the formulas is 1.3%. The Seafood & Shrimp Pate food has the highest phosphorus content at 1.7%, while all other flavors fall between 1.0% and 1.5% phosphorus on a dry matter basis. Notably Beef & Venison Pate, Beef Pate and Turkey & Duck Pate have just 1.0% phosphorus on a dry matter basis.
Fromm's canned foods appear to have well controlled phosphorus levels, especially if the Seafood & Shrimp Pate is avoided. Ideally, we look for cat foods with roughly 1.0% dry matter phosphorus content due to the extremely high prevalence of kidney disease in cats. A healthy level of dietary phosphorus can easily be reached using Fromm's wet foods, but none of the foods have a low enough content for cats with diagnosed kidney disease.
Fromm's wet foods are hit and miss when it comes to providing the necessary EPA and DHA Omega-3 fatty acids required by cats. These nutrients primarily come from fish or fish oil, which is included in a handful of Fromm's wet cat food recipes, but not all. It is unclear why they have chosen to put salmon oil in some varieties and nor others.
Fromm's Dry Food Offerings
Flavor and
Texture Variety
B-
Per the company's website, Fromm offers 12 different formulas of dry cat food. Three are From Gold, which are designed for kittens, adults or senior cats. The other 9 varieties are formulated for all life stages and offer a wide variety of flavors.
Fromm Dry Food Nutrition Review
Ingredients
There are quite a variety of proteins which make up the dry cat foods that Fromm offers. Beef, chicken, turkey, salmon and rabbit, just to name a few. Strangely however, all of Fromm's dry recipes include chicken or chicken liver, which makes them a poor choice for cats with chicken allergies or food sensitivities.
The first ingredient in Fromm's foods is always meat, but this is somewhat deceptive. Many of the meats are listed including water content, such as "beef liver" or "turkey." Additionally, there are many sources of meat and many carbohydrate sources as well. This makes it very difficult to determine if meat is truly the primary ingredient in Fromm's dry cat foods or if the ingredient list has been manipulated using water content and ingredient splitting.
Fromm's foods also include dried egg product, which is a great way to add both nutrition to the foods as well as flavor and texture. Dried egg product is typically listed before the carbohydrate sources, so there is decent indication that animal proteins are the majority of Fromm's cat foods.
Like in their wet foods, carbohydrate sources that Fromm uses in their dry cat foods are highly varied. Most foods use some combination of chickpeas, peas, lentils, potatoes, and sweet potatoes. It is not clear why Fromm has chosen to use so many types of carbohydrate sources in every formula. It could be to make carbohydrates appear lower on the ingredient list or it could be a choice due to nutrition or palatability.
Unfortunately, all of Fromm's Four-Star dry cat foods, except Salmon A La Veg, include pea protein as an ingredient. This ingredient is typically used as a low-cost protein source while still being able to call a food "grain free." Typically plant proteins are less efficient for cats and should be avoided when possible. Pea protein does not appear to make up a significant portion of Fromm's dry cat food recipes, but it is something to be aware of.
Dried tomato pomace is another ingredient found in all of Fromm's dry cat foods. This ingredient is an excellent source of both antioxidants and soluble fiber. Flaxseed is also found in all of their dry cat foods and provides plant based omega-3s as well as soluble fiber.
Many of Fromm's recipes have exotic protein sources low down on the ingredient list. These include goose, pheasant and quail for example. Although these birds can be great meals for cats with certain food sensitivities, they must be fed as the only protein source to have these benefits. Having exotic meats low on the ingredient list does nothing nutritionally and simply looks good on a label. Cat owners should watch out for these sort of tactics used by pet food companies.
Similarly, Fromm adds a long list of vegetables and fruits that sound good to humans but have minimal nutritional value to cats in their ingredients. That is not to say that carrots, apples, broccoli, pears, blueberries etc to not have some value in cat food, but these long lists are primarily made to appear to humans rather than the nutritional needs of cats.
Like the wet food, Fromm uses a mineral mix that includes both lower cost mineral salts as well as the higher-end chelated mineral supplements. Both are healthy, but chelated supplements are better absorbed from food and are more utilized by your cat's body.
Nutrients
Calories, Protein, Carbohydrates and Fat
Of the Fromm Four-Star line of dry cat foods, the protein content ranges from 36% to 42% with an average of 38% protein on a dry matter basis. The fat content ranges from 17% to 22% and the average of all of the varieties is 19% fat on a dry matter basis. The average dry matter carbohydrate content among the foods is 33.3%, ranging from 23.9% in Surf & Turf Recipe to 43.9% in the Mature Gold Recipe.
Fromm Four-Star foods have a fairly typical level of protein for dry cat food, and a portion of this protein does come from peas. The carbohydrate content is also at a typical level for dry cat food. Overall the foods appear to have a relatively good amount of meat in them, but not an extremely high level.
The average calorie content in Fromm's Four-Star day cat foods is 417 calories per a cup with a range of 397 in the Salmon A La Veg recipe to 432 in the Chicken au Frommage recipe. This is a typical caloric content for a "natural" style cat food, but is a mid to high level of calories by regular cat food standards.
Fromm's Gold dry cat foods are specifically for life stages and thus have a slightly different nutrient profile than the Four-Star dry cat foods. The Kitten and Adult foods have similar protein, fat and carbohydrate content as the Four-Star line of foods, but have a higher calorie content with 450 and 453 calories per a cup, respectively,
Fromm's Gold Mature diet has only 33% protein and 11% fat content on a dry matter basis. The calories level is 422 per a cup. Reduced fat is commonly seen in senior cat foods to help with sensitive stomachs and also better meets seniors' reduced calorie need. Reduced protein is commonly seen in senior cat foods due to the high incidence of kidney disease in senior cats. However, this is typically ill-advised due to muscle wasting which is also common in senior cats. The increased level of carbohydrates can also promote diabetes in overweight cats.
The dry matter phosphorus content among Fromm's dry cat foods ranges from 0.9% to 1.3%, with an average of 1.1%. Overall this is a very good phosphorus level in cat food, although it is a bit odd that the Mature flavor does not have reduced phosphorus content compared to the other foods.
All of the Fromm dry cat foods have both flaxseed and salmon oil included in the ingredients. Between these two ingredients all forms of omega-3 fatty acids, EPA, DHA and ALA are in this cat food. Although nutritionally required, there is no regulation requiring the inclusion of EPA and DHA omega-3s in cat food, so it is good to see that Fromm has considered these essential nutrients for brain and skin/coat health when creating their recipes.