About Purina, Who Makes Fancy Feast
Company Know How
Purina is a huge company that is a division within Nestle. They have used their resources to keep a staff of over 500 experts in food production, animal nutrition, veterinary medicine and animal behavior.
Purina invests heavily in both innovation and researching their products. They maintain a Pet Care Center of cats and dogs for non-invasive feeding experiments. Purina has even published peer-reviewed research on animal nutrition. Foods are tested for palatability and health before they ever hit the market.
Company Values
The great thing about Purina is that they use their large size to really invest in an expert staff to make pet food. The downside of this large size is that profit sits above all else. Purina offers cat food at every price range, meaning that some foods are extremely high quality while others are as cost effective as possible. Amongst Purina brands of cat food, Fancy Feast sits at a mid-range price between Friskies and Purina ProPlan.
Production
In a company like Purina, supply chains and prices of ingredients are huge factors in how they make their cat foods. Although the lawsuit was dismissed, there were allegations that the tuna used in Fancy Feast was caught using slave labor. When a company has as large and complex supply chains as Purina does, it exposes them to labor and quality issues. However, it appears that Purina does a very good job of managing these large supply chains, as their exposure during the 2007 melamine pet food recalls was extremely limited.
Purina owns all of their own manufacturing facilities. They do not co-pack or use co-packing facilities. According to the company, Fancy Feast dry food is made in the US in Iowa. The canned food is made in Thailand in Purina owned facilities.
Unlike China, production in Thailand should not raise concern for cat owners. Pet food manufacturing in Thailand grew out of the fish canning industry for human consumption. Much of the world's tuna is caught in Thailand, and therefore canned there as well. Thailand has strict safety in pet food manufacturing and is considered on-par with the United States. An additional assurance is that Purina owns the Thai facility and can keep a close eye on quality and safety.
Fancy Feast Cat Food Recalls
Our research could find no recalls on the Fancy Feast brand. Fancy Feast's parent company, Purina, has had a handful of minor recalls throughout the years. Considering the massive scale of Purina, they overall have a good track record. Since 2007, there is only one reported case of illness from Purina foods, despite Purina being 23% of the pet food market.
Purina recalls since 2008
Quality
The research put into the foods as well as the recall history indicates that Purina (and by extension Fancy Feast) have strong quality control standards and testing. Purina has recalled products for issues that their in-house testing has caught. Many companies would simply ignore the issue in order to have a better "track record," but Purina does not appear to operate this way.
Clean Label Project
The Clean Label Project tested 30 canned varieties of Fancy Feast for contaminants such as lead, mercury, cadmium, BPA and arsenic . Unfortunately, most flavors of Fancy Feast had very high levels of contaminants. Part of the reason for this is the inclusion of fish in the food. Choosing chicken or beef flavors can help reduce the amount of heavy metals your cat consumes in their food.
Transparency
Since Purina does all of their production in-house they are relatively transparent about where foods are made. They also have decent customer support which can answer basic questions about foods and their formulations. However, Purina was not able to provide information on the copper content of their foods. They do not publish full nutritional data online either. Purina has published their internal research in peer-reviewed papers, which is a bonus for the field of animal nutrition, rather than keeping information a company secret.
Purina's Score Card
What Foods Does Fancy Feast Make?
Fancy Feast offers over 150 different wet food formulas and five varieties of dry food. The brand is widely available in both pet stores and grocery stores and can be easily recognized by their mascot, a longhaired white cat.
Fancy Feast Wet Food Offerings
Flavor and
Texture Variety
A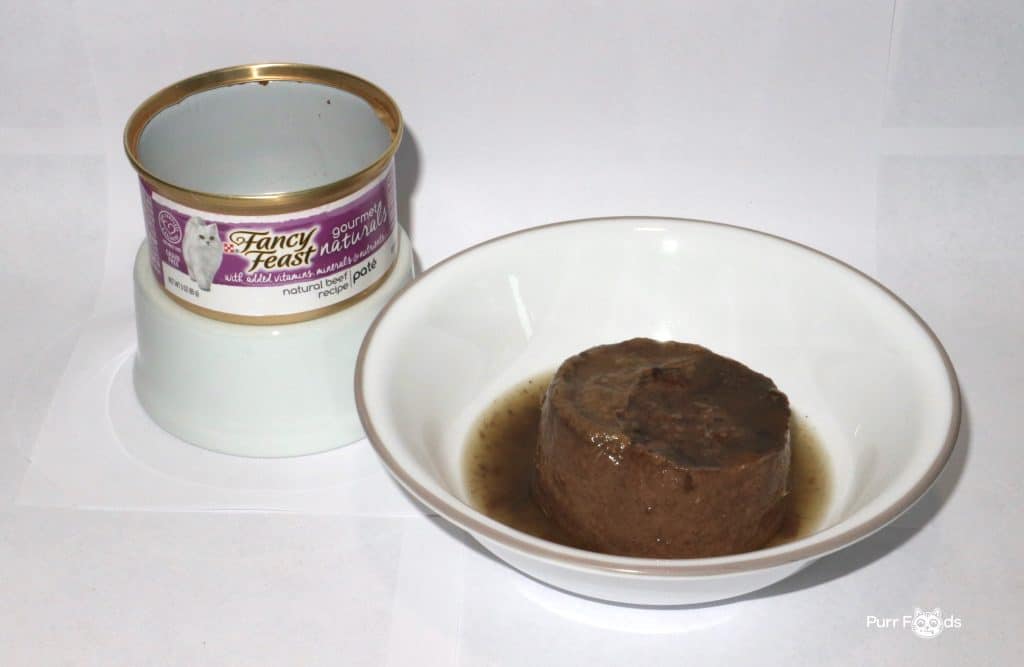 Fancy Feast offers a huge variety of wet food for cats. Proteins include chicken, beef, turkey and fish, with tuna and chicken being the most common. They also offer a large variety of textures, including pate, chunks in gravy, and flaked. Most of Fancy Feast's wet foods come in a small 3 oz metal can, however they do have the occasional plastic container or pouch offering.
Some Examples of Top Selling Varieties of Fancy Feast are:
Chicken Feast – Classic Pate
Gravy Lovers Chicken Feast in Grilled Chicken Flavor Gravy
Tender Beef Feast – Classic Pate
Tuna Feast in Gravy – Grilled
Gravy Lovers Ocean Whitefish & Tuna Feast in Sauteed Seafood Flavor Gravy
Fish & Shrimp Feast – Flaked
Medleys White Meat Chicken Florentine with Garden Greens in a Delicate Sauce
Wet Food Nutrition Review
We have chosen one of the top selling Fancy Feast foods, Fancy Feast Chicken Feast Classic Pate, to further examine. This food is also a good representation of the "average" nutrition of Fancy Feast canned formulas. A lot can be understood about Fancy Feast as a whole by closely examining one of their formulas.
Fancy Feast Chicken Feast Classic Pate Ingredients
Chicken, Poultry Broth, Liver (nice and meaty!)
The first ingredient in this food is chicken, followed by poultry broth, and then liver. These first three ingredients mean that this food has a high meat content. The liver is likely chicken liver, and ideally they should specify. Overall these three ingredients are a strong basis for a cat food.
Meat By-Products (Use Caution)
The fourth ingredient is meat by-products. The legal definition of "meat by-products" is clean parts of slaughtered mammals other than meat. This mainly includes the organ meat left over from beef and pork production. This does not include hair, horns, teeth or hoofs. The lungs, spleen, kidneys, brain, liver, blood, bone, intestines etc that make up this ingredient are highly nutritious to cats. This is likely why Purina included this ingredient in their food.
Purchasing and listing this ingredient as "meat by-products" rather than as individual organ meats such as "beef kidney" is a cost saving measure. Although illegal, meat by-product and meat by-product meal frequently have been contaminated by the inclusion of horses which have been euthanized using the drug pentobarbital. When this ingredient is listed, one must be sure that the pet food manufacturer is reliable and has strict quality testing.
The fifth ingredient is simply listed as "fish." Purina has clarified in May 2019 that this fish is salmon, however it is unclear why they would not list this on the label. Fish is a great source of omega-3 oils but it can also be a source of heavy metal contamination.
Artificial and Natural Flavors (could upset some tummys)
This is the first "minor" ingredient on the list and it can be just about anything. Developing highly palatable cat food is a complex and expensive process, and it is likely that the company wants to keep their flavors proprietary. For most cats, artificial flavors do not cause any issue, but this ingredient should be avoided if your cat has any digestive issues or allergies.
Guar Gum (texture and fiber)
This is a natural material from the guar bean. It helps maintain the texture of the food and adds soluble fiber to the food.
Taurine is an essential nutrient for cats. Although it naturally occurs in meat, it has been added as an ingredient because the high temperatures of the canning process can destroy a large portion of the natural taurine.
Tricalcium phosphate, salt as well as a minerals mix and a vitamins mix are the ingredients which make up the minerals in this food. The vitamins and minerals added appear to be a typical low-cost mix. It does not include any chelated minerals, which would make the nutrient more available to the body.
Added Color and Sodium Nitrite (controversial ingredients)
These ingredients have been added to make the food look more appealing. This is likely more for the human's benefit rather than the cat's. Sodium nitrite is a controversial ingredient in both human and pet food. Nitrite also naturally occurs in vegetables and its effects on health are minimized by high stomach acid and antioxidants. For the majority of cats, It is unlikely that nitrite would cause any issues. However, cats with digestive issues or owners looking for more natural cat food should avoid added color or sodium nitrite.
Nutrients
Protein, Fat, Carbohydrates (Thumbs up!)
When analyzed on a dry matter basis, this food is 45% protein, 23% fat, 10% carbohydrates. Overall, this is a good composition to a wet cat food and indicates a high meat content.
Phosphorus is a major concern in cat food due to its role in exasperating kidney disease. About 60% of cats over the age of 10 have kidney disease, but most have not been officially diagnosed. Fancy Feast doesn't seem to have taken this into consideration when formulating this cat food, because the phosphorus level is at 2.0% on a dry matter basis.
We did find significant variation in phosphorus levels between flavors. Some foods have a relatively moderate phosphorus content at 1.0% on a dry matter basis, but some other Fancy Feast foods have over 2% dry matter phosphorus content. If your cat is a senior or has kidney issues, we recommend checking the phosphorus content of any given flavor before purchasing it.
EPA and DHA are the main types of omega-3s which cats need. However, there is no legal requirement to include any amount of EPA or DHA in adult cat food. These nutrients only come from certain algaes or animal sources. Typically, significant amounts of EPA and DHA are only found in fish or fish oil. Since this food lists fish as an ingredient, cat owners can rest assured that there is some EPA and DHA omega-3s present.
Fancy Feast Dry Food Offerings
Flavor and
Texture Variety
C
Fancy Feast offers five dry food types in a variety of bag sizes. Of the five Fancy Feast dry foods, two varieties are "Gourmet Naturals." The Gourmet Naturals have a slightly higher price than the other Fancy Feast dry foods. Their main selling point is that the first ingredient is meat.
The five Fancy Feast dry foods are:
Savory Chicken & Turkey
Filet Mignon Flavor with Real Seafood & Shrimp
Ocean Fish & Salmon and Accents of Garden Greens
Gourmet Naturals White Meat Chicken
Gourmet Naturals Wild Caught Ocean Fish
Dry Food Nutrition
Fancy Feast's Gourmet Naturals dry food offer a great marketing strategy: meat as the first ingredient. We chose to take a closer look at this specific variety of Fancy Feast dry food to better understand this claim. Other aspects of this food are similar to other Fancy Feast dry foods. Taking a closer look helps better understand Fancy Feast dry foods as a whole.
Gourmet Naturals White Meat Chicken Ingredients
Chicken (very misleading!)
The main marketing point of this food is that the first ingredient is chicken, which sounds great. However, taking a closer look at the ingredients, chicken is listed before it is dehydrated into a dry "chicken meal." This means that chicken is only the first ingredient because they are including the water weight of the chicken. On a dry basis it is unlikely that chicken would be the first ingredient.
Corn Gluten Meal (very low quality)
Corn gluten meal is the protein portion of corn and is the second ingredient in this food. For cats, corn protein is less digestible than meat protein. The amino acid composition of vegetable proteins is also very different than animal proteins. Poor amino acid composition adds to the work for the kidneys and liver as the body burns the protein as energy rather than using protein to build muscle and repair tissue. Corn gluten meal is a low-cost ingredient and is not a high quality ingredient. The fact that it is likely the main ingredient once the water is removed from the chicken, indicates that this is a low-quality food.
Whole Grain Corn (carbohydrate source)
All dry kibbles must have a carbohydrate source in order to give them structure. In this food, whole grain corn is the main carbohydrate source. As far as carbohydrate sources go, corn agrees with most cats and should not be an issue.
The definition of this ingredient is the rendered (think ground and dehydrated) "leftovers" of poultry slaughter. This includes necks, feet, organs, intestines etc. Feathers are not included in poultry by-product meal. This ingredient can be very healthy for cats. Ideally, Fancy Feast would list out the components individually such as "chicken gizzards" and "chicken necks," but purchasing the ingredients in this manner is much more costly and can rarely be done in bulk. When purchasing food from a reputable brand with good quality standards, poultry by-product meal is a good ingredient to see.
Barley, Soybean Meal, Rice (misleading again!)
These are additional carbohydrate sources listed in the ingredients of this food. There may be flavor, texture or even nutritional reasons for the inclusion of this many types of carbohydrates, however it is more likely that many types of carbohydrates were included to help keep chicken as the first ingredient on the list. This practice is called "ingredient splitting" where one ingredient or one type of ingredient will be listed several different ways in order to place it lower on the list of ingredients.
Animal Fat Naturally Preserved (indicates low meat content)
When considered in isolation, this ingredient is perfectly healthy and natural for cats to eat. However, this ingredient indicates that this food has a low meat content. High amounts of grains or vegetables will lower the fat content of the food, so fat has to be added back as a separate ingredient.
Natural Liver Flavor, Natural Flavor
These are often the natural juices from cooking meat. They enhance the palatability of the cat food overall. Ideally, Fancy Feast should reveal exactly what natural flavors they are using, but this information is often held as proprietary by companies. Large pet food companies invest heavily into studying the ideal flavors that will help a cat find their food tasty.
Phosphoric Acid (for urine pH)
This ingredient is added to help balance urine pH. Urine pH is critical in cats, because if it goes outside of the ideal range they are prone to forming bladder stones. The inclusion of phosphoric acid indicates that Purina has actually studied this food on real cats, which is not actually required before selling a food commercially. It could also be argued that if this food included more meat protein and less corn protein that phosphoric acid would not be needed at all.
Brewers Dried Yeast (natural B vitamins)
This ingredient is a great natural source of B vitamins and a natural way to make the food more palatable to cats. When included as a main ingredient, the poor amino acid balance and the extremely high soluble fiber content can be an issue. Brewers dried yeast appears low on the ingredient list and this Fancy Feast food appears to have an ideal amount.
Calcium carbonate, salt, potassium chloride, and chlorine chloride as well as vitamin and mineral supplements make up the vitamins and minerals added to this food. Like the Fancy Feast canned food, these are pretty standard supplements. The minerals are not chelated, which means that they will not be highly absorbed, but these supplements are adequate.
Fish Oil (provides omega-3s)
It is great to see fish oil listed as an ingredient in this food. This means that omega-3s were considered when formulating this diet. Fancy Feast doesn't list the omega-3 fatty acid content on their guaranteed analysis, but it is certain that some level of the important fatty acids of EPA and DHA have been included.
Taurine and DL-Methionine
These nutrients found naturally in animal proteins are added as listed ingredients in this Fancy Feast food. The fact that these two nutrients had to be added in indicates that the animal protein content of this food is relatively low.
Nutrients
Calories, Protein, Carbohydrate, and Fat (Obesity prone!)
At 466 calories per cup, this food is relatively high in calories. It contains 34% carbohydrates on a dry matter basis, which is a mid-range level for dry kibbles. The combination of the moderate carbohydrate content and high calorie content make this food not suitable for feeding overweight cats.
Considering that the protein is primarily from vegetable sources, the 38% protein on a dry matter basis is relatively low. The protein level in this food is adequate, but not ideal.
Especially in dry foods, phosphorus content is important to control. Ideally, we aim for foods with less than 1% phosphorus on a dry matter basis. This Fancy Feast food has 1.3% dry matter phosphorus content, which is higher than idea but not terribly high. Considering most senior cats have some level of kidney disease, we would not recommend this food for cats over the age of 7.