Diabetes isn't an easy diagnosis. The twice-daily insulin injections, frequent vet visits, and the worry about your cat all add up quickly. Luckily, choosing a good diet can go a long way toward helping manage feline diabetes. In some cases, weight loss and dietary management may even stop your cat from requiring insulin.
Feline diabetes is a disease about getting energy to the cells. In a healthy cat, insulin tells the cells to take in glucose for energy. When a cat has diabetes, the cells are resistant to the insulin signal. It takes a much higher level of insulin for the cells to take in glucose.
Warning About Changing Food
If your cat is already receiving insulin, do not change the food without veterinary supervision. The insulin dose that was determined for your cat is completely dependent on the type of food they were eating at the time. Switching to one of the diets listed here without changing the insulin dose can result in insulin overdose, hypoglycemia, and even death.
If your cat is not yet on insulin, changing the diet is not a problem. Make any dietary changes gradually, over at least one week. Once your cat is used to the new diet, speak to your veterinarian about starting insulin.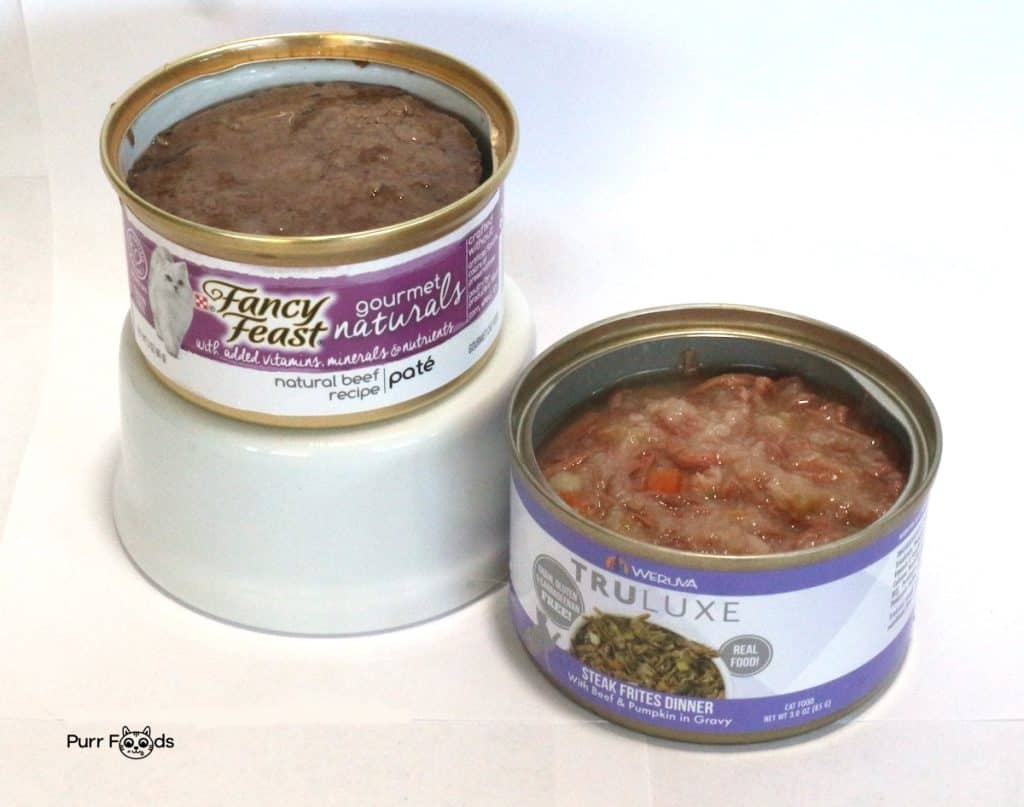 Instinct Original Pate Real Lamb Recipe
Fancy Feast Gourmet Naturals Beef Recipe Pate
Purina One Beef Recipe Pate
Friskies Prime Fillets with Beef In Gravy
Best All-Natural Dry Food
Farmina Natural and Delicious Lamb Grain Free
Hill's Prescription m/d GlucoSupport
Purina Pro Plan Adult Sensitive Skin & Stomach Lamb & Rice Formula
What Makes a Good Food for Feline Diabetes?
Diabetic cats should be on a low-carbohydrate, high-carnitine diet.
Cats are carnivores, and their bodies are not adapted to high levels of dietary glucose, which comes from carbohydrates. High carbohydrate diets are linked to feline diabetes. This means that diabetic cats should ideally not be fed dry cat food, as all dry food is high in carbohydrates.
The other aspect of dietary management in diabetes is finding non-glucose energy sources for the cells. Studies have shown that L-Carnitine supplements help the cells use fatty acids for energy. The best natural sources of L-Carnitine are red meats. Cat foods we recommend have beef, venison, or lamb as their primary protein.
Ensuring an Honest and Safe Pet Food
In regards to red-meat protein in cat food, we were extremely careful to investigate companies. Every food on this list meets strict standards for reliable manufacturing and quality control.
At various times, tests by the FDA or USDA have revealed that the protein source listed on a pet food was not in fact what was in the food. This is especially common in red meat, as euthanized horses can end up being sold as "beef" to naive or indifferent manufacturers. This has caused several major pet food recalls, as recently as 2017.
Numerous brands that look great "on paper" were excluded from our recommendations because we were not confident in their supply chains. That being said, let's commend the following good guys:
Best Overall Diabetic Cat Food: Instinct Original Pate Real Lamb Recipe
Best All-Natural Diabetic Cat Food
Instinct Original Pate Real Lamb Recipe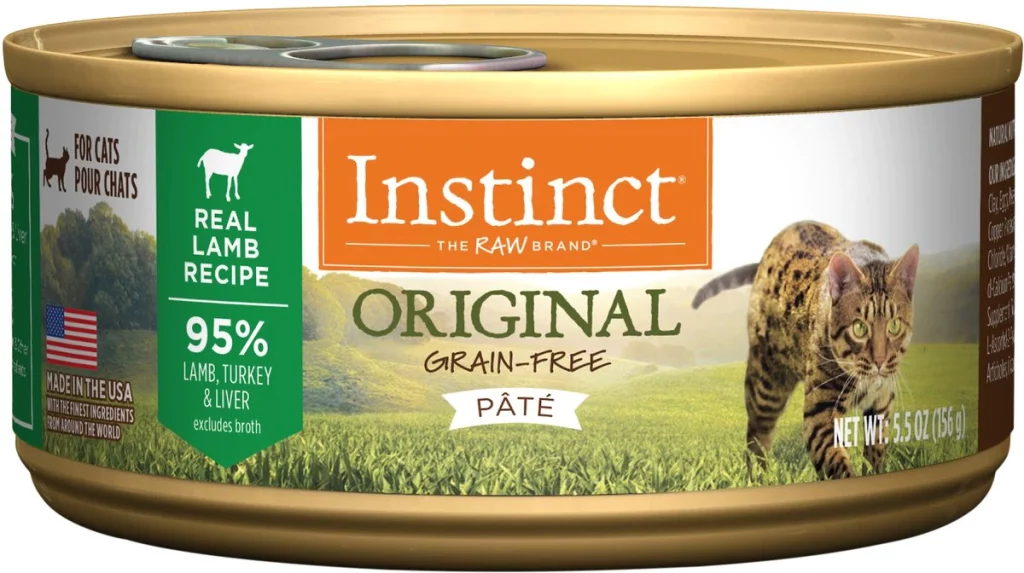 This food is 95% meat. No messing around with carbohydrate fillers. The dry matter carbohydrate content is very low at 5.4% in this food. The small amount of carbohydrates primarily comes from peas, pumpkin, cabbage, and carrots. These foods provide complex carbohydrates, which digest more slowly and provide more stable glucose levels. This is a huge plus for diabetic cats.
Lamb is a great choice for a red meat for cats, as it is typically easier on the stomach than beef and runs into fewer supply chain issues. This is why we have chosen lamb wet cat food as our top pick.
This food is similar in price-range to prescription diabetes canned cat food. However, it contains more meat and less carbohydrates. Many would consider it a much better value.
Most cats enjoy the flavor of this food, but as with any paté texture, there are some picky eaters. If it isn't initially a hit, try mashing it with a fork or warming the food. The change in texture and increased smell make many cats fall in love.
Nature's Variety, the company that makes Instinct, can be summed up in one simple word: Quality. Nature's Variety started out making raw food diets, which simply have to have extremely tight quality control.
They contract out the manufacturing of their canned foods, but they keep a very close eye on the manufacturer. Interviews with a former employee at a production facility used by Nature's Variety revealed that they had the highest production line cleaning and quality check standards of any pet food company using that facility.
The company is corporate-structured and was purchased by a Spanish pet food company in 2016. However, it is clear that they have never lost sight of their mission. They have an in-house R&D department and regularly hold a nutrition council with veterinarians, food scientists, and animal nutritionists to review the product line.
Best Diabetic Cat Food on A Budget: Fancy Feast Gourmet Naturals Beef Recipe Pate
Best On BudgeT
Fancy Feast Gourmet Naturals Beef Recipe Pate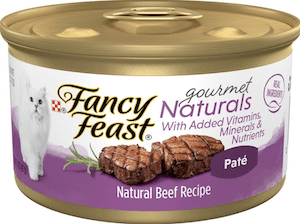 This recipe of Fancy Feast offers a mix of beef, chicken, and fish. The dry matter carbohydrate content is 7.3%, which is slightly higher than the other canned foods you will see on this list; however, this is still a much lower carbohydrate content than any dry cat food.
The main appeal of this food is the low price point and ability to buy as little as 12 3-oz cans of cat food at a time. This food is still a great choice for diabetic cats, and it is also more budget friendly than many of the other brands on this list.
Fancy Feast is a brand of Purina. Purina is a subsidiary of Nestlé, a company without the best track record for ethics. However, being part of a large company, Purina has the resources for tightly controlled safety and quality. Purina does all of their production in-house and a safety recall is extremely rare. You can rest assured that all of their brands are well-manufactured.
Best Diabetic Cat Food With Shredded Texture: Weruva Steak Frites
Best Diabetic with Kidney Disease Cat Food
Weruva Steak Frites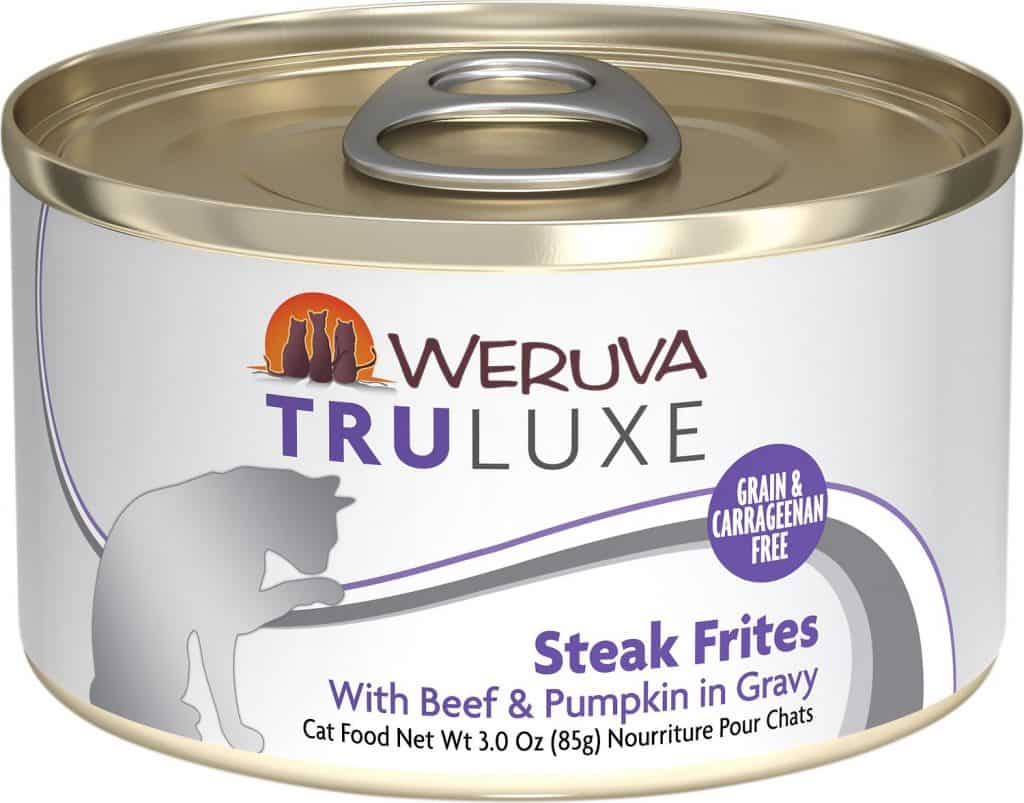 We have mentioned this food before as a top low-phosphorus food for cats. Perhaps we're blinded by love, but we think Weruva has struck an amazing balance of nutrition, flavor and quality with this beef canned food.
Although it is the most expensive beef food on the list, the price is only just above Instinct Real Beef when you consider you are getting a 6 oz can instead of 5.5 oz.
Carbohydrate levels are at a low 7.5% on a dry matter basis, a nice low number. Most of the carbohydrates come from complex sources, but they did include potato starch. Ideally, this simple carbohydrate should be avoided, but it is likely added for texture to make the food more palatable to cats.
All of the protein comes from beef, so you know carnitine levels are high. No cheaper proteins were mixed in. Just pure red meat here.
Shredded texture is hard to come buy in red meat formulas. Weruva has clearly considered making this food tasty for texture-driven cats. A shredded texture is preferred by most cats, but as you already know, every cat is different.
Weruva is a family-owned business with no recalls in its history. They manufacture their canned foods in a facility in Thailand that also manufactures human foods, such as canned tuna, which is sold all around the world. They offer an extremely safe, quality product.
Best Trusted Name Diabetic Cat Food: Purina One Beef Recipe Pate
Best Branded Wet Diabetic Cat Food
Purina One Beef Recipe Pate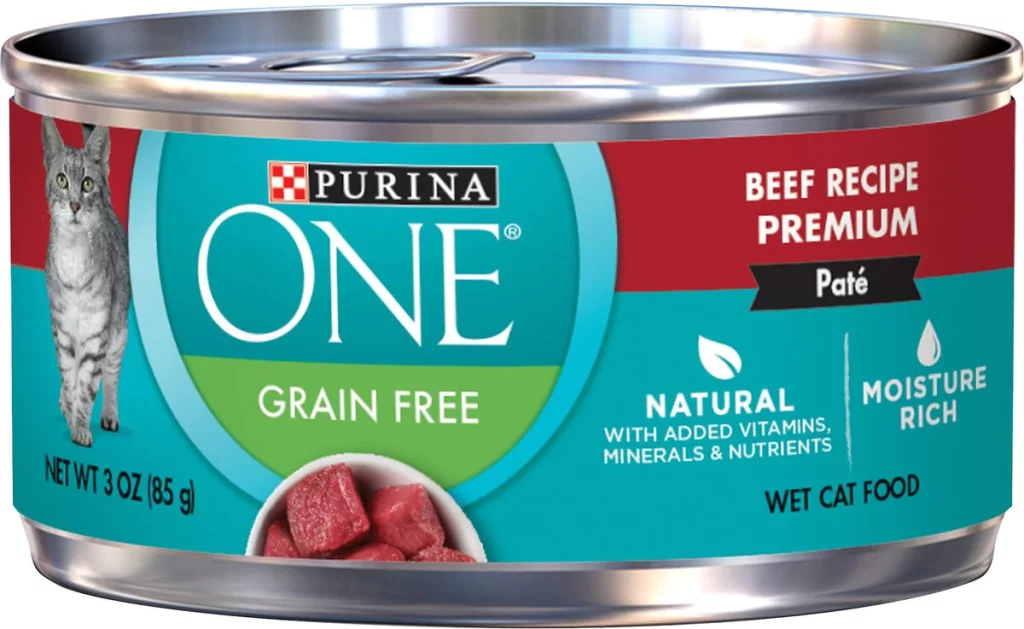 Clocking in at only 3.6% carbohydrate content on a dry matter basis, this cat food is an absolute all-star as a diet for a diabetic cat. The primary ingredient is beef, which is again a great source of L-carnitine.
As a brand, Purina has relatively low carbohydrate content in their canned cat foods, but this food is especially low. It is primarily meat, including beef, fish, and pork, with added vitamins, minerals, and guar gum for texture. There are no added vegetables, which is great because they would increase the carbohydrate content of the food.
This food has a pate texture, and in general, cats seem to like this food as much as any other beef-based wet cat food. Purina is often highly palatable to cats, but every cat is an individual.
Purina doesn't come anywhere close to the investment in nutrition and research that similar pet foods such as Hill's and Royal Canin have. It just happens in this case that they have stumbled onto a recipe that is excellent for diabetic cats. Purina overall does an excellent job of producing safe food that cats want to eat at every price point.
Best Diabetic Cat Food on a "Ramen Noodle" Budget: Friskies Prime Fillets with Beef In Gravy
Cheapest Option
Friskies Prime Fillets with Beef In Gravy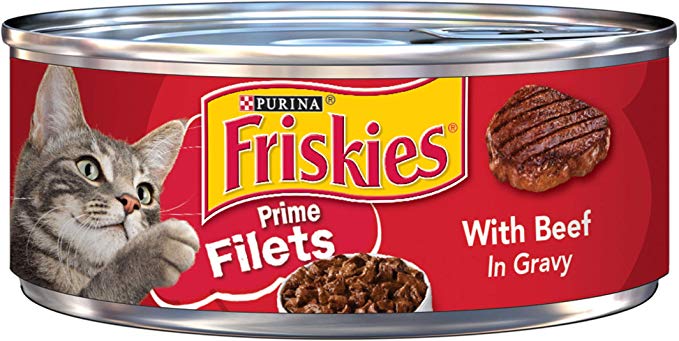 Friskies is made by Purina, who has overall good production standards, but this food is designed to be as cost-effective as possible. This is not a food we recommend feeding your diabetic cat. However, we know that not everyone has the luxury of buying the best cat food.
The main ingredient in this food is beef, and the dry matter carbohydrate content is 16%. This is high by diabetic standards, but is relatively low for cat food at this price. The texture is also shredded chunks, which most cats will prefer to a paté texture.
Most of the carbohydrates are starches, which are not ideal for diabetics. Glucose will spike more rapidly after a meal when starches are included.
Diabetic cats should be on an all-wet food diet, and we know the cost can add up quickly. Rather than having a cat owner blindly pick a low-cost food, we wanted to offer some direction with this recommendation.
Dry Food
In a perfect world, all diabetic cats would be on a wet food diet. Dry cat food is too dense in calories and too high in carbohydrates to be given to a diabetic cat. However, some cats will simply refuse to eat wet cat food.
There are many techniques to try to get a cat to eat wet food. Simply stopping dry food is not a method. Cats will starve themselves in the presence of food they don't like, which is especially risky if they have diabetes.
Experimenting with wet food textures and flavors, feeding dry food in meals, and warming the canned food are all techniques to get your cat to enjoy wet food. With some patience, you can get almost any cat to switch. However, if your cat absolutely refuses to give up the kibble, here are some of the best dry foods for diabetic cats to choose from.
Best Trusted Name Diabetic Cat Dry Food: Hill's Prescription m/d GlucoSupport
Best Branded Dry Food
Hill's Prescription m/d GlucoSupport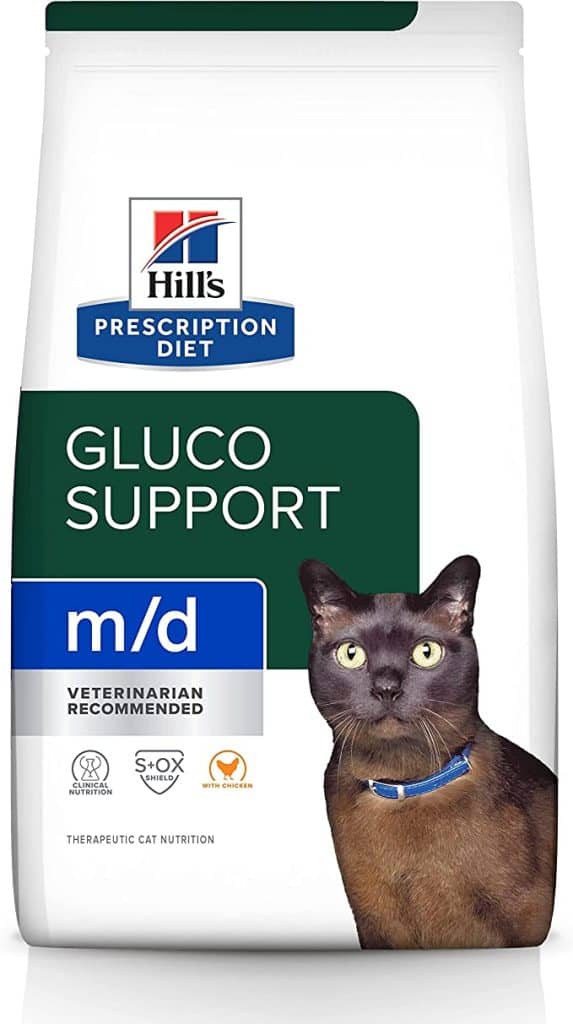 If your cat simply has to eat dry food, we recommend going for the prescription option. Hill's has an excellent track record with their prescription food, and are currently the only company to supplement L-carnitine into their diabetic diet.
The carbohydrate content of this food is 18%, which is remarkably low for a dry food. This food has a high fiber content to help keep your cat feeling full, which can help with weight loss and portion size. The limited carbohydrates that are in this food primarily come from corn, which is thought to have less of a glucose spike effect than other grains or potatoes.
Overall, cat owners who have used this food are really happy with it. Most cats seem to like the taste, and it really does a lot for glucose control. Hill's extensively researches their veterinary products, so if they make a specific claim, you can guarantee it is backed up by a study.
Hill's Science Diet can be a controversial figure in pet nutrition, but as is true with most things, the answer isn't black or white. They are owned by Colgate-Palmolive, so they must answer to the bottom line, but they also have the resources to invest in research, new technologies, and veterinary nutritionists.
Hill's doesn't outsource their production so that they can maintain high quality control. They use their large knowledge base in manufacturing to run a tight ship. However, their size has the drawback of making them slow to change, as any minor formula adjustment requires a huge supply chain overhaul. They also have a strong corporate incentive to keep costs down, so formulas often use cost-effective ingredients.
This food requires a prescription from a veterinarian, so if you are interested, be sure to discuss it at your visit. You can still buy it online, but most retailers will require proof of prescription.
Best All-Natural Diabetic Cat Dry Food: Farmina Natural and Delicious Lamb Grain Free
Best All-Natural Dry Food
Farmina Natural and Delicious Lamb Grain Free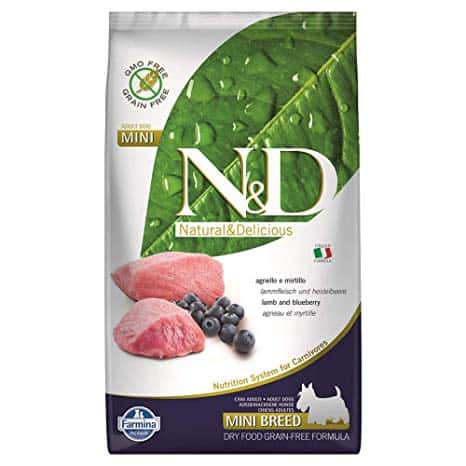 This food has some of the absolute lowest carbohydrate levels for a red-meat containing dry diet. Carbohydrates are at the ultra-low, for dry food, at 17% as fed. Lamb content is undeniably high in this kibble.
Despite this food coming all the way from Italy, the price per pound is just under the cost of a prescription diabetic cat food. The company had been around for some time, but is relatively new on the US market, so it is unlikely you will find this food in big chain retail stores.
Most cats seem to like the taste of this food, so it should be a hit in your house. The only criticism we have is that the carbohydrates come from potatoes, which, due to their high starch content, will cause some glucose spiking. However, this is almost inevitable with any dry cat food. The overall low total carbohydrate content will minimize the effect.
This company is family owned and has been in the pet food business since 1999. Farmina owns their own production facilities, which is always a good sign. As far as we can tell, they have never had a US recall. They invest in nutrition research and have actually looked at how different diets affect glucose levels in cats.
You can even contact them for a nutrition consult. (But it's not clear if you get a salesperson or a real animal nutritionist. We'd like to think that any difficult nutrition questions go to their in-house nutritionists.) In-company research is a real advantage over most natural pet food companies, who typically hire animal nutritionists on a one-time freelance basis.
Best Diabetic Cat Dry Food on A Budget: Purina Pro Plan Adult Sensitive Skin & Stomach Lamb & Rice Formula
This food has an excellent price considering that the carbohydrate content is only 23%. At under half the cost of prescription food, we recommend this food if you are on a tight budget.
The added bonus of being formulated for a sensitive stomach is great, but that wasn't what we were considering when we chose this food. Rice was likely used as the main carbohydrate source because it is easy on the stomach, but it will likely cause some glucose spikes in a diabetic cat. However, the high lamb content is a huge plus for this food, as your cat is sure to get a decent helping of L-carnitine.
Purina invests a lot of effort into making sure their foods are highly palatable to cats, and this one is no exception. Hardly any reviews indicate that cats didn't like the food. If you have a diabetic cat who is a finicky eater or has a sensitive stomach this food should be a hit.
Sources