It is expected for most cats to experience GI issues at some point, and these can stem from a number of sources both in and outside of the gastrointestinal system, including parasites, intestinal foreign bodies, inflammatory bowel disease, stomach ulcers, cancer, or most commonly, food allergies. These food allergies or sensitivities can arise at any point in a cat's life and typically becomes a chronic condition. The most frequent symptoms of a sensitive stomach are vomiting, frequent episodes of diarrhea and/or constipation, loss of appetite, and loss of energy levels.
In general, there are a number of common characteristics to look for in foods tailored towards cats with sensitive stomachs: the majority of the protein should come from meat, low or gentle carbohydrates, and soluble fiber.
Ideally, proteins should be novel, as allergies to chicken is one of the most common in cats, although sensitivities can also include beef, dairy, and fish. For this reason, most best GI sensitivity diets contain a single protein source coming from animals such as duck, rabbit, turkey, veal, lamb, or venison.
Carbohydrates should comprise a small portion of the overall makeup of the food, as these nutrients can be irritants for sensitive GI systems. The best carb sources to use are rice, oats, and potatoes and these so-called gentle carbs are anti-inflammatory. Other ingredients to look out for are the inclusion of omega-3 and 6 fatty acids, which are good for promoting gut health, as well as soluble sources of fiber, amino acids, and antioxidants. Avoid artificial colors, flavors, and preservatives. Wet food is also usually better for these types of cats, as is it generally more easily digestible given the water content.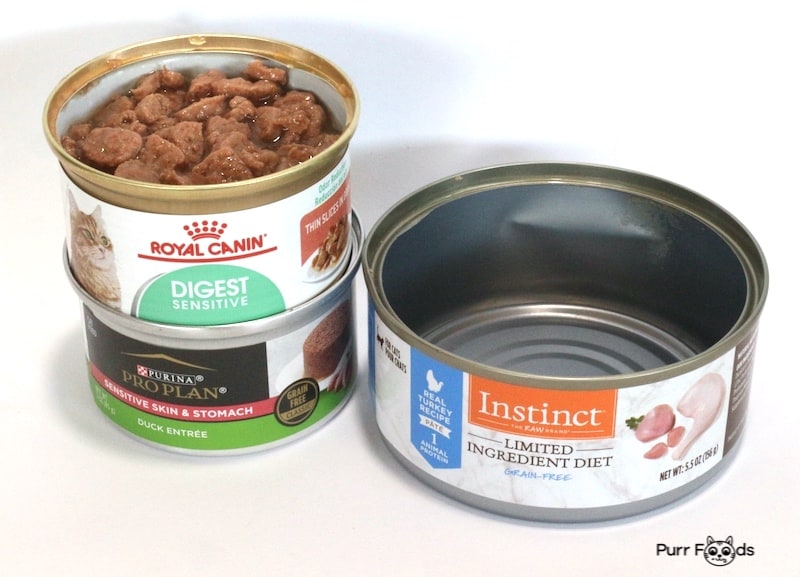 Here is the list of best wet and dry foods for cats with a sensitive stomach –
Best Cat Foods For Sensitive Stomach and Digestion Reviewed
Best All-Natural Wet Cat Food
Best All Natural Dry Cat Food
Best Trusted Wet Cat Food
Royal Canin Digest Sensitive
Best Branded Dry Cat Food
Purina Pro Plan Focus Sensitive Stomach
Best Additive Free Wet Cat Food
Purina Pro Plan Sensitive Stomach Duck
Best Prescription Wet Cat Food
Royal Canin Veterinary PR
Best Prescription Dry Cat Food
Royal Canin Veterinary Calm
Best All-Natural Brand Wet Food For Sensitive Stomach – Lotus Rabbit Paté
Best All-Natural Wet Cat Food
Lotus Rabbit Paté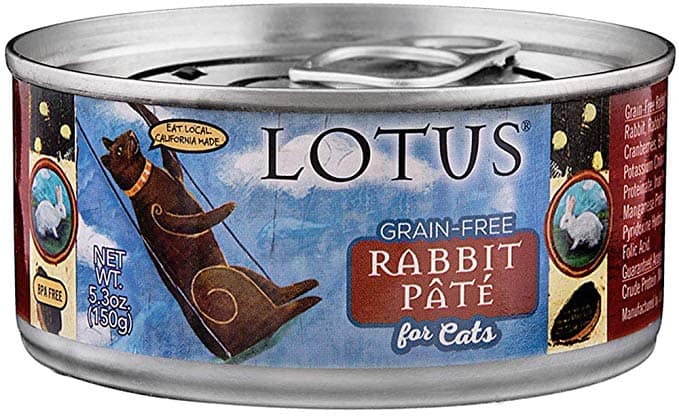 Lotus Rabbit Paté is a brand of canned cat food which has a great track record of helping cats with IBS, UTI, and other food sensitivity issues. It is made from a single source whole protein with carb sources originating from peas, carrots and cranberries. It is also grain free and provides 78% moisture, which is excellent for digestion. This brand also includes salmon oil which of course offers omega-3 fatty acids.
The whole flaxseed meal and agar-agar included in this food are what really help with sensitive stomachs. These high soluble fiber foods will slow digestion and settle stomachs. Lotus makes their food in their own micro cannery in order to keep an extremely close eye on production. This family owned company has done a great job of producing a quality rabbit cat food.
Best All-Natural Brand Dry Food – Lotus Oven Baked Duck
Lotus also offers Oven Baked Duck Dry, a type of dry diet coming from novel protein sources again, and importantly is not extruded. Extrusion is a process by which most pet kibble is made through high pressure and heat that unfortunately results in a number of protein by-products that cause digestive issues. Lotus Duck Dry is baked instead, which makes it much easier to digest.
This kibble's carbohydrates come from peas and tapioca. Another bonus is that it is low glycemic diet. Cats with digestive issues can often have nutritional deficiencies, as they either aren't able to absorb everything they need from their food, or the food they can tolerate doesn't have all the necessary elements of a well-balanced diet. The high quality nutrition and high digestibility of this food should help combat any deficiencies.
The pea fiber, and brewers years will provide high levels of soluble fiber to stop stomach upset. In addition, brewers yeast is a great natural source of B vitamins. This food also contains probiotics and prebiotics to aid with digestion and GI health.
Best Trusted Brand Wet Food – Royal Canin Digest Sensitive
Best Trusted Wet Cat Food
Royal Canin Digest Sensitive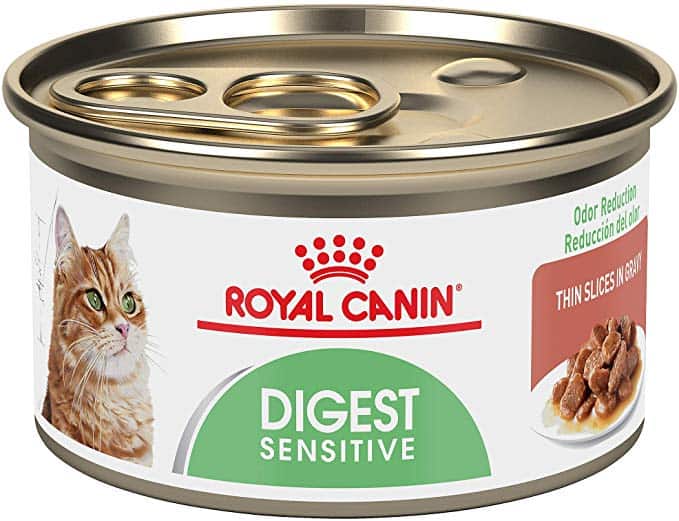 Royal Canin Digest Sensitive: this canned cat food is reasonably priced. The proteins are chicken and pork. Also present in the formulation are omega-3s as well as vitamins B1 and B6, which aid in digestion and processing nutrients.
Perhaps the best part about this food is that cats love the taste. This diet's texture is chunks as opposed to pate, which should be great for picky eaters. Royal Canin's invests extensively in formulating and testing their products so you can be assured that this diet really works. They have scientifically tested that this food is highly digestible, which is extremely important for sensitive stomach kitties.
The fact that chicken and pork by-products are listed as ingredients may raise concern from some pet owners, but in this case it shouldn't. "By-products" means the organs and bones left over from slaughter and are not necessarily a bad thing to put in pet food. There are different quality levels of by-products and organ meat is extremely nutritional for cats. Considering that this food is formulated for sensitive stomachs and has a dry matter phosphorus content of 1.40%, the by-products listed here are clearly high in healthy organ meat.
We think the proven results of this food speak for themselves. Reviews show that this food really does the trick for sensitive stomachs.
Best Trusted Brand Name Dry Food For Sensitive Stomach – Purina Pro Plan Focus Sensitive Stomach
Purina Pro Plan Focus Sensitive Stomach dry is primarily made of real lamb, as well as oatmeal and rice. The food is touted as having 40% protein composition and includes prebiotic fibers. These fibers introduce gut flora into the system that are beneficial for aiding in healthy digestion.
Oatmeal and rice are veterinarian's go-to ingredients in calming a sensitive stomach, and Purina has done a great job by adding them into this food. Overall this food is cost effective, low in carbohydrates and cats love the flavor.
Best Additive Free Wet Food For Cats With Sensitive Stomach- Nature's Logic Turkey
Nature's Logic offers extremely high quality cat food at a reasonable price. We think that their turkey canned cat food is a great choice for sensitive stomachs. This is made with dense whole muscle and organ meat, along with fruits and vegetables. It also contains eggshell calcium and animal plasma which are both highly digestible. Nature's Logic is about minimal but premium ingredients, and eliminating any possible allergens or GI sensitivity triggers.
The best and most unique part of Nature's Logic is that they don't use any synthetic vitamins or minerals in the formulas. All of the nutrition your cat needs comes from whole food ingredients. This is especially important if your cat is sensitive to the added vitamins and minerals included in nearly every cat food on the market.
Science is just beginning to understand how humans use synthetic vitamins and minerals as compared to vitamins and minerals from foods. As you can imagine, the research on cats is almost non-existent. Independently owned Nature's Logic has done the right thing by using real food for nutrition, which is especially important for kitties with sensitive stomachs.
Best Wet Food on a Budget – Purina Pro Plan Sensitive Stomach Duck
One barrier to combating food intolerances is that novel protein diets tend to be more costly. There are however some other budget offerings. Purina Pro Plan Focus Sensitive Skin and Stomach Duck is a more budget friendly wet food. It is primarily made from real, whole duck, and is corn, soy, and pea-free. This food also contains vitamins B1, B3, B5, B6, B7, and B12, all essential to good digestive health. Additionally there is extra taurine present, which aids in helping digestion go smoothly.
This food contains several other protein sources in addition to duck, so it is not hypoallergenic. However, many cat owners have had good results using this food for sensitive stomach. Purina seems to have developed a very effective formula.
Part of the reason the cost is low is the inclusion of meat by-products in this food. Although by-products are not an inherently "bad" ingredient as they are primarily healthy organ meat and bones, the fact that they are listed simply as "meat" raises questions. "Meat" in this case means any slaughtered mammal, typically cattle. However, there have been instances of euthanized horses being included in "meat" ingredients and contaminating the food with the euthanasia drug pentobarbital. Now keep in mind that this risk is low, as Purina takes quality control very seriously. If budget is a primary concern, this food is a very good balance of cost, safety and effectiveness.
Best Prescription Wet Food For Easier Digestion – Royal Canin Veterinary PR
Royal Canin Veterinary Diet PR is one of the most commonly recommended prescription diets for cats with food sensitivities. Being a prescription diet it is on the more expensive side, however, is great for cats with common protein allergies. It is made with a single protein source in the form of rabbit, and a single vegetable ingredient in the form of peas. Having fewer ingredients in the formulation of a wet food generally means less of a likelihood of adverse reactions in your animal. Rabbit is an uncommon ingredient in cat food, which is why is has been chosen for this prescription diet. It allergies are the cause of your cat's sensitive stomach, this food offers an excellent assurance that there will be no allergens in their food.
PR diet also includes fish oil which contains omega-3s, as well as vitamin B12 which enhances digestive health. Royal Canin is also a very reputable legacy brand offering high levels of quality assurance. They put significant research into their veterinary formulas.
Best Prescription Dry Food – Royal Canin Veterinary Calm
An appropriate dry food for cats with sensitive stomachs can be hard to come by, as they are usually made with allergen-triggering proteins, and at the very least represent more roughage and less water for the GI system to deal with. Royal Canin Veterinary Calm is a dry food made from highly digestible ingredients, and contains fish oil, vitamin B1, B12, and E. The formulation also contains beet pulp, which has been shown to aid in digestion. Additionally, this kibble is higher energy dense compared to other brands, meaning there is a decreased digestive workload for the cat.
In addition to GI benefits this food helps curb anxiety. Anxiety has been linked to GI issues, so for cats with behavioral challenges it is designed to reduce stress-related GI symptoms.
This food does use chicken as the main protein source, so it will not work for cats with food sensitivities to chicken. However, reviews indicate that this food really does make an impact on cats' stress levels. Owners really see a difference when using this food.
Best Non-Prescription Limited Ingredient Wet Food – Instinct Limited Ingredient Turkey
Best Non-Prescription Limited Ingredient Wet Cat Food

Instinct Limited Ingredient Turkey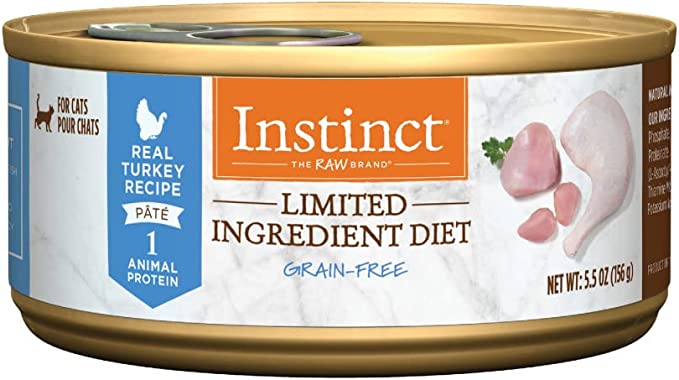 Instinct Limited Ingredient Diet Turkey is made with a very simple list of whole ingredients including a single protein source, and a single vegetable source – peas. The fewer ingredients used to make a pet food, the less likely it is to cause digestive distress. The other benefit to fewer ingredients is if your cat does have a reaction, it becomes easier to identify possible triggers.
Note that we do not recommend this food as a true hypoallergenic diet, because most cats have eaten turkey. A hypoallergenic diet requires a novel protein source, meaning a protein your cat has not eaten before. This is still a great food and can be used to narrow down that your cat's food sensitivities are. If you are looking for hypoallergenic diets see our article here.