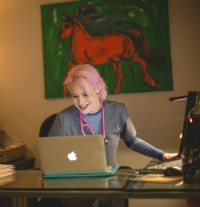 Dr. Patty Khuly, VMD, MBA is an award-winning veterinarian known for her passion in the profession, enthusiastic pet advocacy, and of course, her seemingly contemptuous yet very passionate pet health writing.
Because of these, she has been heralded as one of the "25 Veterinarians to Watch in 2013" by the Veterinary Practice News and one of the "25 People to Watch" by the Pet Product News in 2008. Aside from those, she was also touted as a "Rising Star" by the Veterinary News Network.
She is a prolific blogger as showcased through her Dolittler.com blog which has been listed as one of the "Ten Best Blogs in Pet Health" by Fox News – this despite it is, in her own words, "overtly opinionated, pleasantly eccentric, and unabashedly independent" which some consider as irreverent but definitely very informative.
Dr. Khuly owns a full-service pet hospital in Miami, Florida called Sunset Animal Clinic which was voted as the best veterinarians for 5 consecutive years based on Yelp reviews and one of the most cat-friendly veterinarians in Miami.
Background
Despite specialties like internal medicines, dermatology, and dentistry being the most sought-after branches of veterinary medicine, she decides to concentrate on what she has been most passionate about which is pet weight management. But regardless, she would always be an advocate of the economics of animal health and the animal welfare – whether she's working on the hospital or on the internet and print media, sharing her insights through her articles and columns.
And as if her hands aren't full yet, Dr. Khuly spends her spare time volunteering in an animal shelter and serving as an officer in her local Veterinary Medical Association. But she isn't just about animals; she is also obsessed knitter, an aspiring triathlete, a foodie, and a nerdy reader – apart from considering herself as a music geek, accomplished cook, and a single mom who loves outdoors and fashion.
She lives in Miami, Florida with her teenage son, her French Bulldogs, goats, chickens, and a cat.
Education
Dr. Khuly finished BA degree from the Wellesley College in 1990. She then took the veterinary course from the University of Pennsylvania School of Veterinary Medicine and graduated in 1995 with honors. She completed her MBA from the university's Wharton School School of Business by 1997.
Experience
Some of her print credits include USA Today and The Bark and has been contributing monthly columns since 2007 for the Veterinary Practice News and weekly columns for The Miami Herald since 2009.
As for online, she has also been a contributing blogger for Vetstreet.com, and Water Bowl by Embrace Pet Insurance, among several others. Her works have been featured in popular news websites such as Yahoo , MSN , The Huffington Post, and the Daily Beast and she was quoted in one of NBC News and MSN's articles.
She finds it a blessing to be able to educate pet owners and animal lovers about animal health and welfare issues through different media platforms. But when asked when did it start, she said it wasn't really her original intention but discovered it by accident.
Passionate, driven, and humble – that's Dr. K for you!