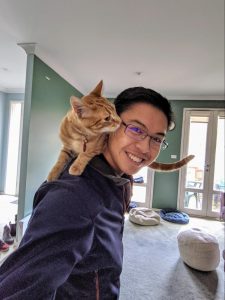 Dr. Ivan Duong is a small animal veterinarian who currently practices at the RSPCA veterinary hospital in Sydney, Australia. RSPCA is Australia's largest animal welfare organisation that focuses on caring, advocating for animal rights and enforcing animal welfare laws. Previously he had completed his bachelor's degree in Biology at Carleton College, Minnesota, USA. He is keenly interested in shelter, emergency medicine, the human-animal bond and animal welfare.
At the RSPCA, Ivan cares for many homeless animals each day, treating medical and surgical issues, ensuring they are healthy enough to be available for their new home. During 2018-19, the RSPCA cared for more than 120,000 animals! In addition to being a veterinarian, Ivan is also an experienced veterinary nurse. During his studies to become a veterinarian, he had worked as a nurse/technician in 4 veterinary clinics of varying sizes over a 5 year period. Over this time, he was able to gain extensive knowledge and experience working with a diverse population of owners and their beloved pets.
Before he broke into the veterinary field, Ivan had been a lifelong animal lover, having volunteered at a dog rescue in his hometown of Hong Kong for over 6 years and spending summers doing acoustics research with Bottlenose dolphins and another rehabilitating orphaned seals in Maine.
In his time off, he enjoys spending time with his partner, an equine veterinarian, and his little ginger cat, Buddha. He is also an avid indoor gardener and enjoys the outdoors.